Share the post "Giveaway: Ringling Bros and Barnum & Bailey Built To Amaze!"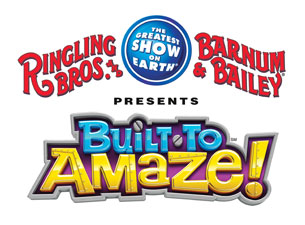 The Greatest Show on Earth is coming to the Washington, DC metro area with its latest show: Ringing Bros. and Barnum & Bailey present Built To Amaze! *Keep reading for a FUN GIVEAWAY*
You can catch the show at the Patriot Center in Fairfax, VA from April 9th – 20th, 2014 and at the Baltimore Arena from March 26th – April 6th, 2014.
Built To Amaze! is a high-energy show featuring more than 110 of the world's best performers representing 17 countries along with 95 exotic and domestic animals. Andre McClain, Ringmaster and America's favorite cowboy, leads the show with his trusted horse Comanche, and you'll enjoy amazing acts like the comedic animal presenting duo Alex and Irinia Emelin from Russia, the legendary King Charles Troupe from NYC, and the newly added Tower Tumblers from the Ukraine. If you love the circus then you'll definitely want to catch this amazing show while it's in town.
Ringing Bros. and Barnum & Bailey Presents Built To Amaze! also includes the All-Access Preshow® beginning an hour prior to show time. The pre show event is FREE to all ticket holders and allows audience members to meet and take photos with performers, try on circus costumes, learn circus skills and more.
Fairfax, VA (Patriot Center) Show times:
Wednesday, April 9 – 7:00 pm
Thursday, April 10 – 7:00 pm
Friday, April 11 – 10:30 am, 7:30 pm
Saturday, April 12 – 11:30 am, 3:30 pm, 7:30 pm
Sunday, April 13 – 1:00 pm, 5:00 pm
Thursday, April 17 – 7:00 pm
Friday, April 18 – 1:00 pm; 7:30 pm
Saturday, April 19 – 11:30 am, 3:30 pm; 7:30 pm
Sunday, April 20 – 1:00 pm, 5:00 pm
Ticket Prices: $15 / $20 / $30 (Circus Celebrity, Front Row and VIP available)
You can purchase tickets by visiting TicketMaster online, calling 800-551-SEAT, or calling the box office at your local arena. Further show information can be found here.
I am pleased to giveaway a family 4-pack of Tickets to opening night for the Fairfax VA show! Enter my giveaway below by using the Rafflecopter entry form below:
This giveaway ends Tuesday, April 1st at 12:01 am ET. Good luck!
Legal Disclosure: I am a Feld Family Ambassador, and in exchange for my time and efforts in attending show and reporting my opinion within this blog, as well as keeping you advised of the latest discount offers, Feld Entertainment has provided me with complimentary tickets to Feld shows and opportunities to attend private Feld pre-Show events.
The giveaway prize will be supplied in the form of 4 tickets available for pick-up at the Patriot Center Will Call box office on the evening of the opening night performance, Wednesday, April 9, 2014. To read my formal disclosure policy, please click here.