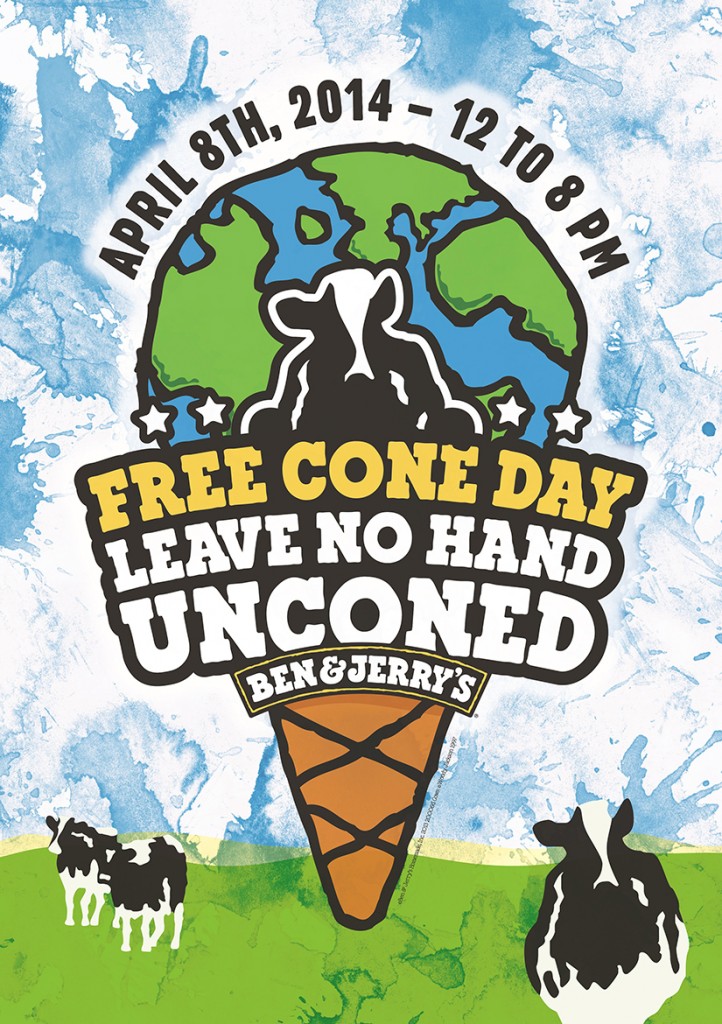 One of my favorite annual freebies is back for its 35th year! Free Cone Day at Ben & Jerry's is their way to celebrate and thank their patrons for another great year by giving out free ice cream at scoop shops across the world. Today, Tuesday, April 8, 2014 from 12:00pm – 8:00pm you can enjoy a FREE scoop of ice cream at participating Ben & Jerry's stores.
Event: Free Cone Day
Location: Participating Ben & Jerry's scoop shops
Date: April 8, 2014
Time: 12  noon – 8 pm
Some of my tips from attending this in previous years?
Call ahead to confirm participation of your local store.
Be ready for a long wait! The line can get long, so be prepared to stand in line for at least 30 minutes or longer if you go at peak times (ie. lunch break, right as school gets out, or anytime after 5pm).
Although it's "free cone day" don't worry, you don't just get the cone for free. The ice cream is free too . Each person can get 1 free scoop of ice cream.
Your local Ben & Jerry's store may have a donation cup/bucket set up for a local charity. Since you're getting a sweet treat for free, consider making a donation to an organization doing good in the community.
Make it a family affair. Take the whole family or a group of friends. Each person gets a free scoop, so this is great for big families who typically skip the ice cream shop due to the costs. And little children get the same size scoop as adults
To find a participating scoop shop, click here. Locations in the greater Washington DC metropolitan area include (I always recommend calling ahead to confirm participation):
Georgetown DC (3135 M Street, NW, Washington, DC 20007).
Old Town Alexandria, VA (103 South Union Street, Alexandria, VA 22314).
Dulles Town Center (21100 Dulles Town Circle, Dulles, VA 20166).
Fairfax Corner, VA (4205 Fairfax Corner East, Fairfax, VA 22033).
Reston Town Center (11928 Market Street, Reston, VA 20190).
National Harbor, MD (Space D1-5 Building D, Ground Floor, National Plaza, National Harbor, MD 20745).
Silver Spring, MD (903 Ellsworth Drive, Silver Spring, MD 20910).
Rockville, MD (199-F East Montgomery Avenue, Rockville, MD 20850).
Please note, the Union Station location will NOT be participating this year.