Share the post "Summer Movie Review: Disney's Planes Fire & Rescue"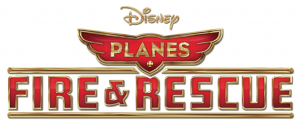 Last week, my kids and I had the chance to see Disney's Planes: Fire & Rescue at the Regal Majestic in Silver Spring, Maryland. If you're looking for a great, family-friendly movie to take the kids to this summer, then you have to catch Disney's newest film!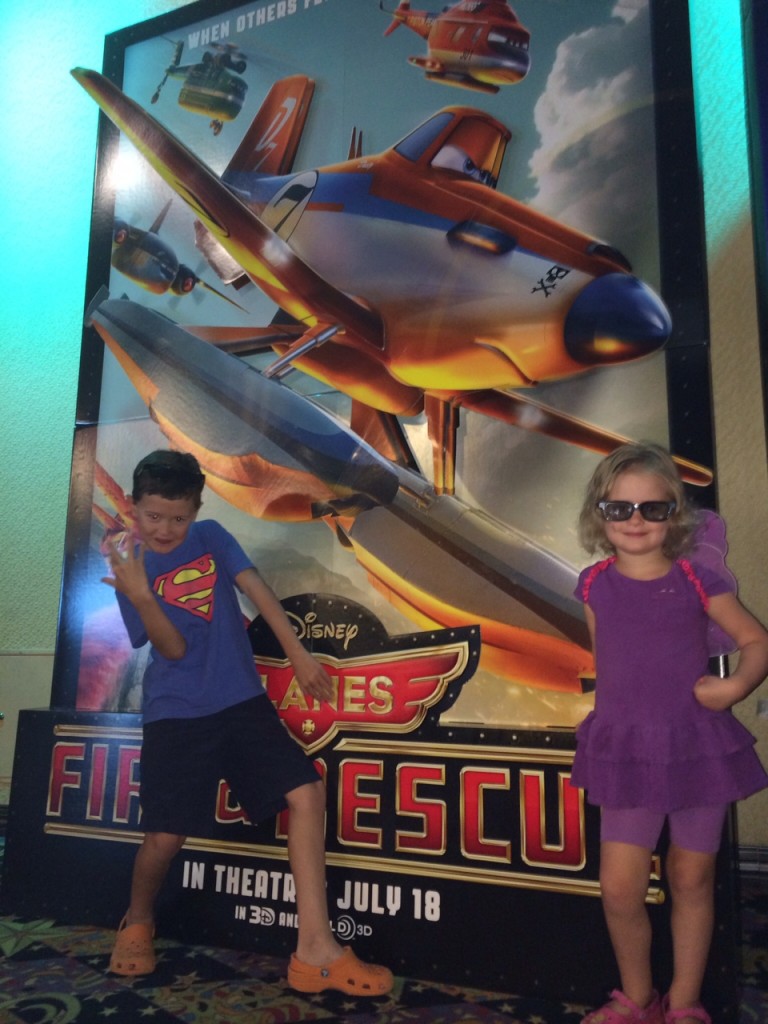 Although, I personally had not seen the first Planes Movie (I promise I don't live in a box…) it was easy to catch up and get an understanding of the characters and background of the first movie. My children had both seen the original Disney Planes movie at a friend's house, so they were already clued in on Dusty Crophopper's fame and fortitude from the first film. For those of you who aren't familiar with the premise: Dusty is a famous air racer, who learns that he may never be able to race due to engine damage. When his home airfield, Propwash Junction, is in jeopardy of closing due to a fire caused by him, he decides to shift gears and become an aerial firefighter. He goes to Piston Peak National Park to learn how to become a firefighter.
The plot synopsis:
"Planes: Fire & Rescue" is a new comedy-adventure about second chances, featuring a dynamic crew of elite firefighting aircraft devoted to protecting historic Piston Peak National Park from raging wildfire. When world famous air racer Dusty (voice of Dane Cook) learns that his engine is damaged and he may never race again, he must shift gears and is launched into the world of aerial firefighting. Dusty joins forces with veteran fire and rescue helicopter Blade Ranger and his courageous team, including spirited super scooper Dipper (voice of Julie Bowen), heavy-lift helicopter Windlifter, ex-military transport Cabbie and a lively bunch of brave all-terrain vehicles known as The Smokejumpers. Together, the fearless team battles a massive wildfire and Dusty learns what it takes to become a true hero. Directed by Bobs Gannaway ("Secret of the Wings"), "Planes: Fire & Rescue" hits theaters in 3D on July 18, 2014. "Planes: Fire & Rescue" is a new comedy-adventure in which Dusty joins forces with a dynamic crew of elite firefighting aircraft and learns what it takes to become a true hero.
One great theme of the movie, was reverence for those who heroically fight fires to protect wildlife and people. The opening dedication is for courageous firefighters who risk their lives on a regular basis to save others. One of my husband's best friends previously worked as a wildland firefighter for the US Forest Service, so this definitely resonated with us.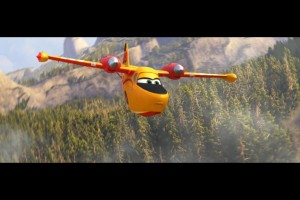 My 3 and a half year old daughter told me after the film that her favorite character was Lil' Dipper. She provided many laughs during the movie, as a lovable, helplessly head-over-heels (errr… landing gear?) in love with Dusty.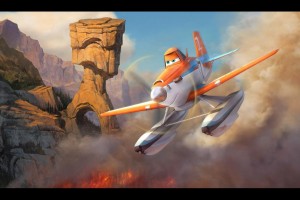 My 8 year old son's favorite? Of course, the main hero, Dusty!
The verdict: Our family gives this film two thumbs up, and it is my kids' favorite film of the summer. It was a fun film that kept my kids entertained. Note: My son thought it was awesome in 3-D. However, my daughter kept her 3-D glasses on for about 5 minutes then refused to wear them the rest of the movie (which is one reason why we rarely see movies in 3-D).
It was great to see some of my blogger friends there too, and they have some excellent write-ups on their thoughts on the film: Caffeine And A Prayer; Teachable Mommy; and Real Housewives of Northern Virginia.
Disney's Planes: Fire And Rescue is an animated adventure/comedy film rated PG. The movie runs 83 minutes, and opened in theaters July 18, 2014.
*I was invited to attend a special, free pre-screening event of Disney's "Planes: Fire And Rescue" for members of the press and their guests. Please note, I am not a movie critic and was not compensated to write this post. All opinions are my own.