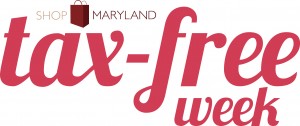 This week, August 10 – 16, 2014 is the state of Maryland's annual tax-free shopping week!
Savvy shoppers know that this annual sales tax holiday can be a great time to buy clothes for back-to-school time or simply update your own wardrobe. Be sure to take advantage of great deals, store promotions, clearance items, as well as items you normally pay full price on, during the tax-free week.
The Clothing Tax Free Holiday always draws in a lot of shoppers, so expect crowds! Qualifying purchases during this weekend will be exempt from the normal MD state and local taxes. The MD tax holiday has taken place the second Sunday of August through the following Saturday since 2010. Qualifying items include: Clothing $100 or less per item. Some items that might surprise you, that will be tax-free in Maryland include:
Diapers
Costumes
Bathing Suits
Uniforms
Lab Coats
Religious Clothing
Formalwear for Men & Women
Rented Shoes (no hard plastic or metal cleats & spikes)
Rented Tuxedos & Formalwear
Laundry & Dry Cleaning Services (non-commercial)
Items NOT included in the Maryland tax-free holiday include: Aprons, Arch Supports, Athletic Pads, Bow Ties, Knee Pads, Tennis Shoes (with wheels), Receiving Blankets and Veils.
You can find a list of guidelines and participating items on the Maryland Comptroller website.
If you live in a different state, be sure to check your state's department of taxation website for more information, as the dates, maximum price per item, and guidelines vary quite a bit.
And be sure to check out my tips that I shared for tax-free shopping on Let's Talk Live on News Channel 8 recently!