Share the post "Free LED Bulbs at Great American Bulb Swap in Eastern Market DC"
This Friday, Saturday & Sunday you have the opportunity to swap in your old bulbs for new, energy efficient LED bulbs! Cree is encouraging Washingtonians to come out and trade up to save money and energy with their brand new LED bulb.
Here are the details:
What: Great American Bulb Swap
When: Friday, Dec. 5th 11am – 2pm;
Saturday & Sunday Dec. 6th – 7th 10am – 4pm (I was told by their PR rep. for this event, that they had actually extended the hours from 9am – 5pm on Sat/Sun. Plus they added the Friday time. However, since the promotion of this event on their Facebook & Twitter has only listed 10am-4pm Sat/Sun. you may want to show up during that timeframe. On a side note – I'll be stopping by today!)
Where: Eastern Market, 225 7th Street SE Washington, DC 20003 (outside, along street)
Details: Bring in your mercury-laden compact fluorescent (CFL) and inefficient incandescent light bulbs to the Great American Bulb Swap. Cree is bringing this event to DC with their "Great American Bulb Swap" vehicle, and will have an interactive energy & money savings calculator, mascot & costumed character "Bulby" the Cree LED bulb will be available for pictures and high fives, plus you can participate in "bulb toss" games and win prizes.
Freebie: Cree is generously giving away 15,000 of their new LED bulbs to consumers that bring in an outdated light source.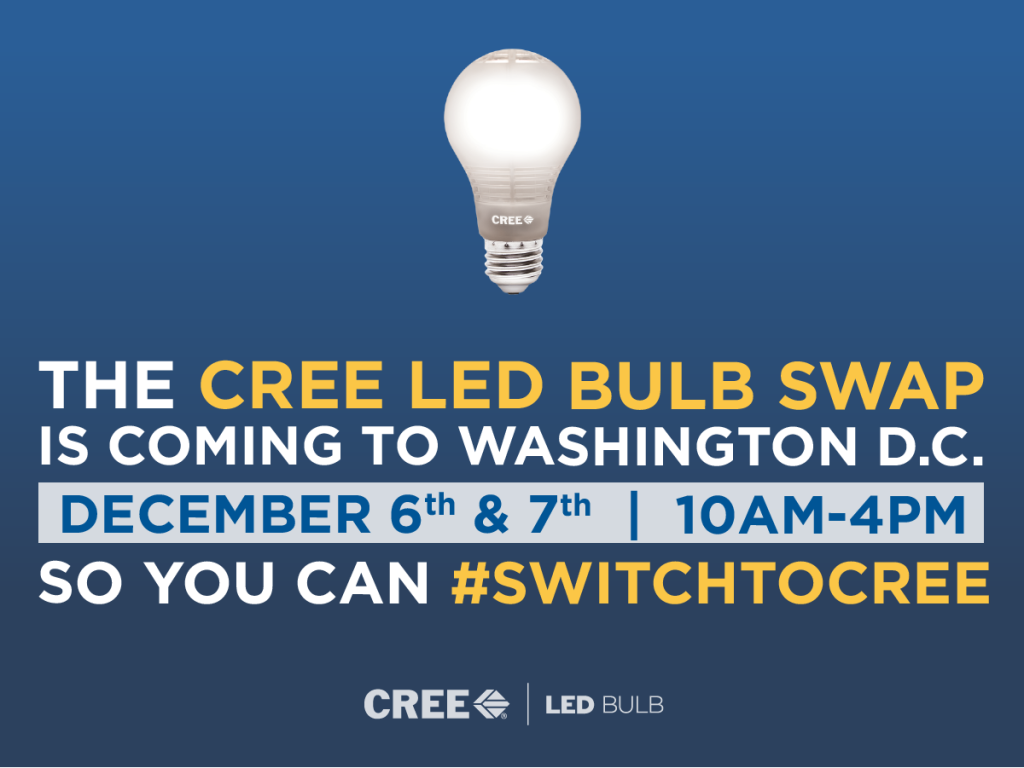 So why should you switch from CFL and incandescent to LED? Simply put, it will cut down your energy consumption which means your energy bill will decrease.
Since my husband lives and breathes lighting (he is one of the Washington DC area's top outdoor lighting designers), I've known about Cree and their energy-efficient LED bulbs for quite some time. I was excited to hear that Cree's newest LED bulb is up to 85 percent more energy efficient compared to incandescent bulbs – and it pays for itself within a year of use! Cree is unveiling their new Cree LED bulb, which retails for $7.97 at The Home Depot, is shatter-proof (YES! can't tell you how many bulbs the kids and I have accidentally smashed over the years…) and lasts up to 22 years. You can get one for free this weekend at the Great American Bulb Swap so be sure to stop by!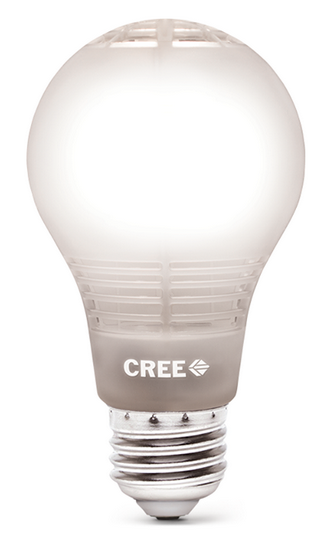 Check out their press release for more info on this event. To calculate your potential monetary savings from switching to the new Cree LED bulb, check out the nifty Cree Savings Calculator online!
Disclaimer: I was offered a Cree Light Bulb Starter Kit and gift card in exchange for sharing this event. The opinions shared in this post are my own, and I love to share great deals, local events, freebies and consumer finance tips with my readers! To read my formal disclosure policy, please click here.