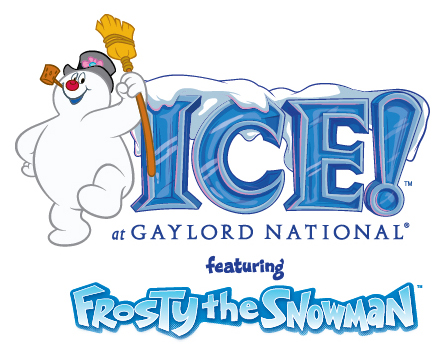 Last week, my children and I had the opportunity to visit ICE! at Gaylord National in National Harbor, Maryland. We've been to the ICE! event in previous years and were excited to get the chance to attend again this year for their "Frosty The Snowman" themed attraction. It's captivating to see all the colorful decorations and carvings created out of 2 million tons of ice, plus go down the ice slides, explore tunnels, and uncover how ICE! was created in the new Frostbite Factory live carving zone.
This year I had my kids watch clips from the classic Frosty The Snowman 1969 TV special, so they had an idea of what the attraction was based upon. We walked through 6 rooms each depicting different scenes from Frosty The Snowman. And I started to remember all the lines from the classic holiday song, that I honestly don't think I've sung since I was a little girl. We entered the popular slide area which includes 4 slides constructed out of ice; fun for both kids and adults — although my 4 year old wasn't brave enough to climb up the steps and try it this year, my 8 year old had no problem. The attraction ended with a final room holding a beautiful nativity scene and an angel, broadcasting the Christmas story and birth of Jesus, celebrating the history behind our cherished holiday.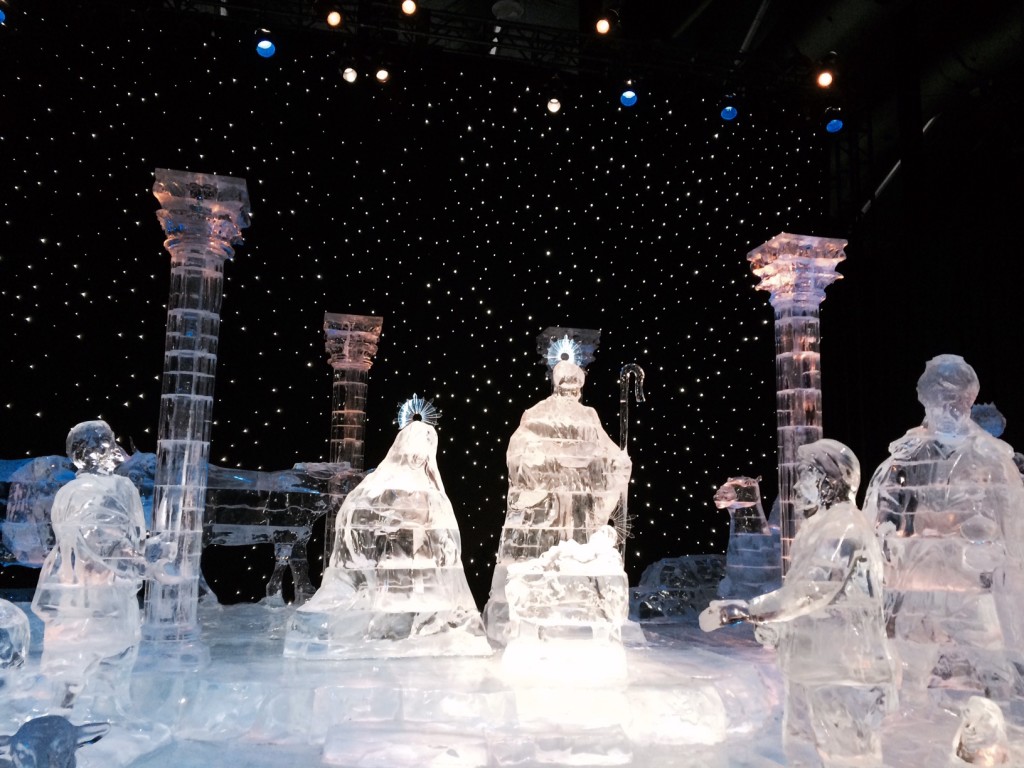 The ICE! experience at Gaylord National was a lot of fun for us this year. And in case you want to figure out how on earth to keep your kids occupied during the long winter break without going crazy or, go enjoy this family-friendly attraction before it comes to an end, here are my top tips to help you make the most of this popular DC area winter attraction.
Beltway Bargain Mom Tips to making the most of your visit to ICE!:
Go during non-peak times. By hitting ICE! on non-peak days (weekdays and non Holidays) you can avoid large crowds and the get a lower price on admission. However, we are currently in "Peak season" after Christmas through January 4th, so the higher peak pricing applies for the remainder of the season. Take note of this advice for next year!
Plan out your trip. I recommend picking a time that misses rush hour traffic, at least one way! That means you may want to hit it early in the morning when they first open at 10 am, and deal with morning traffic but have a less hectic drive home. Or perhaps a better choice, wait until around lunch time or early afternoon, when crowds will be slightly less at ICE. If you decide to go in the late afternoon, you may have to deal with rush hour traffic on your commute home, but on the plus side, you can extend your time at the Gaylord National and stay to enjoy the free indoor nightly snowfall and light show in their Atrium. The fountain and light shows with "magical" snowfall commence at 6, 7, 8 and 9 pm in a comfortable 72 degree setting.
Use the Parking Meters. Instead of shelling out $15+ to park in the parking garage, be sure to look around for open parking meters on the streets adjoining and leading up to the Gaylord National. Make sure you bring quarters, and be aware that some of the parking meters only allow you to feed the meter up to 3 hours.
Dress Warm. It is only nine degrees in the ICE! area so I suggest bringing scarves, gloves and hats for you and your family. You will get use of a blue, outer coat, that is available for all guests to wear, but I recommend you also wear your own coat underneath that, because it is really cold! And because it is so cold, be aware that you and your kids will probably only last up to 30-45 minutes in the ICE! area before deciding you're ready to leave and thaw out. Once you exit the ICE! area you are not permitted reentry, to avoid overcrowding.
Wear comfortable shoes. Boots or sneakers are best. If you wear high heels or sandals, be warned, you will not be permitted to go down the ICE slides.
Strollers Are Not Allowed. If you need to bring a stroller for your little one(s), you need to "park" your stroller outside the ICE pre-show area, after you check in and put on your blue coats. Strollers are not allowed inside the actual ICE! exhibit (this changed a few years ago).
Meet Dreamworks Characters. Be on the lookout for Dreamworks' Madagascar, Kung Fu Panda & Shrek costumed characters roaming the Gaylord National resort (not in the actual ICE! exhibit). Even though we didn't sign up for the Character Dinner or Meet-and-Greet events that cost extra, we were still able to catch the lovable Penguin from Madagascar for hugs and a photo op with an excited 4 year old!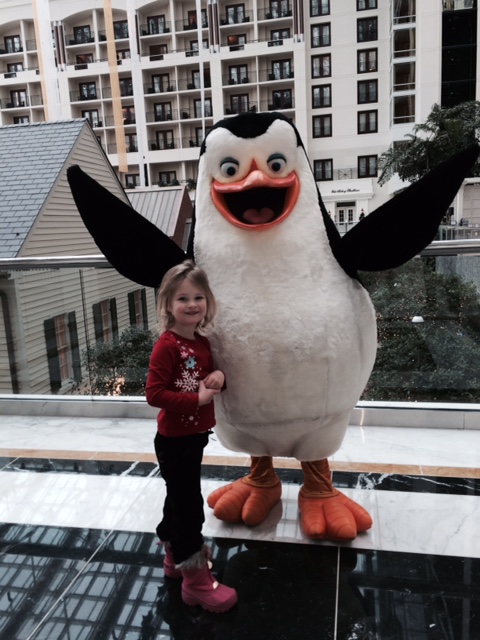 My most important tip: simply have some frosty fun!
If you don't make it this year, be sure to visit next year. I love that ICE! at the Gaylord National has had some great Living Social discount ticket deals each year, typically in November, so be on the look-out for those next year. Plus there are discount tickets available for active and retired military, Marriott Rewards Members (20% off using code "MRICE14"), and sometimes special discount days for Boy Scouts, Girl Scouts, and other organizations.
ICE! Ticket Prices for Peak Days Dec. 20, 2014 – Jan. 4, 2015: Children 2 and under are free. Military Child (4-11 years) $26. Group $30 (Adult) $25 (Children). Child (3-11 years) $28. Adult (12 years +) $34. To purchase tickets or find out more information about ICE!, visit ChristmasOnThePotomac.com and click on the ICE! Featuring Frosty The Snowman tab.
ICE! Hours vary each day, so be sure to check their calendar. Most days they open at 10 am and close at 9 pm, however the times vary each day in January 2015.
Disclosure: I was provided complimentary tickets for my family and I to attend ICE! Featuring Frosty The Snowman at Gaylord National. The opinions shared in this post are my own. I love to share my first-hand experiences plus local family-friendly events. To read my formal disclosure policy, please click here.