Share the post "Meal Deal: Chicken Chili Rice Bowl + Food Lion Giftcard Giveaway"
The following is a sponsored post in partnership with Food Lion.  
If you struggle with finding new, budget-friendly recipes that have great flavors, yet are appealing to each family member's palate, you're not alone! It's easy to get in a recipe rut, and I'm always on the look-out for simple recipes to try out in my kitchen that won't bust my wallet. *KEEP READING FOR A FUN GIVEAWAY*
Food Lion is on a mission to provide a fresh and affordable grocery shopping experience, with low prices and convenience in mind. Since participating in their Frugal Cook-Off last year, I've been impressed by Food Lion's dedication to helping customers create affordable and delicious meals at home.
When Food Lion asked me to create one of their new featured recipes this week and stay within a $10 budget, I gladly accepted the challenge! And I want you to hurry and check out the full recipe and this week's deal (through Tuesday, Jan. 20th) that saves you a lot of money on these particular ingredients!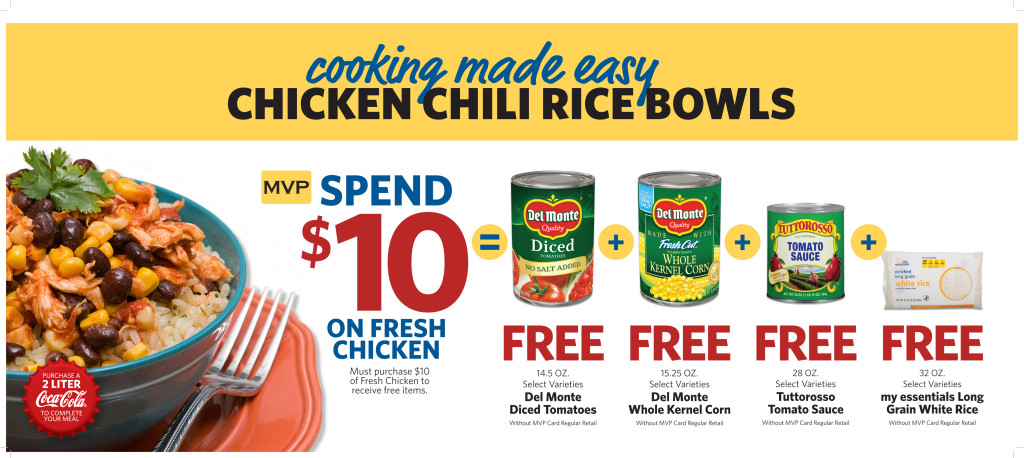 This week, Wed. Jan. 14 – Tues. Jan. 20, 2015, Food Lion has an awesome deal that corresponds well with their Chicken Chili Rice Bowl recipe. Spend $10 on fresh chicken and you get the following items FREE: 1 Del Monte Diced Tomatoes (14.5 oz) + 1 Del Monte Whole Kernel Corn (15.25 oz) + 1 Tuttorosso Tomato Sauce (28 oz) + 1 My Essentials Long Grain White Rice (32 oz).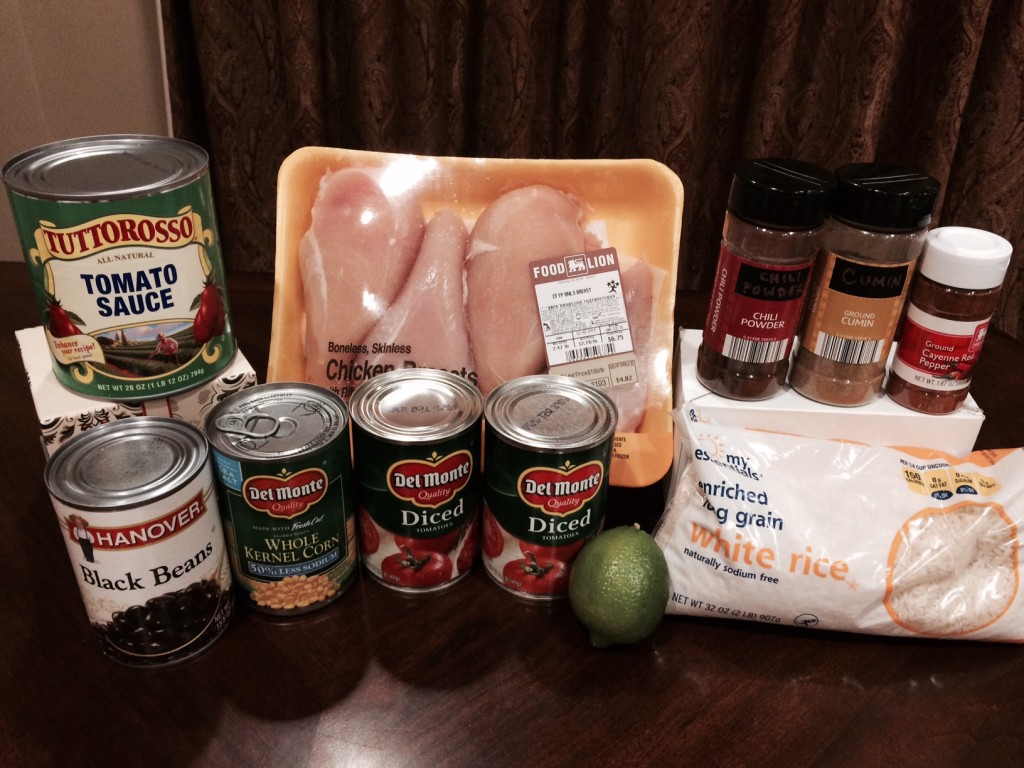 RECIPE: Chicken Chili Rice Bowl.
SERVES: 6.
INGREDIENTS:
1½ cups uncooked long grain white rice.
⅓ cup chopped fresh cilantro.
1 Tbsp. olive oil.
3 boneless, skinless chicken breast halves, about 1 to 1 1/4 lb.
2 (14.5 oz) cans Del Monte® No Salt Added Diced Tomatoes.
1/2 (28 oz) can Tuttorosso Tomato Sauce.
Juice and zest of 1 lime.
2 tsps. chili powder.
1 tsp. cumin.
⅛ tsp. cayenne pepper.
1 (15.25 oz) can Del Monte® No Salt Added Whole Kernel Corn, drained.
1 (15 oz) can reduced-sodium black beans, rinsed and drained
DIRECTIONS:
Cook rice according to package directions, using chicken broth instead of water, if desired; set aside. Stir cilantro into rice before serving.
Meanwhile, heat oil in a large saucepan or Dutch oven over medium-high heat. Brown chicken 3 minutes on each side. Add diced tomatoes, tomato sauce, lime zest, lime juice, chili powder, cumin and cayenne; stir. Bring to a boil; reduce heat to medium and simmer 10 minutes or until chicken is no longer pink inside.
Remove chicken breasts to a cutting board, letting sauce simmer another 5 minutes. Meanwhile, chop or shred chicken; return to saucepan and add corn and beans. Cook until heated through and chili is slightly thickened. Season to taste with salt and pepper, if desired. Serve chili over rice with toppings, as desired.
I added cheese, lime wedges and avocado "smiley faces" as toppings.
My suggestions for this recipe: Make sure you buy "no salt added" Del Monte Tomatoes as this will affect the taste if you buy ones that have added salt. Also, instead of squeezing an entire lime and including all the juice, I'd recommend juice from 1/2 a lime, no more than 1 Tbsp.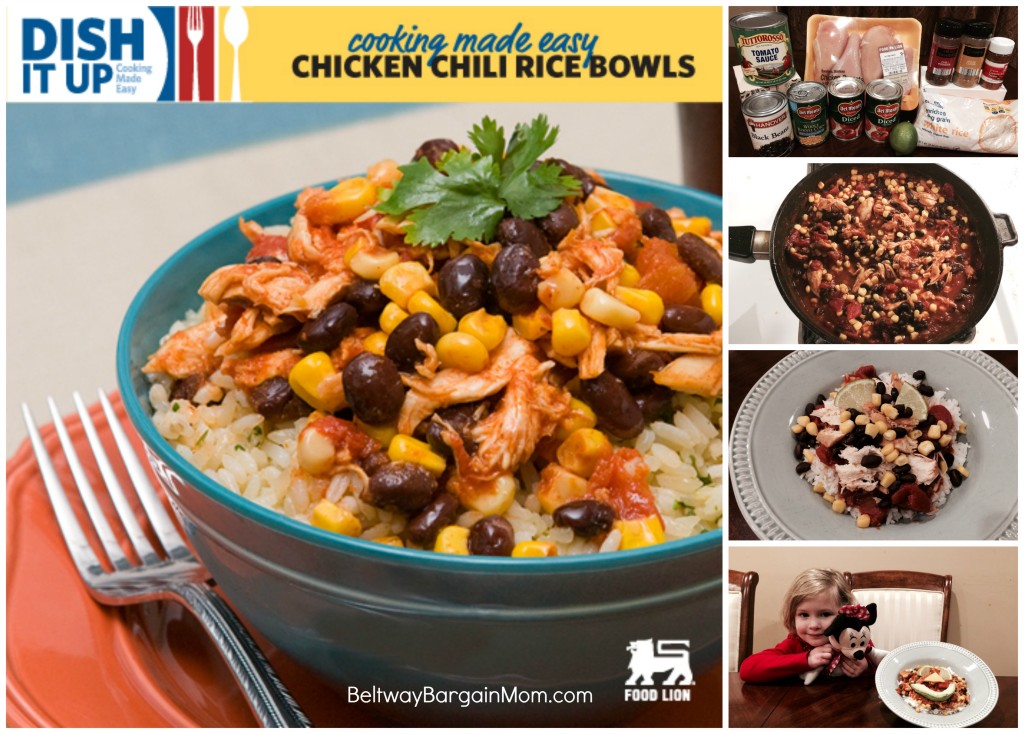 The total cost for this meal came in well under $10.
Cost breakdown (prices may vary across stores):
$2.79 – Boneless Chicken Breasts (1 lb at $2.79/lb). You can buy about 3.6 lb for $10 at my local Food Lion. Use 1-1.25 lb of chicken for this recipe and save the remaining 2+ lb of chicken for dinner another night or freeze.
$0 – White Rice (with leftover). Regular price $1.37 for 32 oz.
$0.30 – 1/3 bunch Cilantro ($0.89 for 1 bunch. Use leftover for another recipe or freeze in ice cube trays with water).
$0.10 – Olive Oil ($3.49 for 17 fl oz).
$0 – 1st can Del Monte Diced Tomatoes (14.5 oz). Regular price $1.19.
$1.19 – 2nd can Del Monte Diced Tomatoes (14.5 oz)
$0 – Tuttorosso Tomato Sauce (with 14 oz leftover). Regular price $1.39.
$0.25 – 1 Lime.
$0.12 – Cayenne Pepper ($1.19 for 1.87 oz).
$0.32 – Chili Powder ($2.89 for 2.5 oz).
$0.17 – Cumin ($2.19 for 2 oz).
$0 – Del Monte Whole Kernel Corn (15.25 oz). Regular price $1.19.
$0.79 – Hanover Black Beans (15 oz).
$0.69 – 1/2 of an Avocado ($1.39 for whole avocado).
$0.52 – grated Cheddar Cheese, about 2 oz from a block of cheese ($6.29 for 24 oz).
TOTAL: $6.03. If you include additional toppings, the total comes to $7.24.
COST PER SERVING: $1 – $1.20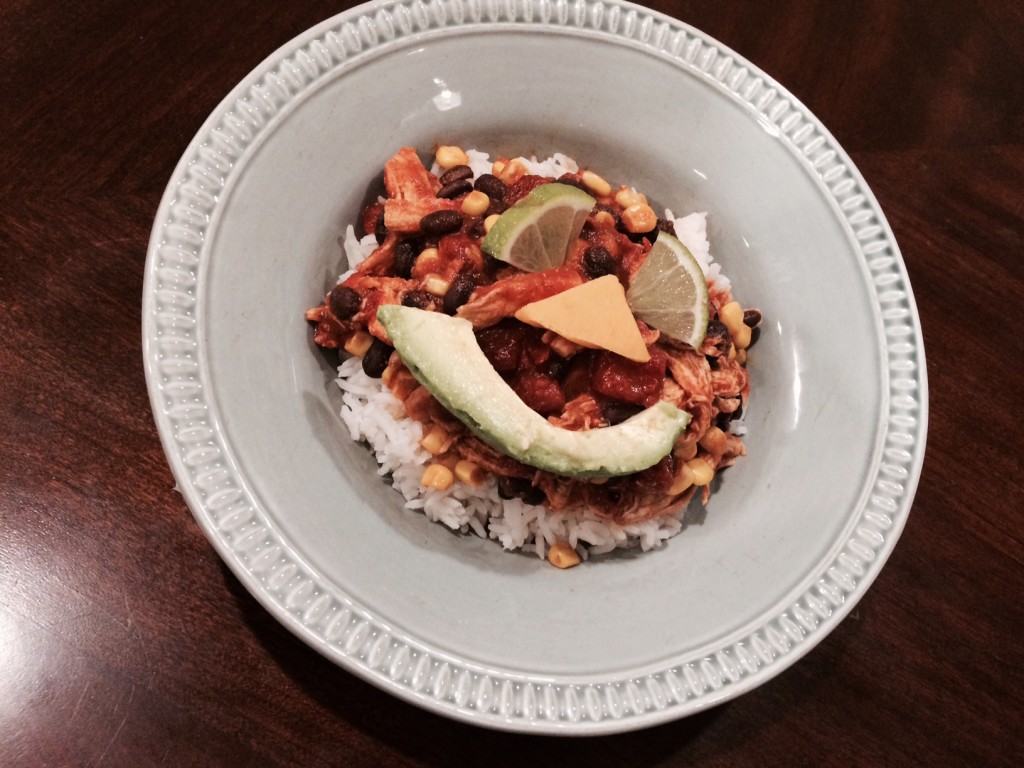 To find more tasty & budget-friendly recipes, be sure to check out the Food Lion Dish It Up recipe page.
Food Lion wants to help Beltway Bargain Mom readers get a kick-start in the kitchen for 2015 and beyond, so you can dish up your own, deliciously affordable meals. To help you out, they have provided me with a $100 Food Lion gift card to giveaway! One lucky reader will be randomly selected on Wed. Jan. 21st, 2015. To enter for a chance to win, simply fill out the Rafflecopter entry form below.
Good luck!
Disclosure: I was compensated to write this post and share this giveaway here on my blog. The opinions stated here are my own, and I love to share budget-friendly tips, recipes and giveaways for my readers! To read my formal disclosure policy, please click here