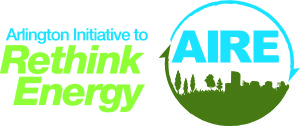 Like to save money and save energy? This Saturday, April 18, 2015 the Arlington Initiative to Rethink Energy (AIRE) will kick off its Light Switch events at Arlington County's E-CARE event!
Arlington residents can each bring in an incandescent or CFL bulb in to exchange for one energy-efficient LED light bulb. This is a great chance to "trade up" and get rid of your outdated light bulbs. Those who come to swap out their old light sources, can get a free LED ($7 value), limit one LED per household, while supplies last.
The AIRE's Light Switch event will provide residents an opportunity to safely dispose of household hazardous materials and other recyclable items. AIRE staff will be on hand, educating residents on the potential energy and cost-savings that can be achieved in your home by making the switch to LED bulbs.
Below are the event dates and locations:
E-CARE 
Date: Saturday, April 18, 2015
Time: 8:30 am – 3 pm
Location: Thomas Jefferson Middle School
125 S. Glebe Road, Arlington, VA 22204
CRYSTAL CITY POWER PURGE & SHRED
Date: Wednesday, April 22, 2015
Time: 7 am – 7 pm.
Location: 1900 Crystal Drive, Arlington, VA 22202
SATURDAY, APRIL 25: ARLINGTON FARMERS MARKET
Date: Saturday, April 25, 2015
Time: 8 am – 12 pm
Location: N. 14th Street and N. Courthouse Road, Arlington, VA 22201
For more information, be sure to check out the AIRE event page.