The following is a movie review for the newest Disney-Pixar film. Beltway Bargain Mom and family were invited to attend a special pre-screening of "Inside Out" earlier this month, and I'm excited to share this with you!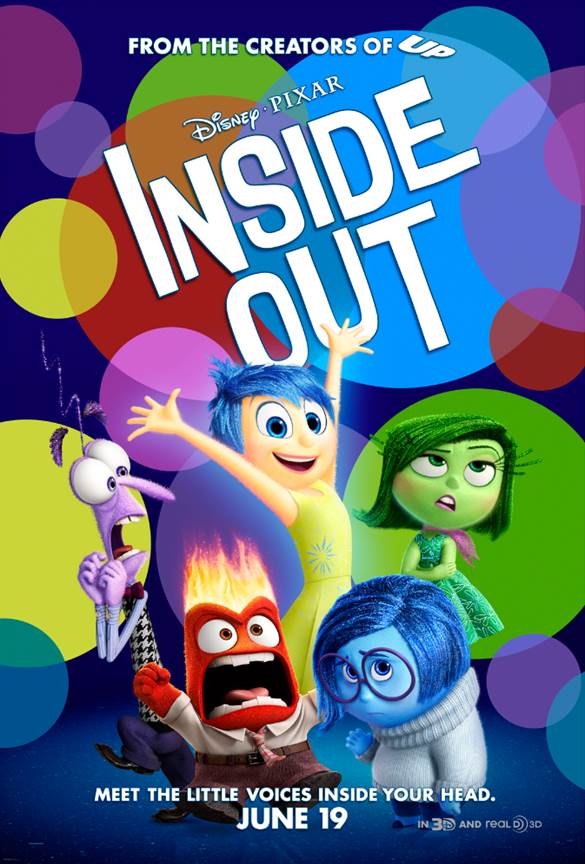 The newest Disney-Pixar movie has arrived just in time to get summer sizzling.
"Inside Out" invites you to meet the little voices inside your head. The story centers around a 12-year old girl named Riley, and the inner workings of her mind. Her emotions help guide her and the film takes place mostly inside her head during a difficult cross-country move and pivotal time in her "tween" years. Main characters include Joy (voiced by Amy Poehler), Sadness (Phyllis Smith), Fear (Bill Hader), Anger (Lewis Black) and Disgust (Mindy Kaling). Since Riley's birth, we see the presence of Joy and the quickly developed and apparently on-going tension between Sadness and Joy. The main plot follows Joy and Sadness as they are removed from the Headquarters of Riley's brain and they find themselves on a journey against time through Long Term Memory Storage, Imagination Land and the Dream Factory. If they are not able to make it back to headquarters in time, Riley will lose many core memories. Without joy and sadness, Riley's well-being is jeopardized as well as her relationship with her family and friends.
Both of my children, ages 4 and 8, loved this film. It left them giggling and joyfully recounting their favorite parts of the film: The funny recurrence of Disgust's complete disgust with broccoli, the dream sequence where Riley's emotions try desperately to wake her up with with a bizarre dog dream, and Sadness and Joy's constant "battle" to make her memories joyful or sad.
My 8 year old son gave me the following synopsis to share with you all:
The movie was super funny. The movie is about Joy & Sadness accidentally getting out of headquarters and they leave Anger, Fear & Disgust to control headquarters. Riley just moved and her emotions lead her to outbursts of anger, fear and disgust. Joy and Sadness get lost in the maze but find Riley's imaginary friend, Bing Bong, who helps lead them on an adventure back to headquarters.

As they try to journey back to headquarters, they attempt to take the train, but the Thought Train couldn't take them back to headquarters because Riley was asleep. You know what was funny? When Joy accidentally knocked over two boxes of "Opinions" and "Facts" and they get all mixed up  — Bing Bong let's her know it's fine as it "happens all the time."
It was a bit harder to coax a review from my 4 year old daughter, but she indulged me by answering a few questions:
Me: What is the movie about?
My daughter: Riley's emotions.
Me: Who is your favorite character?
My daughter: Joy
Me: Can you share a funny part of the movie?
My daughter: Disgust and broccoli
Me: Did you like this movie?
My daughter: Yes
From my "parent perspective" — I viewed this as a Wizard of Oz type of adventure in a young girl's mind. It has the spark of ingenuity, that you've come to expect from Disney-Pixar, coupled with a complex topic (navigating the human mind) and a big dose of humor for kids and adults alike. Your child's imagination will soar, and they'll learn the value of acknowledging all your emotions and the role they play in your life (yes – sadness can actually be a good thing!).
Disney-Pixar's Inside Out is an animated, family film rated PG. It opens in theaters on June 19, 2015. The movie length is 94 minutes.
*I was invited to attend a special, pre-screening event of Disney's Tomorrowland for members of the press and their guests. Please note, I am not a movie critic and was not compensated to write this post. All opinions are my own.