The following is a sponsored post, in partnership with Rebounderz Manassas
The summertime sticky, hot weather has arrived! If you're like most Washingtonians, you've confined yourself to the climate-controlled indoors for a big chunk of the day to avoid the extreme heat. But your little ones have a TON of energy to burn, and these hot summer days spent indoors with the AC blasting, often lead to your kids literally bouncing off the walls, pouncing and prancing on top of the furniture!
We all know that summer is a joyous time for kids and a great time for the entire family to spend more time together. You get to create fun summer memories that your kids will treasure into adulthood. However, often times we're left scratching our heads for fun, new entertainment options that are enjoyable for all ages, promote family fitness, and won't result in your kids being glued to a screen for hours. Does this sound familiar?
To make matters worse, the heat and humidity zap the enjoyment out of time outdoors, which leaves parents wondering how to keep the kids happy, healthy and NOT bored.
Our family has had the chance to discover a hip, indoor venue that has my kids bouncing off the walls, but in a good way! Rebounderz is an indoor trampoline arena located in Manassas, VA, conveniently located off of the I-66 Sudley Road exit, not far from the Fairfax County & Prince William County line.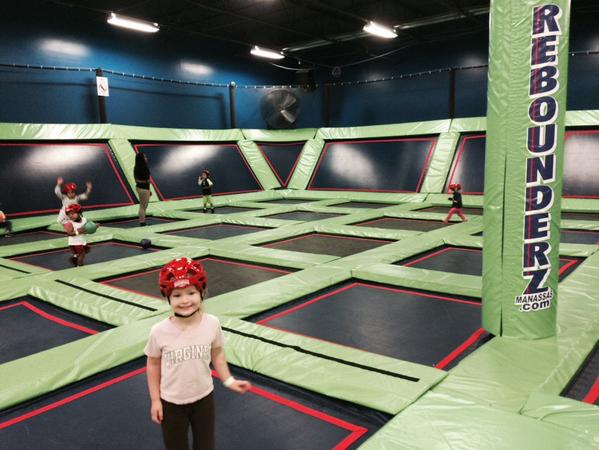 Rebounderz Manassas is helping frazzled parents out this summer, by offering some deals that will make you jump for joy!
Rebounderz Manassas
Address: 7403 Gateway Court, Manassas, VA 20109
Phone: 571-292-1452
Summer Dealz* at Rebounderz Manassas:
Deal: Unlimited Jump
Dates: Monday – Thursday
Time: 8:00 pm – 10:00 pm
Cost: $15 per person (this is over a 50% savings if you stay for 2 hours)
Deal: BOGO Wednesday
Dates: Wednesdays during Summer
Time: 4:00 pm – 9:00 pm
Cost: Buy 1 hour, get 1 hour FREE
Deal: Family Fridays
Dates: Fridays during Summer
Time: 4:00 pm until closing
Cost: $20 per person for 2 hours jump time, 1 pair of jump socks, 2 slices of cheese pizza, and 1 fountain drink.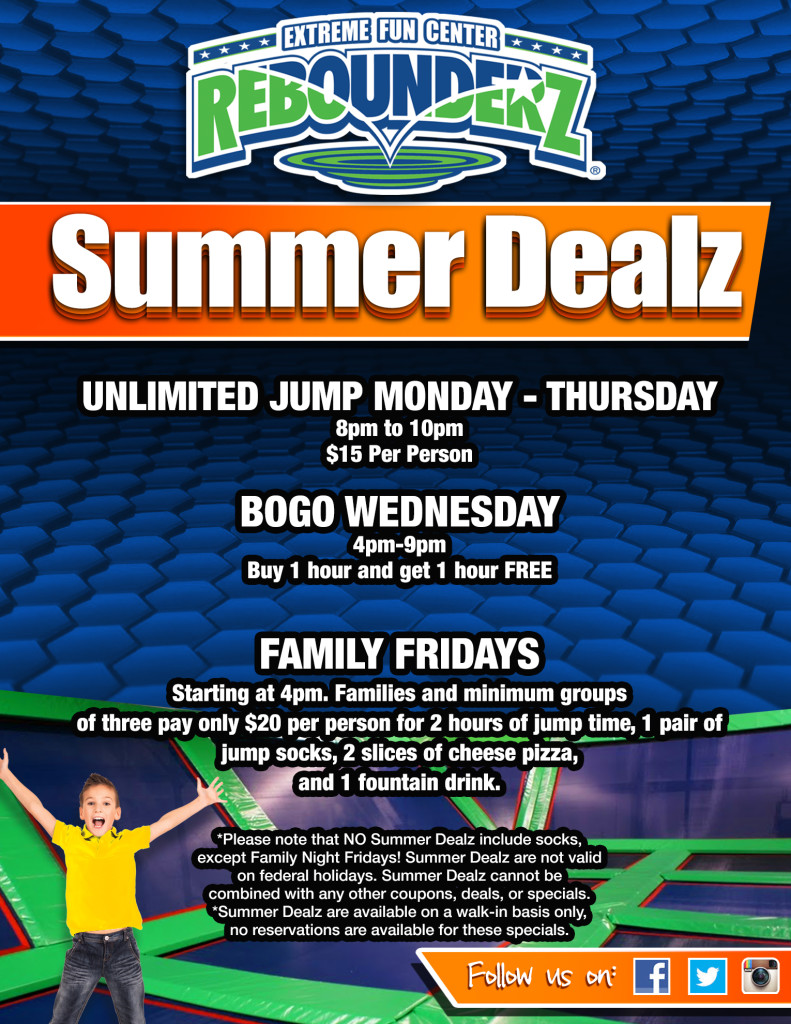 *Please note that NO Summer Dealz include jump socks, except Family Night Fridays. Summer Dealz are not valid on federal holidays. Summer Dealz cannot be combined with any other coupons, deals or specials. Summer Dealz are available on a walk-in basis only, no reservations are available for these specials.
My kids and I have enjoyed bouncing at Rebounderz. As a former gymnast, I have fond memories of jumping on the trampoline when I was younger. I have to admit though, today I can't keep up with the energy level of my kids; I just get worn out! Most times I'll just let them bounce while I stay in the observation area and try to tackle some items from my to-do list like make phone calls, catch up on e-mails, read, or write down ideas for my blog or consulting work.
My kids have been to a variety of bounce houses and inflatable jump venues over the years, but there's something different, extremely cool — and springier!– about a trampoline center like Rebounderz.
Safety is a top priority and they have staff on hand as "referees" to make sure all the guests are jumping safely and abiding by the safety rules and regulations. For example, no double-bouncing allowed and you must always land on two feet. They don't allow barefoot jumping, and require that all guests wear Rebounderz jump socks, which can be purchased once and then kept for future visits. Additionally, before you or your children can bounce, you will need to sign a waiver, which can be done online in advance or inside Rebounderz.
In addition to the main trampoline arena, they have a special trampoline area for dodge ball, and yet another trampoline section for basketball. Rebounderz also has an arcade section, which you walk through in order to get to the main trampoline area; you can buy tokens to play games, earn tickets and trade them in for prizes. We normally skip the arcade games and go right for the jumping, but the games will likely be enticing to most jumpers. Rebounderz also has 4 themed party rooms for special events, plus a little cafe where you can order food and drinks.
While you jump, you can store your shoes and any other belongings in either a cubby hole or locker.
To find out more about Rebounderz Manassas, visit their website www.RebounderzManassas.com and be sure to connect w/ them on social media.
Facebook: http://www.facebook.com/pages/Rebounderz-Manassas/287612484747712
Twitter: @RBZManassas
Instagram: Rebounderz_NoVa
Disclosure: This blog post is in partnership with Rebounderz Manassas. I was invited to attend Rebounderz with my family, as well as host an event, and share my experience on this blog for a series of posts. 
The opinions stated here are my own, and I love to share deals and family entertainment with my readers! To read my formal disclosure policy, please click here.