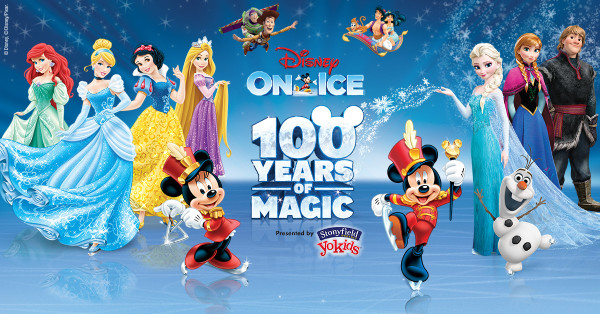 This week my family and I were invited to go see Disney On Ice Celebrates 100 Years of Magic Presented by Stonyfield YoKids Organic Yogurt at Eagle Bank Arena (formerly the Patriot Center). We're big Disney fans and revel any chance we get to review fun, family-friendly performances in our area.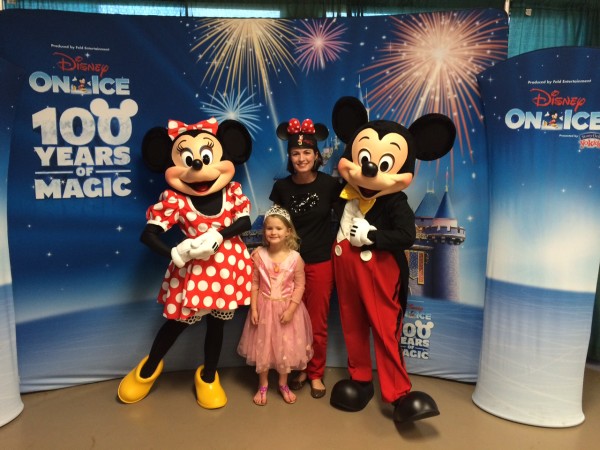 The first skaters entered the ice for the Pre-Show presented by Stonyfield YoKids. The energetic skaters got the stadium to their feet, as they talked about exercising and good nutrition. The YoKids skaters encouraged kids and parents alike to stand up and dance as everyone warmed up for the main show.
Next the Mouse-ter of Ceremonies, Mickey, entered the ice along with the lovely Minnie, Goofy and Donald, and the friends decide to make their own movie. They try to come up with an idea for their own movie, by drawing inspiration from and visiting scenes from beloved Disney films throughout the entire show.
The audience was first whisked along to fun in the sun with Teen Beach Movie then transported to the story of Pinocchio where we see the wise Jiminy Cricket, enchanting Blue Fairy and precocious puppet Pinocchio.
Jumping from one movie in which the plot has Geppetto searching for his lost boy, the audience is then transported to a different movie where another father is seeking his son in Finding Nemo. The adorably forgetful Dory, the overly cautious Marlin, and the totally tubular Crush with his baby turtles, make appearances as they search for Nemo. Most characters are portrayed by one skater in costume, but it's interesting to note that Crush, is portrayed by a large, robotic turtle. The vibrant costumes and artistic skating of the characters actually help create the atmosphere of the undersea world.
The next movie visited is Beauty and the Beast and then we are introduced to many more of the beloved Disney Princesses: Belle, Ariel, Tiana, Jasmine, Rapunzel, Cinderella and Snow White. Next stop is the city of Arendelle where we find all our favorite Frozen characters: Anna, Elsa, Olaf and Kristof, singing and skating to some of the signature pieces from the popular movie score: Let It Go, Love Is An Open Door and more!
After intermission, we are whisked off to more magical lands to view a few more movie scenes from Aladdin, Lion King, Toy Story 2, and Mulan. The grand finale brings all the skaters back to the ice for the culmination of 100 years of magic. Whether Mickey, Minnie, Goofy and Donald were able to make their own movie is not certain (perhaps a work in progress for another show!), but we certainly did enjoy the process of hopping around to different Disney movies to get inspiration.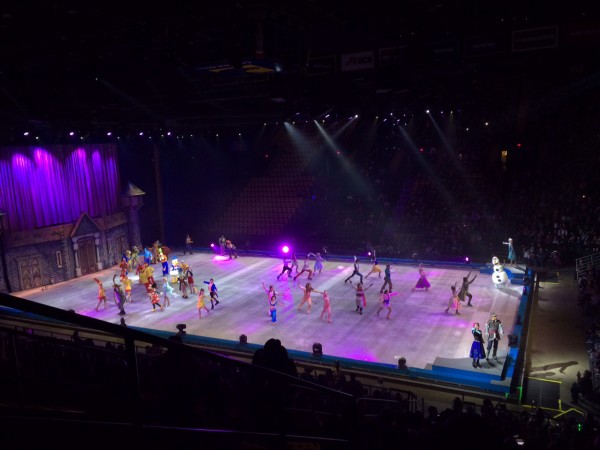 If you've seen past Disney On Ice performances and are wondering how this one differentiates itself from the rest, I'd say it was probably my daughter's favorite one she's seen (besides the Disney On Ice Frozen we saw last year). It was a great show featuring over 30 songs from a compilation of beloved Disney films.
I remember Disney On Ice Celebrates 100 Years of Magic came to DC back in February 2014 and 2012, and I noticed that they made some changes in this year's show. One of the big changes was the addition of Frozen characters. Also, some more princesses were added while some other characters were transitioned out. If you've seen the show in previous years and enjoyed it, this new one is definitely worth seeing too!
To find out more about Disney On Ice performances and their upcoming tour in Baltimore, MD, visit DisneyOnIce.com, or visit them on Facebook and YouTube.
Legal Disclosure: I am a Feld Family Ambassador, and in exchange for my time and efforts in attending show and reporting my opinion within this blog, as well as keeping you advised of the latest discount offers, Feld Entertainment has provided me with complimentary tickets to Feld shows and opportunities to attend private Feld pre-Show events.