The following is a sponsored post, in partnership with Rebounderz.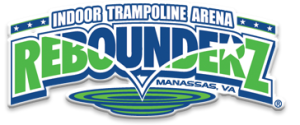 When my son was younger we enjoyed many at-home birthday parties. It was a cost-effective option and our kids always had fun. But to be honest, the party preparation could get pretty stressful with the frenzy of cleaning and tidying up before company came over, as well as the pressure of creating epic homemade birthday cakes and decorating the house to the nines.
As my son has aged, more of his classmates and friends have held parties at different entertainment venues. He, naturally, began asking about holding a party outside of the home, and part of me was relieved to look into other options besides hosting at our home. This year he was interested in trying out something different; a party where the kids would be BOUNCING OFF THE WALLS (which, ahem, we really don't encourage at our own house)… at an indoor trampoline arena!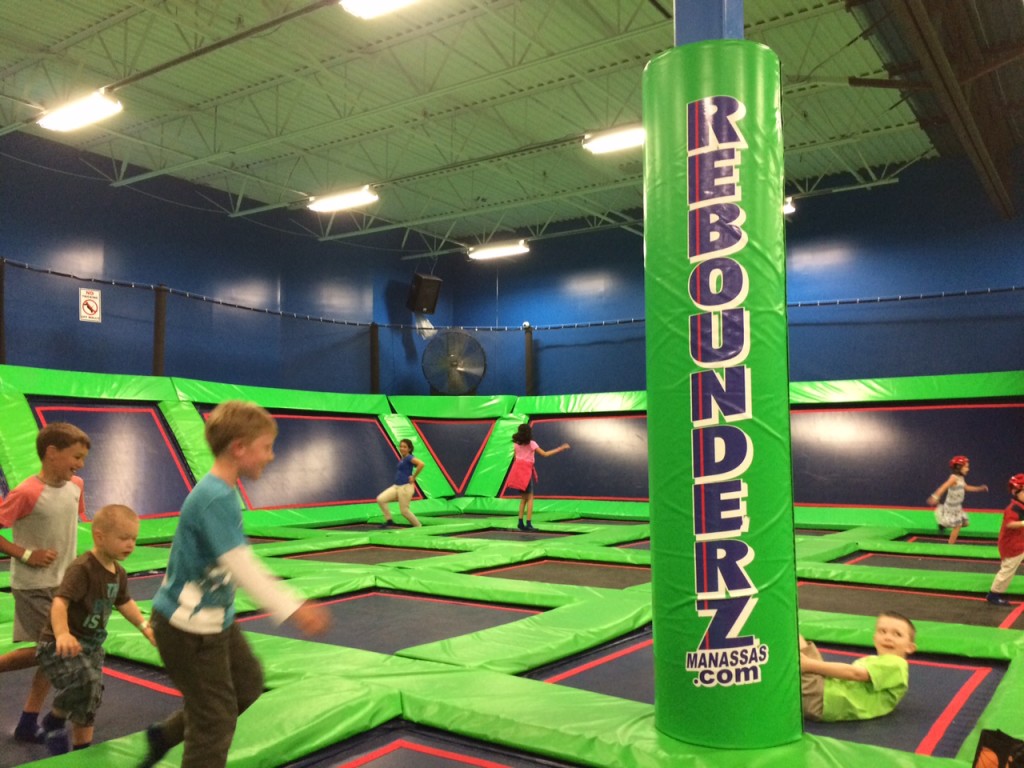 I contacted Rebounderz of Manassas to find out more about their birthday party packages and I was thrilled to find out they had some different options plus available dates around my son's birthday which was only a few weeks away.
We had our pick of festive party rooms:
Hollywood Room – the perfect themed room for the budding actor or actress, movie buff or rockstar wannabe. The room has grey/silver walls but is decked out in stars and decals that evoke "lights, camera & action" complete with a press junket plastered on one wall.
Sports Room – a great room for your awesome athlete to celebrate his or her big day. The walls are painted bright yellow and the walls include sports-themed equipment and decor, as well as pictures of athletes. Lacrosse sticks are affixed to the wall as well as pictures of a soccer player, Lacrosse player and football player. Motivational sayings are plastered on the wall, including "Ability – is what you're capable of doing" "Attitude – determines how well you do it." "Motivation – determines what you do." "A person who never made a mistake, never tried anything new. ~Albert Einstein"
Galaxy Room – an "out of this world" room which is a great fit for a science-enthusiast, aspiring astronaut or sci-fi fan. The walls are painted dark blue, covered with bright stars and planets.
Graffiti Room – a great pick for your child who loves street art, hip hop, emceeing, break dancing or fringe culture. The walls are painted black and adorned with colorful spray paint. Words such as "Flip" "Air" and "Rebounderz Manassas" are sprayed on the walls in a colorful and striking display of urban art.
We ended up choosing the Galaxy Room which tied in well with the "Star Wars" themed cake and goody bags I made.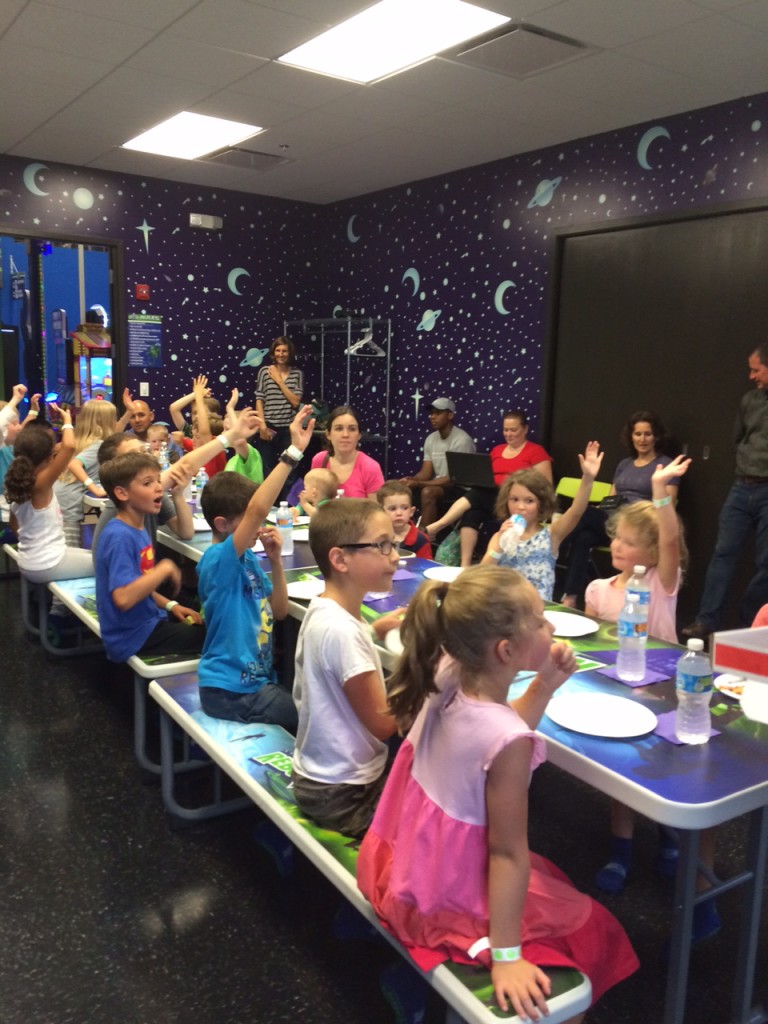 I really appreciated the time and attention the Rebounderz hostess gave to our group and her assistance during the party. She was included in the party package, and was instrumental in distributing the jumping socks, making sure jumpers understood the safety regulations and rules, as well as distributing the pizza and snapping a group photo. Our hostess even knew the best way to cut tiered cakes for a large group, and helped cut and distribute the cake. Having a helper who knew the facility and was well-versed in party-planning and events was a big plus.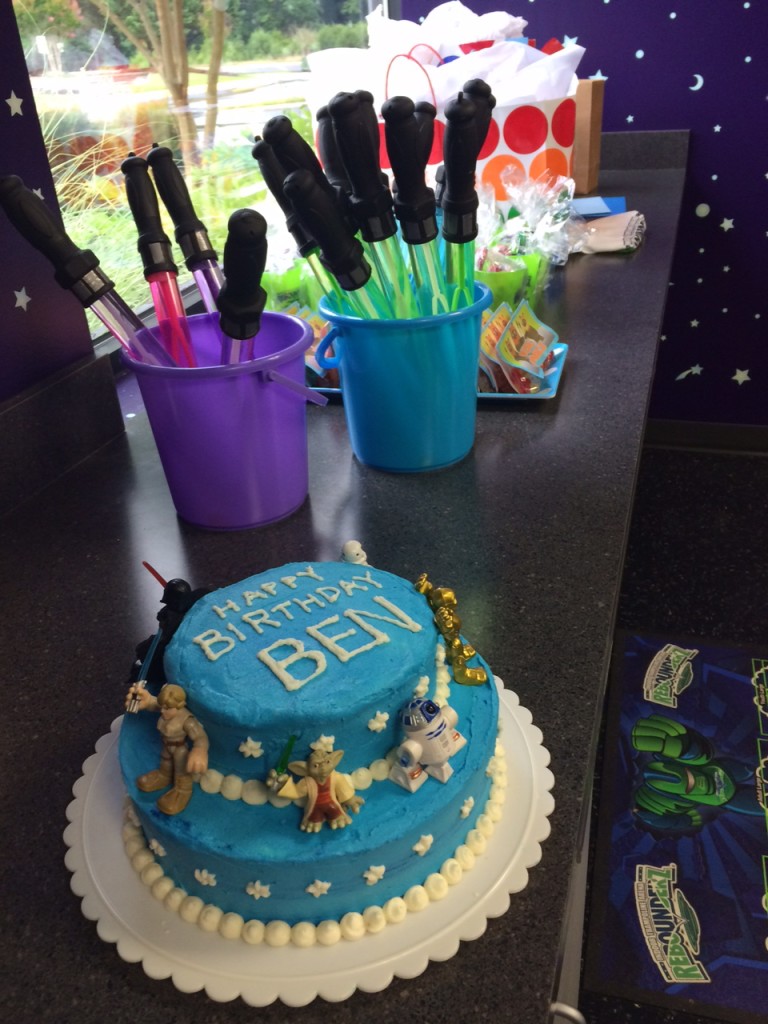 The kids enjoyed jumping for an hour and then spending the last hour eating pizza and cake, then playing arcade games before parents came to pick up their children. My son had a truly memorable birthday celebration and all the kids had a blast!
In case you're looking to plan a birthday party for your child, here is what is entailed with the standard birthday party package at Rebounderz.
Standard party package includes:
2 Hour Party (The first 70 minutes of the party is jump time).
Private party room for the 2 hour duration.
15 Jumpers (adults and/or children).
Rebounderz Jump Socks (required for all Jumpers toddler size 10 and up).
2 cheese pizzas (18″ with 10 Slices).
15 bottles of water.
Dedicated Party Host/Hostess.
Paper Products Provided (plates, napkins, cutlery, cups, tablecloth).
$1.00 Game Tokens per each participant which can be used in the arcade area.
1 Birthday T-Shirt.
Add-ons (not included in party package):
Additional Birthday T-Shirts — if you are holding a siblings or joint birthday party, you'll need to order an additional T-shirt which will be an extra fee.
Goody Bags (Plastic Tumbler, Candy, and Coupon)

1 Dozen Balloons
Some important things to know about hosting a party at Rebounderz:
No outside food or drink are permitted with the exception of cake or cupcakes. Any additional food or beverages must be ordered directly through Rebounderz.
To insure the party rooms and spaces remain clean and in good condition, they do not allow any modifications to the decorations in their party room and/or facility.  That means no confetti, glitter, streamers, pinatas, ceiling hangers, banners or sparklers are permitted.
Let all your guests know that they should arrive 15 minutes prior to the party start time to ensure all guests get on the jumpers at the same time.
Waivers must be completed and submitted for each jumper. Parent(s) or court assigned legal guardians can fill this out at their waiver kiosk inside Rebounderz on the day of the party (arrive early if you plan to do this) or a waiver can be accessed online at Rebounderz.com (Click the Waiver tab and follow the instructions). Guests 18 years of age and older are required to present a government issued photo ID to verify information. The online waivers must be submitted within a week of the event, or a PDF waiver form can be filled out (available upon request only).
Beltway Bargain Mom's Tips — Get the most bang for your buck at a Rebounderz party:
Book your party Monday – Thursday. You'll save $50 versus choosing a Friday – Sunday party date.
Keep those Rebounderz Jump Socks! If you have bounced at Rebounderz before, you know that the required jump socks are an additional fee, not included in the regular jump price. However, for the birthday party package all your jumpers will get their own jump socks included. After the party, kids should hold on to their socks, so that the next time they go to Rebounderz you don't have to pay $3 for a new pair.
Keep your guest list under 15. Up to 15 jumpers are included in the standard birthday party package. Keep in mind that the birthday kid, plus siblings and any adults that want to jump, will all be included in your total number. For each participant surpassing 15, you'll need to pay an additional $19 per person.
Consider the lowest cost option of the "Picnic Table" party package. This allows you up to 8 jumpers and still includes 1 cheese pizza, bottled waters, game tokens and 1 hour of jumping time.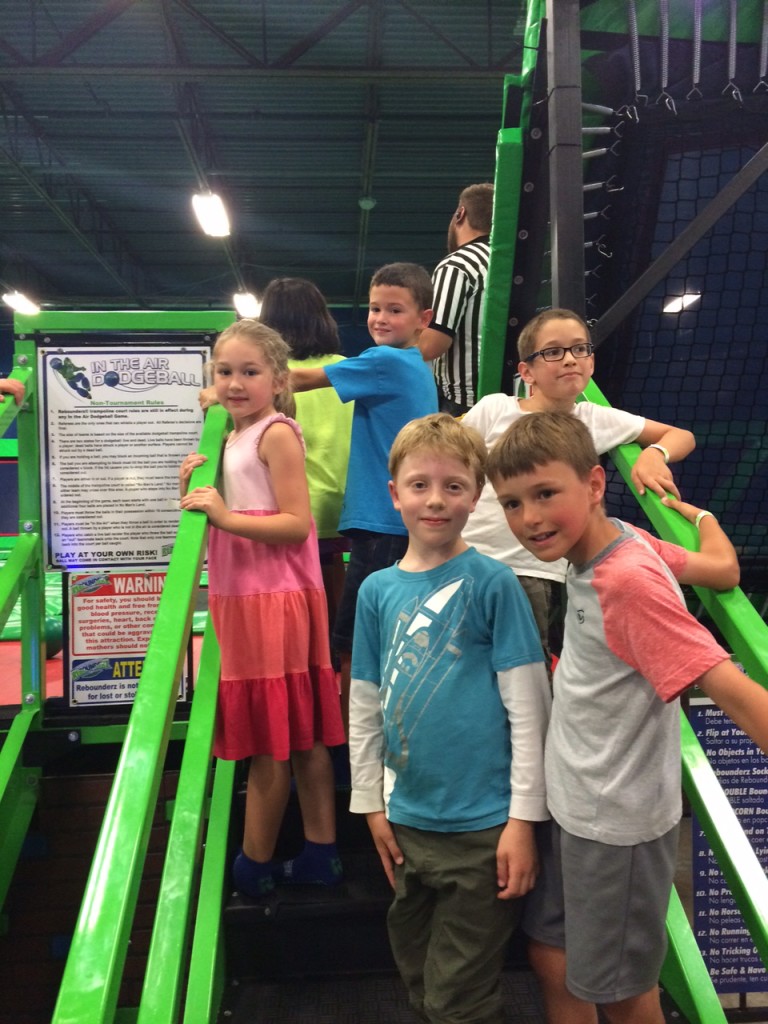 To find out more about Rebounderz, visit www.Rebounderz.com. You can find out more about their party offerings on their Party Package page. Be sure to connect with them on social media where you can find out about upcoming events and special deals.
Facebook: FB.com/RebounderzSterling
Twitter: @RBZSterling
Instagram: Rebounderz_Sterling
Yelp: Rebounderz Sterling
Disclosure: This blog post is in partnership with Rebounderz. I was invited to attend Rebounderz with my family and hold a birthday party at their venue, in exchange for sharing my experience on this blog for a series of posts. 
The opinions stated here are my own, and I love to share deals and family entertainment with my readers! To read my formal disclosure policy, please click here.