The following is a sponsored post in partnership with Carmine's
I've always had a fondness for great Italian food. My Italian ancestry seems to dictate my affinity for fine Italian pasta and fresh parmesan cheese. I realize many happy occasions in my life have involved pasta: My husband and I enjoyed our first dinner date at a little Italian restaurant (I ordered Gnocchi). My daughter was affectionately nicknamed the "Pasta Queen" as a toddler as that's all she wanted to eat the first few years of life. And finally, when I have the chance to order anything off a menu or reserve a dish as a wedding guest, I'm almost certain to order pasta. I guess you can call me Pasta Queen's Mom!
A few weeks ago I had the chance to visit one of Washington, DC's top Italian restaurants: Carmine's. Located prominently on 7th St NW in DC, it's just a short distance from the Verizon Center and the National Mall. Although it is a hotspot for the Penn Quarter, you may forget where you are once you step inside of Carmine's, as you will feel like you have been transported into your beloved Italian grandmother's dining room. A mis-match of old yet refined light fixtures hang from the ceiling, and there is a warm, cozy feel to the place, as you gather in the dining hall around a large table with your family or friends.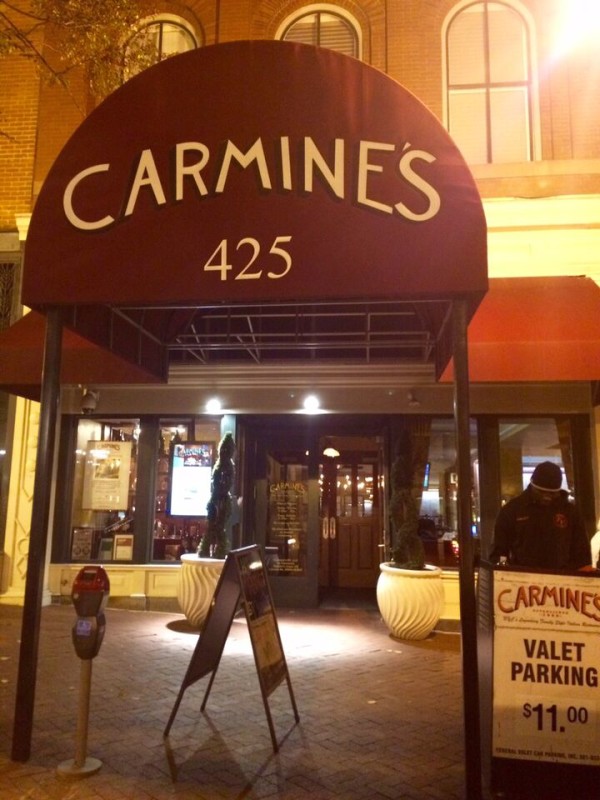 I had the chance to dine with my friends, Rachel from Surviving The Stores, and Ashley from Frugal Coupon Living while we enjoyed a nice meal with our families. We got our gourmand fix with a delectable dinner including heaping platters of food shared family-style among our group.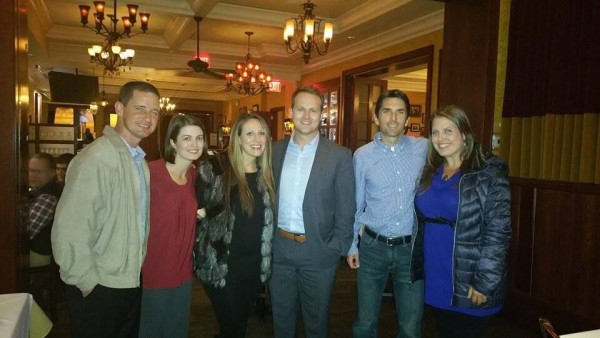 In case you are unfamiliar with Carmine's, it is a family style restaurant that specializes in Southern Italian cuisine. Restaurateur Artie Cutler opened up the popular flagship Carmine's restaurant in New York City back in 1990 with a mission to serve "wow-factor" sized portions. His mantra was to make each meal feel celebratory, like an Italian American wedding feast.
Carmine's is family owned and is not a chain restaurant (though they do have 5 restaurant locations including DC, NYC, Vegas and the Bahamas). They are known for their great food and huge portions at reasonable prices. The restaurant is notably family-friendly and dress code is casual.
The food is highly rated and for good reasons: Everyday the kitchen staff cooks from scratch in the kitchen. The fresh sauces elevate each dish. The dishes are expertly crafted, well-seasoned, and worthy of a joyous grandmother's "cheek-pinching" (… incase that happens to be your grandmother's expression of love 😉 ). The large, family style portions are generous, with each order serving about six to eight people.
At our table, we had some diners with dietary restrictions and allergies. I was impressed by our waiter's attentiveness and mindfulness of the diet and health of those at our table. My friend was able to order off the Gluten Free Menu and make sure no shellfish came by our table.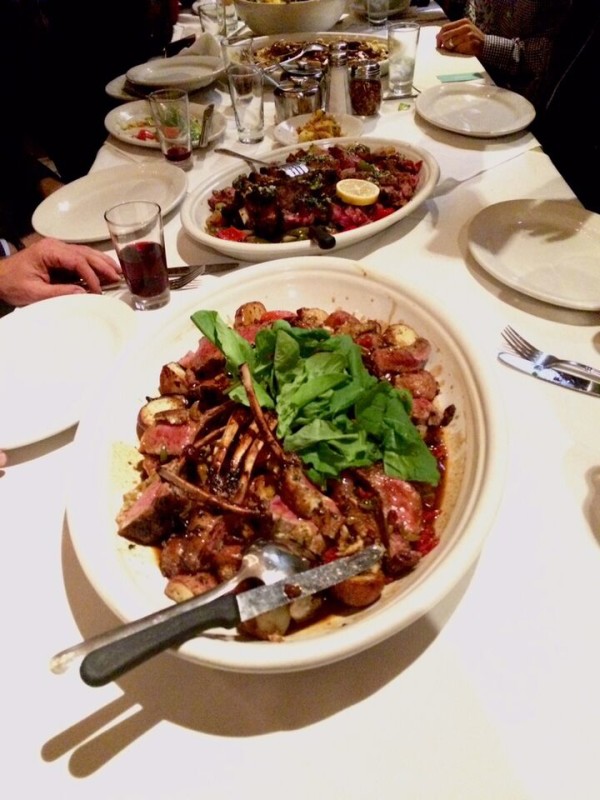 Everything we ate at our table was delicious! Some of the platters we sampled for our large party included:
Carmine's Salad (Iceberg lettuce, arugula, watercress, chopped salami, gaeta olives, Mortadella, Romano and Provolone cheese, red onion, celery, cucumbers, pepperoncini, tomatoes, radishes and red peppers tossed olive oil and red wine vinegar),
Rack of Lamb (a Tuesday special, and popular Easter special) and
Chicken Marsala.
Some of the gluten-free options our table ordered included:
Porterhouse Steak,
Caesar Salad (without croutons),
Gluten Free Pasta, Broccoli & Sausage with White Sauce, and
Gluten Free Pasta With Marinara Sauce.
My personal favorite was the Chicken Marsala over Angel Hair Pasta, while my husband's favorite was a tie between the Steak and the Rack of Lamb. One of my favorite parts was that fact that we had leftovers to bring home (yum!).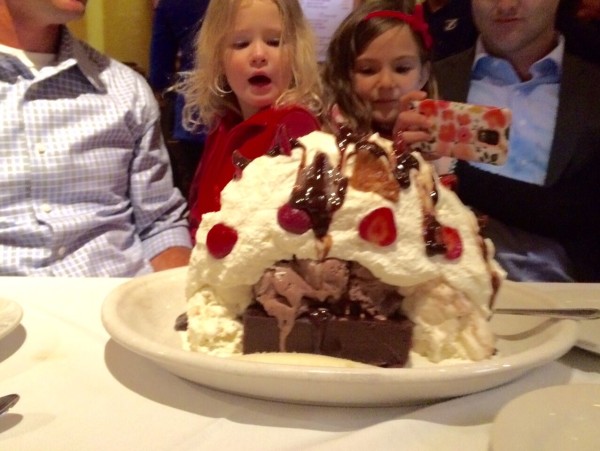 And I can't forget about the dessert…. their gargantuan ice cream sundae aptly named the "Titanic" was greeted with wonder by both the children and adults at our table. This dessert can feed 11 people and consists of fresh brownies, ice cream, whipped cream, bananas, strawberries and chocolate sauce. Quite the delectable, mammoth dessert!
I highly recommend Carmine's for gatherings with family and relatives, friends, and out-of-town visitors. Tourists, politicians and locals alike dine at Carmine's for their fresh, family style servings and delicious Italian food.
Some additional tips & ways to save:
Save money by splitting orders among your table. The family size portions are very large, so you can get a lot of food for your money.
Ask about their menu specials for that night.
"Coat check" your leftovers. After you've finished your meal, you can enjoy a night out on the town without lugging your leftovers around or having to throw them out at a venue. Simply "check" your leftovers at the front hostess table and your food will be held for you –and refrigerated– while you walk over to the Verizon Center for a game or performance, or visit a museum.
Use valet parking. After 5:00 p.m. it only costs $11 for valet parking in front of Carmine's. This price beats the rate of local parking garages and is much more convenient. Money- & time-saving for the win!
Connect with Carmine's
Address: 425 7th Street NW, Washington, DC 20004
Phone: 202-737-7770
Website: CarminesNYC.com
Like, Follow & Savor delicious photos from Carmine's on Social Media
Facebook: FB.com/CarminesDC
Twitter: @CarminesNYC
Pinterest: CarminesNYC
Instagram: @CarminesNYC
Flipagram: CarminesNYC
Google Plus: Carmines NYC
Disclosure: Carmine's hosted my group to experience the food and atmosphere, for the purpose of writing a review here on my blog. They picked up the tab for our table, but please note that the opinions stated here are my own. I love to share local, family-friendly restaurants that are a good value to my savvy readers. To read my formal disclosure policy, please click here.