Share the post "Win Free Tickets To See The Good Dinosaur From Sun-Maid"
The following is a sponsored post in partnership with Sun-Maid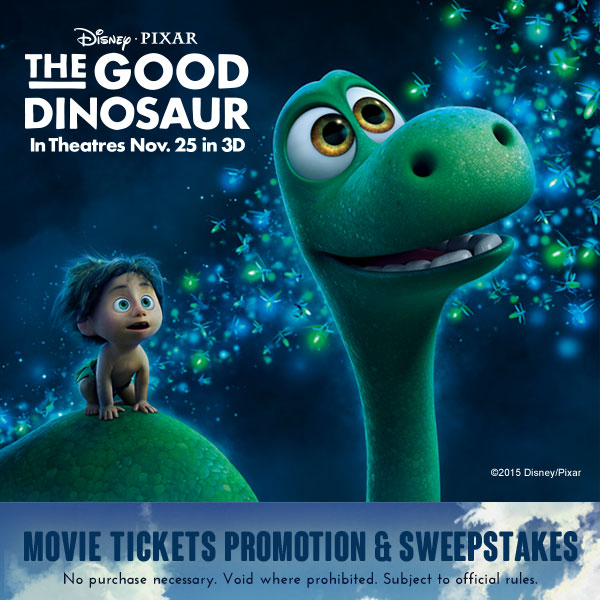 If your family is like mine, both the kids and adults get excited when a new Disney Pixar movie is about to be released. We revel in the previews and can't help but get drawn into the sneak peaks posted online and featured on our favorite TV station, The Disney Channel. To build upon the excitement of the newest animated film, I'm thrilled to share a fun promotion with you. Sun-Maid is collaborating with Disney Pixar to celebrate their new film, The Good Dinosaur, in theaters November 25th and healthy snacking with Sun-Maid Raisins.
A new dinosaur movie and healthy snacking? Now that's a DINO-might combination!
In case you haven't heard, Disney Pixar's The Good Dinosaur takes viewers on a prehistoric adventure in true Pixar fashion. Known for a heartfelt storyline and keen sense of humor, Disney Pixar is bringing the world of dinosaurs back to life in their newest film. An Apatosaurus named Arlo, befriends Spot, a human, in this tale of an unlikely friendship sparked by a single act of kindness. 
Thanksgiving is traditionally a time spent with family, involving feasting and snacking. Sun-Maid Raisins wants you to savor these moments with family, enjoying new and old traditions, and partaking of a timeless snack that packs nutrition into every bite. This Thanksgiving weekend, in addition to your food festivities, why not take your loved ones to the theater to enjoy this epic tale of a dinosaur and his friend?
Sun-Maid is giving you a chance to win a pair of free tickets to see The Good Dinosaur! So grab a healthy snack and enter for a chance to win your free tickets. There will be 5,000 pairs of movie tickets given away for winners to enjoy at their local theaters.
Here's how you can enter to win:
For a chance to win one of the 5,000 pairs of movie tickets, go to Sunmaidoffer.com now through Dec. 31, 2015.  You can enter once per day, so if you don't win tickets right away, you can keep on entering.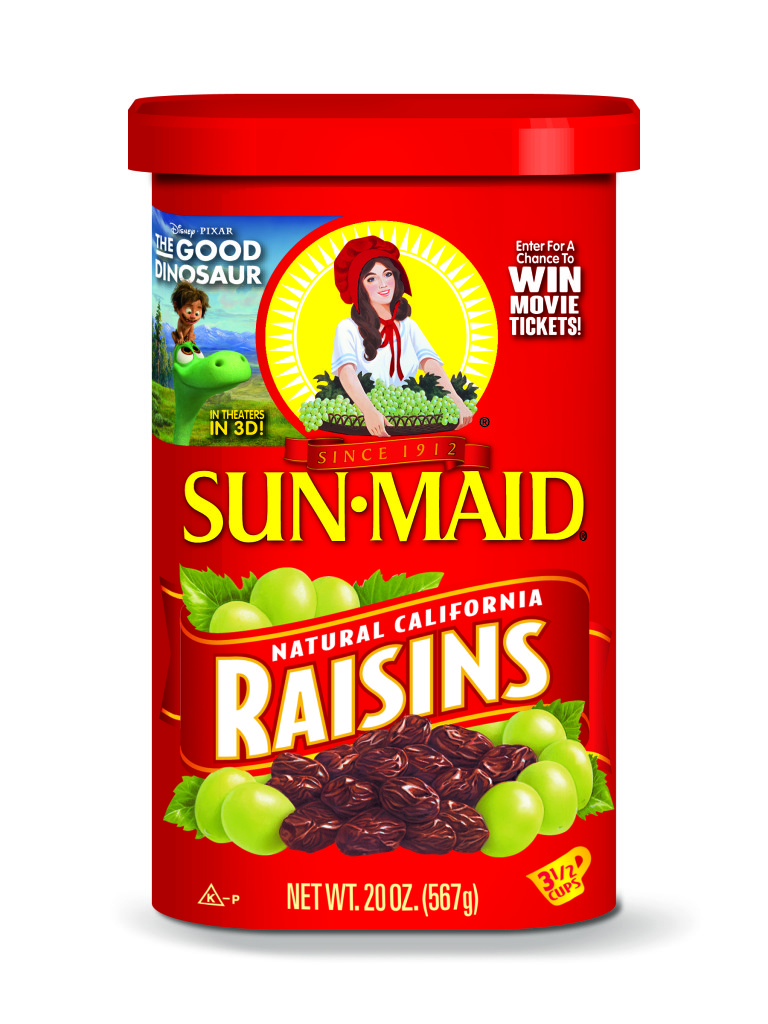 Sun-Maid wants to help you get creative in the kitchen and fix fun, nutritious snacks! Be sure to check out this collection of dino-themed recipes from Sun-Maid: Caveman Crunch Mix; Apple Raisin Mammoth Muffins; and T-Rex Raisin Oatmeal Cookies.
Keep snack time fun for your kids with Sun-Maid Raisins, and be sure to see The Good Dinosaur, in theaters November 25th!
Check out The Good Dinosaur preview below:

Disclosure: This is a sponsored blog; while the views expressed here were genuinely mine, consideration was paid to me by SUN-MAID to share this promotion. To read my formal disclosure policy, please click here.