The following is a sponsored post in partnership with Litehouse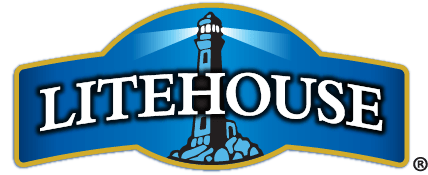 Last week I had the pleasure of attending a blogger dinner hosted by Litehouse at Aggio in Baltimore. At the dinner I got to meet the Vice President of Marketing & Communications for Litehouse, plus socialize with other local influencers as we learned about Litehouse and why families are having an epiphany about healthy food options.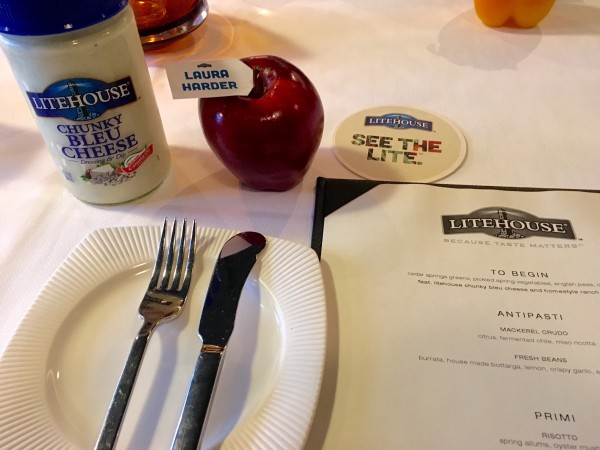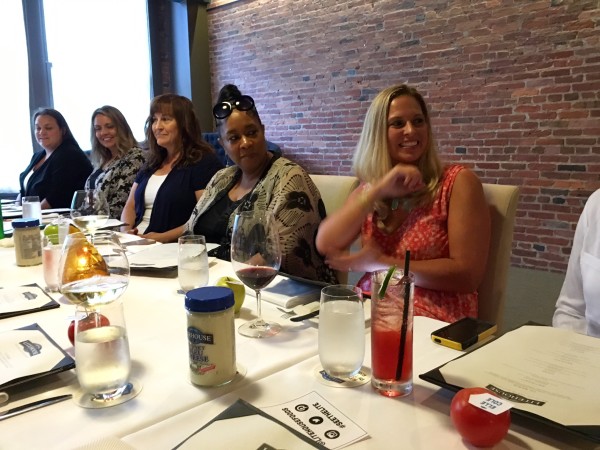 I learned a lot about Litehouse's history and mission. They have been around for 50 years and it all began with Ed Hawkins Sr's delicious homemade bleu cheese dressing recipe. When the Hawkins family opened their own restaurant in Hope, Idaho their friends and customers couldn't get enough of their delicious dressing. So in 1963 Edward and Lorena began to bottle and sell their first jars of Litehouse Salad Dressing in Bleu Cheese and Thousand Island varieties.
Fast forward to today, and the company, still based in Idaho, is thriving with 720 employees and a vast line of salad dressings, fruit and vegetable dips, marinades, fresh herbs and cider. The company is now 100% employee owned and the entire team takes extra pride in their work and their craft.
Litehouse creates products that are made fresh, that's why you find them refrigerated in the produce section of the grocery store. Most of their dressings are also gluten-free and have no additives or preservatives. They are committed to bringing delicious and healthy food to your dining room table.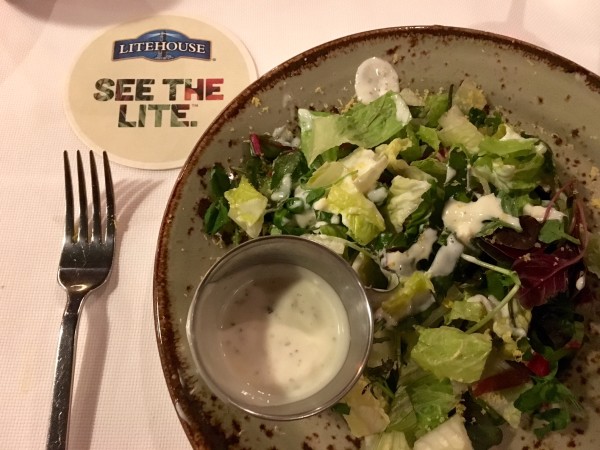 Litehouse prides itself in creating the finest quality food, at the best value. Their products are great for dressing up your salad and for vegetable dipping, but they are also great for cooking.
In fact, a special co-host of our event was registered dietician nutritionist Rebecca Scritchfield who hosts the Body Kindness podcast. She shared a bit of her passion for healthy food and her thoughts on up-and-coming food trends such as "Cabbage is the new Kale!" She then did a live cooking demonstration of her newly developed recipe incorporating Litehouse Homestyle Ranch Dressing.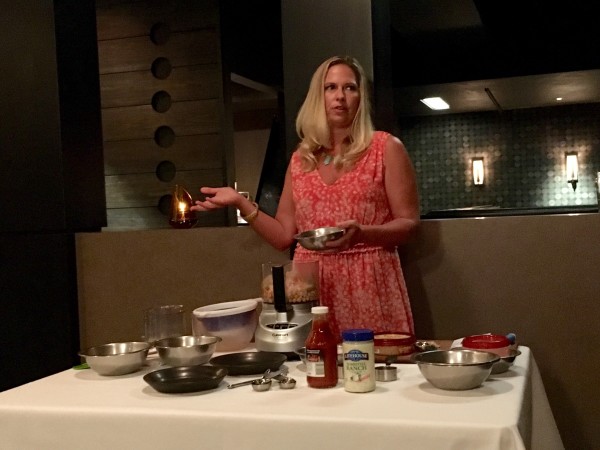 I'm excited to share this zesty recipe with you!
Zesty Buffalo Ranch Chickpea Sliders
Developed by Rebecca Scritchfield, RDN
Serves: 12 Sliders or 6 Patties.
Cook Time: Finish in 25 minutes.
These meatless "burgers" bring the heat with fiery buffalo sauce and cool down with creamy Litehouse Homestyle Ranch Dressing. Vegetarian and budget-friendly, this recipe uses chickpeas, carrot, and brown rice to offer a meat-like texture reminiscent of buffalo chicken wings flavors. In the mood for a lighter meal? Skip the bun and enjoy them wrapped in green leaf or butter lettuce. Also try them crumbled over mixed greens with veggies and Litehouse Homestyle Ranch Dressing for a delicious salad.
INGREDIENTS
For Patties:
15 oz can cooked chickpeas
1/4 cup brown rice, cooked
1 cup panko or regular bread crumbs
1/2 cup white onion, chopped
1 large carrot, grated (or 1/2 cup grated)
1 garlic clove, minced
1 egg yolk
1/4 cup hot sauce
2 TBSP hummus
1/4 cup Litehouse Homestyle Ranch Dressing
1/8 tsp kosher salt and black pepper
2 TBSP olive oil, for pan frying
To serve:
12 whole-wheat slider buns
6 small lettuce leaves, torn in half
2 small ripe tomatoes, cut into 12 slices
1 small cucumber, thinly sliced into 24 slices
1 cup Simple Spread, divided
For Simple Spread:
Instead of ketchup or mustard, try adding one of these Simple Spreads to your burger for added flavor.
2/3 cup Litehouse Homestyle Ranch Dressing
1/3 cup low-fat Greek yogurt, low-fat sour cream or hummus
DIRECTIONS
1. Combine chickpeas, brown rice, panko, grated carrot, minced garlic and onions into food processor.
2. Pulse dry ingredients for 15-20 seconds until chickpeas are slightly mashed and mixture comes together.
3. Add egg yolk, hot sauce, and Litehouse® Homestyle Ranch Dressing into food processor.
4. With the wet ingredients added, pulse for 15-20 seconds.
5. Shape mixture into patties. Burger size is approximately loosely packed ½ cup measure and slider size about ¼ cup measure. (Note: Mixture will be somewhat sticky. You can refrigerate for 20 minute before forming patties to reduce stickiness.)
6. Heat a non-stick pan over medium heat. Lightly coat with olive oil. Once hot, add patties to the pan; cook 3-5 minutes on each side or until lightly browned.
7. Remove from pan and allow to cool for about 10 minutes before serving,
8. Spread about 1 tablespoon of spread suggestions on bottom half of each bun; top with 1 patty. Top each slider with 2 cucumber slices, 1/2 lettuce leaf, and 1 tomato slice. Top with bun tops.
TIPS
Loaded with plant-based proteins and fiber, these chickpea-based burgers are a meal you definitely want to keep on your "digestive support" list. Make the sliders if you're serving a crowd or little ones. Prepare them ahead of time — or cook them in advance and then reheat in the oven, stove top, or microwave before serving. Cooked patties will keep up to 4 days in the refrigerator. Leftovers can be frozen.
You can discover more great Litehouse recipes like Apple & Blue Cheese Slaw & Jalapeño Ranch Green Bean Casserole by visiting their website.
In the days since this event, I can say I "See the Lite" as I've been cutting up more fresh carrots and veggies for snacks — for both my kids and myself — and dipping in Litehouse dressing. Litehouse's passion for healthy and delicious food definitely resonated with me and it's helping me kick off summer with more healthy food choices.
Litehouse wants to help you #SeeTheLite and incorporate fresh dressings and healthy food into your family's snacks and meals.
Be sure to connect with Litehouse online and on social media, and find out more about their current contests and offers.
Connect with Litehouse:
Website: LitehouseFoods.com
Facebook: FB.com/Litehouse
Instagram: LitehouseFoods
Twitter: @LitehouseFoods
Pinterest: LitehouseFoods
Disclosure: I was invited to attend a special dinner with Litehouse Foods. I was provided a complimentary meal and goody bag including a gift card and product coupons. Please know that the views shared in this blog post are my own. I love to share good value foods and products with my readers. To read my formal disclosure policy, please click here.