The following is a sponsored post in partnership with Gigasavvy. 
Last month I was invited to check out the newly redesigned Johnny Rockets restaurant in Georgetown! Although this beloved burger joint has been a staple in the Washington, DC dining scene for almost 20 years, I have to admit I had never visited the restaurant here in my hometown.
Years ago I had dined at another Johnny Rockets while on a trip to Atlantic City, so I was familiar with the 1950s-style diner and menu. When I heard they were refreshing the look of the Georgetown restaurant, I was curious to check out the modern, new look and taste-test the menu with my kids!
Johnny Rockets Georgetown
Address: 3131 M St NW, Washington, DC 20007
Phone: 202-333-7994
Website: JohnnyRockets.com
Hours: Sun – Thurs: 9 am – 12 am
Fri – Sat: 9 am – 4 am
Get Social!
Facebook: FB.com/JohnnyRocketsGeorgetown
Twitter: @JohnnyRockets #JohnnyRocketsDC
Instagram: JohnnyRockets #JohnnyRocketsDC
Pinterest: JohnnyRockets
YouTube: YouTube.com/JohnnyRockets
Rebrand of Johnny Rockets
You probably know Johnny Rockets for their classic burgers and diner setting, but get ready for a fresh new look! After celebrating their 30th anniversary of their first diner in Los Angeles, Johnny Rockets decided to rebrand their 1950s-themed diner for a more modern and fresh look. Customers can expect the same great food and experience at Johnny Rockets but with a few modern twists. The Georgetown DC restaurant is only the second Johnny Rockets location to undergo this rebranding. The rebrand includes:
A new, refreshed Johnny Rockets logo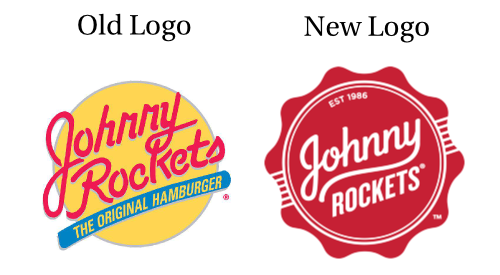 Modern restaurant design
The redesigned layout gives Johnny Rockets a more modern feel. The diner has been updated with a white brick veneer with inspired quotes and their core food values and slogans plastered across the wall. The lighting and floor plan are more contemporary and it really opens up the dining space. They offer a variety of seating options including: upholstered booth seats, counter seating, and tables and chairs. The kitchen is now open and incorporates white wall tiles and stainless steel. Very classic yet modern!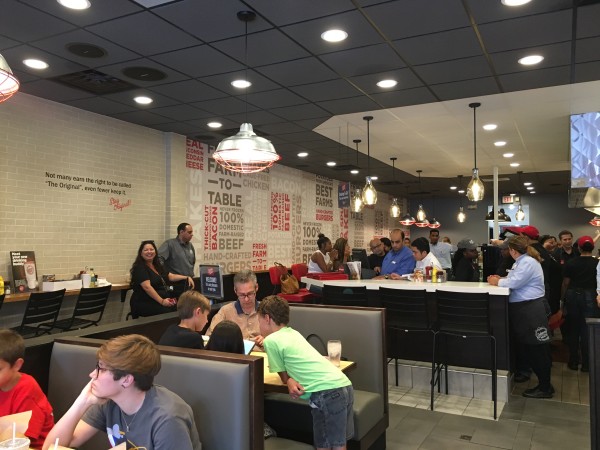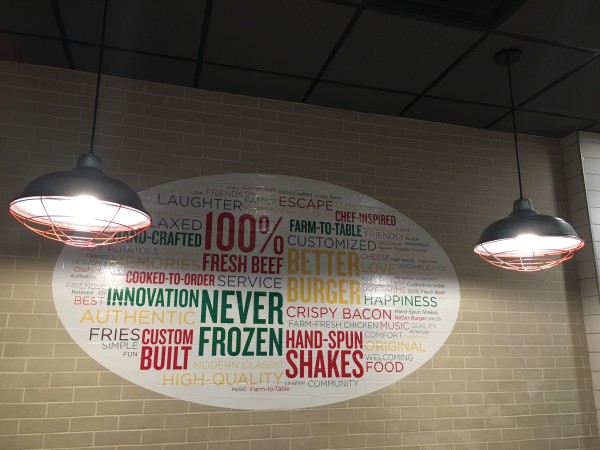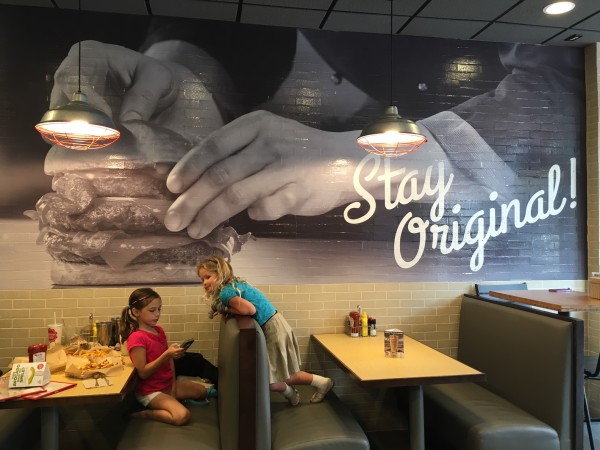 New music
The jukeboxes and limited music options have been phased out, and you can now enjoy remixes of classic music and pop music of today.
New attire
The soda fountain uniforms are gone. You'll notice sleek new uniforms for servers and cooks which include black or dark denim jeans with white oxford shirts for servers and dark chalk striped shirts for managers. Servers also don a waist apron and cooks sport a full bib apron.
Classic Food with a Twist
You can expect the same classic diner food, refined by Johnny Rockets over the decades, with some updates on their menu! With the recent hire of Calvin Harris as their Director of Culinary Innovation, there are more limited-time menu offerings, based on emerging trends and consumer feedback.
Johnny Rockets promises to deliver the best burgers, cooked-fresh-to-order. Their commitment to excellence means their burgers are never frozen, and they offer 100% domestic farm-raised beef, farm-fresh chicken, ground turkey and Boca Burgers.
Your favorite diner food you've come to love from Johnny Rockets is still delectable!
My Experience
My kids and I had a memorable evening dining at Johnny Rockets! The food was delicious and the ambience was fun and welcoming; my kids were clamoring to return again soon (and order more milkshakes to-go)!
Johnny Rockets is definitely a classic, yet modern dining option for Washingtonians. I love that it's a family-friendly restaurant and a perfect stop for those shopping in Georgetown or looking to grab a quick lunch or dinner in the city. It was exciting to attend the re-grand opening of the refreshed DC Johnny Rockets, and I hope you'll venture out to experience the new and improved Johnny Rockets too!
About Johnny Rockets
Johnny Rockets is a popular restaurant franchise that has been around since 1986. Known for their fantastic hand-crafted burgers, hand-spun shakes and malts, plus their upbeat and casual atmosphere, they have over 350 locations spanning across 28 countries. That means you can get your burger fix here in DC or on your next vacation or business trip to New York City, Atlanta, Philadelphia, San Francisco and a ton of other destinations.
Disclosure: This post is sponsored by Gigasavvy, and I have been compensated for my participation. All opinions are my own. I love to share great local restaurants with my readers. To read my formal disclosure policy, please click here.