I'm thrilled to share an upcoming conference in Northern Virginia happening later this fall. The Created 2 Be Conference is going to encourage, inspire & equip you in your walk as you discover who you were put on this earth to be in life, business and relationships! I'm happy to be a part of this conference and hope you can join me for the fun and fellowship next month.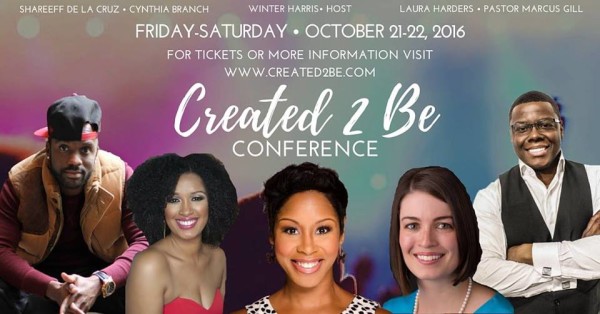 Conference Details
Created 2 Be Conference
Dates: Fri. Oct. 21 – Sat. Oct. 22, 2016
Location: Christ Central Presbyterian Church, 15451 Lee Hwy, Centreville, VA 20121
Tickets: Starting at $35 (get early bird, general admission until Oct. 14) – $50 (VIP event) available via Eventbrite.
Website: Created2Be.com
What is Created 2 Be?
Created 2 Be is a non-denominational conference featuring Christian speakers and worship with local Christian recording artists and bands.
This conference was created from a desire to serve as a springboard for hearts and minds to chase their wildest dreams without reservation through our ability to impact the world through transparency, valuable truth, and God's everlasting love!
From the Created2Be website:
Life can be confusing and we all seek to find answers. The Created 2 Be Conference is a dynamic two-day experience to help you navigate through life, business, and relationships with the help and fellowship of like-minded individuals. We want to personally spoil you while you experience our amazing speakers and outstanding worship. Join us with an expectation to be loved, embraced, strengthened, uplifted, encouraged, and to laugh. Our prayer for the Conference is that we all will be more fully awakened and receptive to God's incredible love, that we will experience His presence more deeply and intimately, and that we will allow His spirit to quicken us to understand our value and purpose. May you fully realize the impact and influence you have on your family and community and personally experience His joy and strength. We can't wait to see you at this life-changing weekend!
Who founded Created 2 Be?
Winter Harris is the driving force behind Created 2 Be. I have known her for the past few years as she is a fellow blogger and online influencer with a heart for ministry. Winter is the founder and editor in chief of Defined by Grace, formerly Christ Centered Home Magazine, an online site for modern women of faith.
Who is speaking at Created 2 Be?
I'm honored to be speaking at Created 2 Be Conference along with Winter Harris, Cynthia Branch, Shareeff De La Cruz & Pastor Marcus Gill.
What can you expect at the conference?
The conference schedule was recently released, and it is jam packed with great sessions!
The current schedule (subject to change) is:
Friday, October 21, 2016
5:00 pm – 6:45 pm — Registration and Conference Check-In
5:00 pm – 6:45 pm — Vendor Expo
5:45 pm – 6:45 pm — VIP Blue Carpet for Meet & Greet and photos
7:00 pm – 9:30 pm — Opening Session and Talk Show Forum
Saturday, October 22, 2016
9:00 am – 10:30 am — VIP Prayer Breakfast with impact speaker, Minister Lynn Strange
10:30 am – 11:30 am — Saturday Only Attendees Registration and Check-In
10:30 am – 11:30 am — Vendor Expo Show & Learn
11:45 am – 1:45 pm — Part One of Conference Sessions featuring Laura Harders & Shareeff De La Cruz
1:45 pm – 2:30 pm — Lunch Break, Food Truck Vendors will be available for purchase
2:30 pm – 4:00 pm — Part Two of Conference Sessions featuring Cynthia Branch & Pastor Marcus Gill
4:00 pm – 5:30 pm — Dinner Break. Food Truck Vendors will be available for purchase
6:00 pm – 8:00 pm — Worship Concert featuring Christian Recording Artists, Jeff Walthall & Taylor Lauren
How much do tickets cost?
The conference tickets are a real bargain, in my opinion, particularly for a 2-day event! Right now you can grab early bird tickets for as low as $35.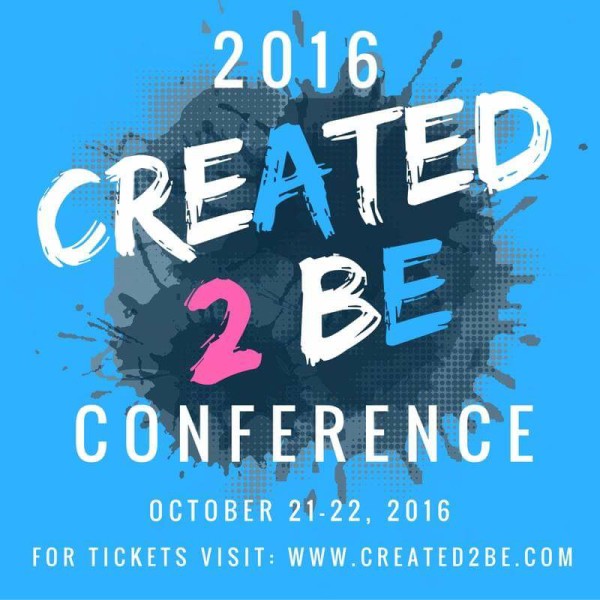 Find out more by visiting the Created 2 Be website, checking out the Facebook event page, and purchasing tickets through Eventbrite.
I'm excited to be a part of this inspiring, faith-filled conference, and hope you can join me and so many others for two days of education and enrichment for your heart, mind and soul!