The following is a sponsored post in partnership with P&G products available at Walmart
Football season is one of my favorite times of the year! It is so much fun to host football viewing parties, cheering on the Ravens while watching the game at home with family and friends.
As a mom, I realize that I am both the Defensive and Offensive Coordinator for home entertaining… I am strategically planning and in charge of keeping the party going on game day!
This Football Season Is Time To Party On, Mom!
Moms play a critical role in cheering on the home team as well as creating the perfect party atmosphere. I'm honored to be a part of P&G at Walmart's Party On, Mom panel, ready to coach you through your next at-home tailgate. Your party should be as stress-free as possible, so you can savor time with your favorite sports fans at home or in the stadium!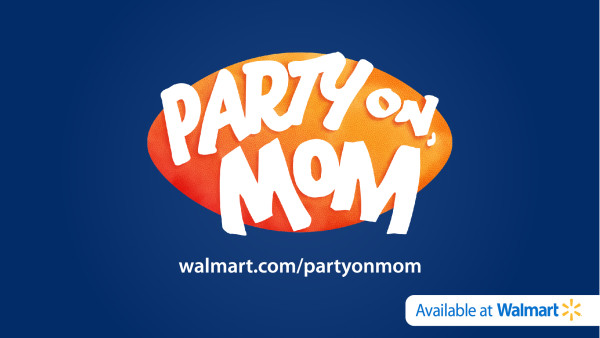 Here's my official playbook on how to create a winning football viewing party!
1. Simplify Your Snack Strategy
As hostess, you have enough on your plate as you prepare to host the big game party. That's why I recommend that you keep the food simple! There's no need to spend hours trying to copy something clever you found on Pinterest. Crafting elaborate dishes with a long list of ingredients and multiple steps can take a huge chunk of time. Simply rely on easy finger foods that are easy to assemble. Pick foods that you know will be a crowd-pleaser for both young and old guests.
I like to keep my guests fueled and energized with healthy food options as they watch the game. Incorporate fresh veggies and fruit, along with crackers, chips, and dip. Take your healthy snacks and food presentation to the next level by displaying in fun containers and with football themed props.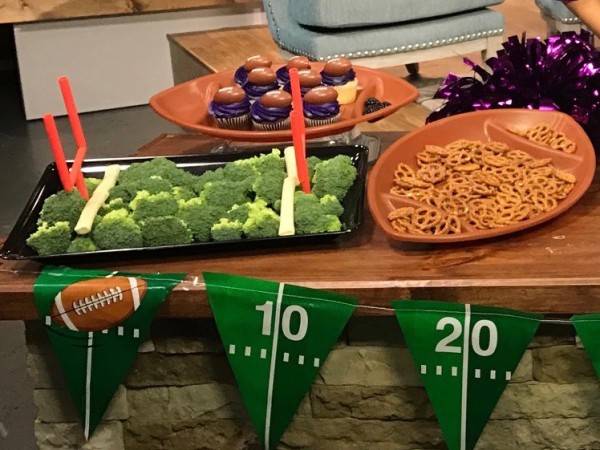 Of course I like to save something sweet to celebrate the sweet victory the Ravens will bring home! Even if you don't have time to bake and decorate your own treats, you can always swing by Walmart to get cute football cupcakes in their bakery section.
2. Assemble Festive And Fun Decorations
Stock up on paper products and party supplies that will give your football game party that extra flair! I incorporate football shaped serving platters and yard line flags as well as special Ravens plates and napkins to create the perfect party ambience.
3. Create A Chore Cheat Sheet
Get your house "game-ready" by making it a team effort. Cheer on your kids and work together to tidy up rooms where your guests will be socializing and watching the game. Creating a chore cheat sheet will help everyone in your household know the chore assignments so you can delegate, divide, and conquer!
4. Get In The Savings Zone
When prepping for a party, I'm always looking to save time and money!
Save time by visiting Walmart, your one-stop destination for all the best game day food, decorations, and cleaning supplies. They have everyday low prices on everything you need, which is a win for your wallet!
5. Tackle Cleanup Like A Pro
Party fumbles happen! Be ready to tackle cleanup by stocking up your closet, kitchen, and pantry with trusted P&G products to keep your home fresh and clean!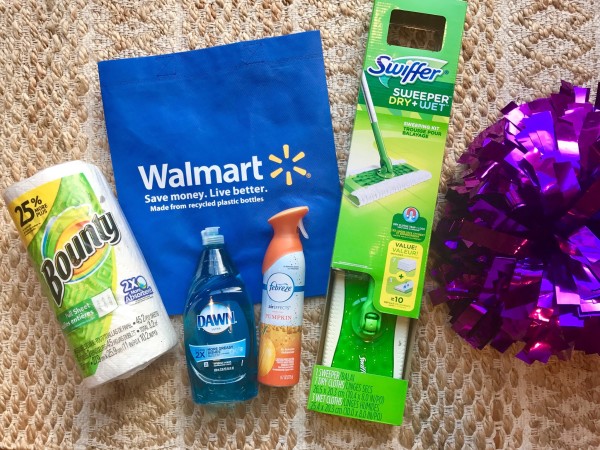 For the inevitable beverage spills and salsa splatters, I keep Bounty close by.
During and post-game, everything from smashed potato chips and pretzel crumbs to spilled soda will grace your floors. Keep the messes under control with Swiffer, which can tackle both dry and wet messes.
Does your house smell like the inside of a football locker room? Maybe not that bad, but when you're hosting a party, you definitely want your home smelling as fresh as possible. Rely upon Febreze to tackle those unwanted odors. I want you to forego funky smells for a fresh home aroma on party day!
Now You're Ready To Party On, Mom!
I had the pleasure of stopping by MyTV 24 Baltimore to share some of my tips for hosting the perfect football home party with Chardelle Moore on the BMORE Lifestyle show!
GIVEAWAY TIME!
Since a real party needs more than food, I'm thrilled to giveaway these special Party On, Mom prize packs with trusted P&G products and a $25 Walmart gift card!
There will be two lucky winners! One will win the ultimate cleaning Party Pack (includes Bounty, Swiffer, Dawn Ultra & Febreze), and the other will win the Date Night Kit — perfect for a night-out at the stadium (includes: Crest 3D White Brilliance, Secret Clinical Strength, Gillette Fusion ProShield, & Pantene Pro-V Hairspray)!
Enter here to win!
Find all the products you need for your own watch party by visiting Walmart.com/partyonmom.
Disclosure: This blog post has been sponsored by P&G products available at Walmart. All opinions and tips shared are my own. To read my formal disclosure policy, please click here.