The following post is in partnership with Transurban
Have you ever seen a driver who just doesn't seem to be paying attention to what's happening on the road? You may have witnessed someone swerving outside of the lane or seen someone stopped 5+ seconds after the traffic light switched from red to green. Maybe you glanced over at another vehicle and saw the driver's head buried in their phone, instead of looking out the front windshield.
If you think distracted driving is not a big deal, think again! It isn't just annoying to other motorists, it is becoming a major cause of accidents on our roadways. In a digitally-focused, tech-driven society, people seem to be glued to their devices wherever they go. Unfortunately that means their attention is fixated on a phone instead of on the road.
To tackle this problem, Transurban, the operator of the Virginia Express Lanes, has teamed up with Redskins quarterback Kirk Cousins to encourage drivers to be responsible and attentive while behind the wheel with their "Phones Down Touchdown" campaign. This safety campaign is a huge initiative also being supported by: AAA MidAtlantic, VDOT, Fairfax County Police, and Virginia State Police.
I had the opportunity to attend the campaign launch event in Tysons Corner last week to hear from Kirk Cousins as well as local and state officials on this growing safety concern.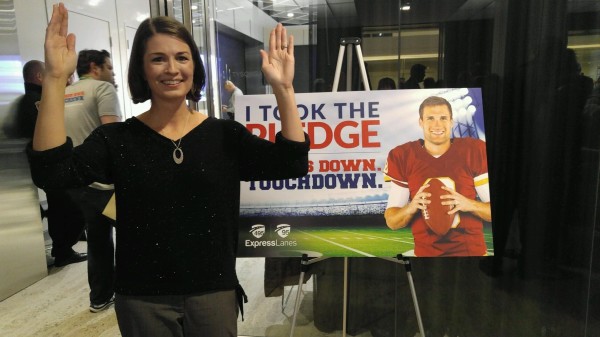 Captain Jim De Ford, from Virginia State Police, and Captain Bob Blakley, from Fairfax County Police Department, shared how they see firsthand the devastating toll that distracted driving takes on Virginia motorists each day. It is a real problem and growing epidemic. "For those few selfish seconds, a driver can put at risk not only his or her life, but the safety of others on the roadway. We want drivers to know that we will fully enforce the law if we find you engaging in this dangerous behavior." shared Captain Jim De Ford.
Captain Bob Blakley shared that 28% of reported crashes in Fairfax County were attributed to distracted driving, and that the traffic division has given out 13,000 citations for distracted driving (includes texting). "If you fail to ignore your phone, guess who won't fail to ignore you?" he said. The police take this very seriously, as they see lives destroyed and ended due to distracted driving (including their own officers who have been hit and killed by distracted motorists).
Kirk Cousins also shared his commitment to keeping the roads safe and explained his involvement with this safety campaign:
"I've made a career out of playing offense. But when I'm behind the wheel, I drive defensively. No text or phone call is worth risking your life or the lives of others."
Five seconds is the average time your eyes are off the road to read or write a text. Think about it: if you are traveling at 55 mph, that would be the same as covering the length of a football field without looking at the road.
Kirk Cousins wants everyone to join him in taking the pledge to stop distracted driving.
Beltway Bargain Mom also wants to make the Beltway and Northern Virginia roadways more safe! I want to encourage you all to take the Phones Down Touchdown pledge online.
By taking the pledge you commit to keeping your phone down while behind the wheel. To thank those who take the pledge, Transurban will automatically enter you into a special contest to win a month of free travel on the I-95 & I-495 Virginia Express Lanes! They will choose a new winner every week throughout December and January. It's easy – just take the pledge and share the hashtag #PhonesDownTouchdown along with the Phones Down Touchdown image of Kirk Cousins on social media.
I took the pledge against distracted driving w/ @VAExpressLanes & @KirkCousins8 #PhonesDownTouchdown #ad https://t.co/tit1mNzpe0 pic.twitter.com/n2pw9Rs9SI

— Laura Harders (@BeltwayBargain) December 9, 2016
See the Phones Down Touchdown official contest rules for more information.
Keep phones down and enjoy touchdowns (and all of life's great joys and victories) by taking this simple step behind the wheel. Let's make the Beltway better by driving safer!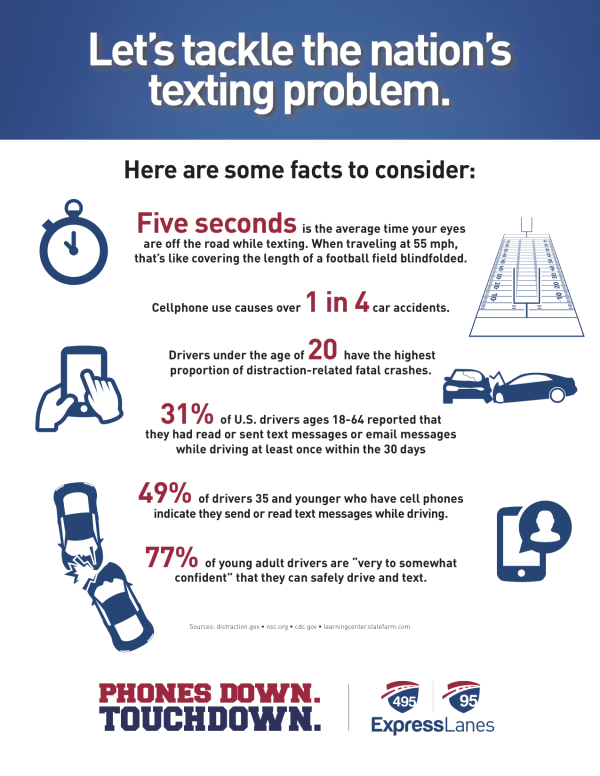 Disclosure: This blog post was sponsored by Transurban. All opinions shared in this post are my own. I felt that this safety campaign was very valuable and relevant for my readers and for the greater Northern Virginia and DC region. Plus I love to share great contests such as a month of FREE Express Lane travel, for my readers. For my formal disclosure policy, please click here.