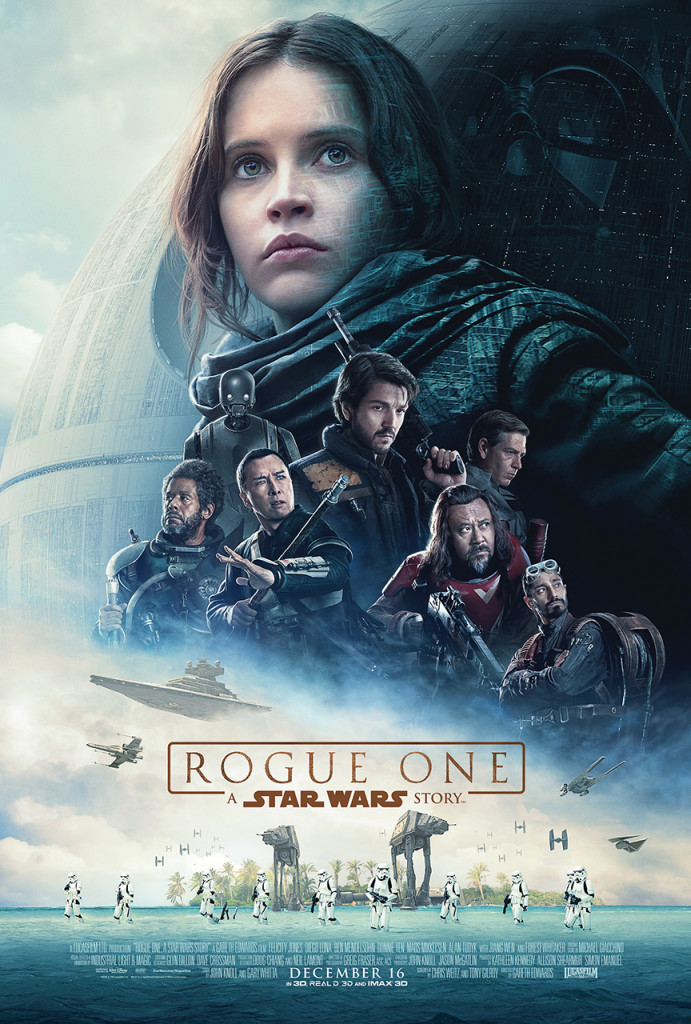 Rogue One: A Star Wars Story hits theaters this weekend. I was honored to get an invitation to an exclusive media screening earlier this week and wanted to share a few things about the movie, without any spoilers (I promise!)
This Star Wars story is unique in that it centers around a new character, Jyn Erso, and involves an entirely new storyline not focused on the Skywalker line.
In a time of conflict, a group of unlikely heroes band together on a mission to steal the plans to the Death Star, the Empire's ultimate weapon of destruction. This key event in the Star Wars timeline brings together ordinary people who choose to do extraordinary things, and in doing so, become part of something greater than themselves.
The main themes of this movie can be summed up in three things we all need: Belief. Trust. Hope.
The lead character, Jyn, is reluctantly pulled into something much bigger than herself. Thoughout the film her belief, trust, and hope are all tested. In some circumstances she must rely upon others to believe her and the validity of the secret message that she has received. She also has to learn to believe in herself.
Jyn must also learn to trust the people in the Rebellion (with whom she is not initially eager to meet) and those who join her in her mission. For a girl who was abandoned at a young age, this is extremely hard yet critical to her growth and the success of her mission.
Hope is weaved throughout the entire storyline. "Rebellions are built on hope" was one of the most memorable quotes from the movie, repeated at least twice during the film. The theme of hope is prevalent as broken people learn that hope is what carries them through each dark circumstance and dire battle. Even when one seems to have given up hope or it appears that all others have, a character rises to the task and offers that little glimmer of hope, which then inspires the entire group to refocus and press forward. At the end of the movie we see another famous cameo and quote referencing hope, and dots are connected to a storyline from the next Star Wars episode, which I had never even considered.
Is this movie worth seeing? Yes! The acting is excellent. The storyline is superb, and though it is a part of the Star Wars franchise, it could standalone on its own. The movie is jam-packed with action, so you will be kept on the edge of your seat. The film is rated PG-13 for extended sequences of sci-fi violence and action. There are many battle scenes and casualties which occur throughout the movie. I encourage you to use your best judgment when deciding whether your children should see this movie in the theater.
I did a review of last year's Star Wars: The Force Awakens film, and shared that I'd plan to allow my oldest son to see it in the theater, but not my youngest child. I'm planning for the same this time around; my 10 year old will see the new Star Wars film in the theater with my husband, but my 6 year old daughter will be staying home with me (she'll see it later when it comes to DVD, so we can skip certain scenes… you may be surprised, but my daughter is a big Star Wars fan, just like her brother!).
ROGUE ONE: A STAR WARS STORY
In theaters December 16 in 3D, RealD 3D and IMAX 3D
Rated PG-13
Run time: 133 mins
Connect with STAR WARS on Social Media & Online
Facebook: FB.com/StarWarsMovies
Twitter: @StarWars
Instagram: StarWarsMovies
YouTube: YouTube.com/starwars
Visit the official ROGUE ONE: A STAR WARS STORY website: StarWars.com/films/rogue-one
Are you excited to see the latest Star Wars movie? It is now open in theaters and I can't wait for you to experience this new film which champions belief, trust, and hope!
*I was invited to attend a special screening event for Rogue One: A Star Wars Story earlier this week. Please note, I am not a movie critic and I was not compensated to write this post. All opinions are my own.