The following is a sponsored post in partnership with the Competitive Edge 
Some people believe that great athletes were simply born champions. However you can't deny the years of training, sweat, tears, and sacrifice that it took before they achieved their full potential. You may be born with a gift, but athletic performance must be refined over time.
In my youth, I spent years training as a gymnast and diver. I can remember the long hours spent training in the gym and by the poolside. All the practice, drills, and endurance exercises were hard, but helped me become a better athlete.
Fast forward to today: I'm now a mom of two active kids and I get to support my son's love for baseball and my daughter's enthusiasm for swimming. As they grow older and develop new skills, I plan to encourage them to pursue their dream in sports and strive for a healthy lifestyle.
Training and teamwork create valuable life experiences, so I am definitely a fan of sports programs and facilities that help athletes hone their skills.
Last weekend my family and I had the chance to visit the Competitive Edge Athletic Performance Center during their one year anniversary celebration. We toured the Competitive Edge, participated in fun activities and games, plus explored some of their new features like virtual golfing. It was great to meet the staff and some of their all-star athletes who are members at Competitive Edge. There was an impressive turn-out by members of the community in support of their one year anniversary.
What is Competitive Edge Athletic Performance Center?
In case you're not familiar with the Competitive Edge, this is a one-of-a-kind, 18,400+ square feet indoor training facility located in Woodbridge, Virginia. Competitive Edge offers speed, strength, and agility training, as well as a weight room, sports court, batting cages, pitching tunnels and more. They are one of Prince William County's largest and most extensive athletic performance centers.
Competitive Edge
Address: 14849 Persistence Drive, Woodbridge, VA 22191
Phone: 571-398-2813
Hours: Monday – Friday 3:00 pm – 9:00 pm.
Saturday 9:00 am – 8:00 pm.
Sunday 10:00 am – 4:00 pm.
Website: www.CompetitiveEdgeVA.com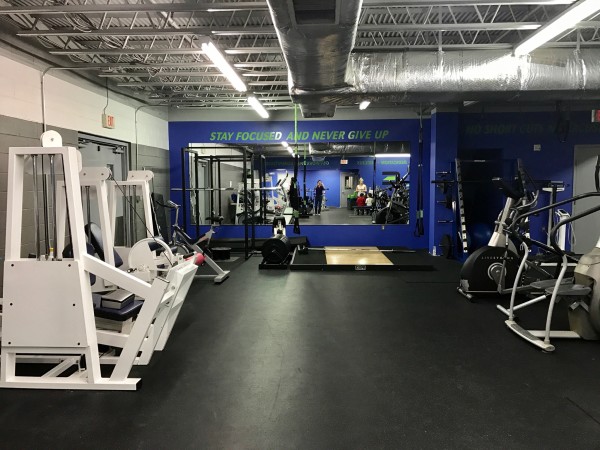 What is the story behind the Competitive Edge?
Competitive Edge was co-founded by Monte E. Evans II. and Maurice Briddell in February 2016. Coach Monte has a background in performance coaching and track and field, in fact he co-founded the Dale City Lightning Track Club, a track and field running club for children ages 6 – 18. Monte also played collegiate basketball at Michigan State University. Maurice has a background in baseball, having served as the manager of the Prince William Reds travel team, as well as a board member of the Woodbridge Little League. Both Monte and Maurice are very active in the sports community and wanted to create a place to develop the complete athlete, encouraging youth to stay ahead of the game in athletics and academics – to always have a Competitive Edge.
Is Competitive Edge a membership only facility or a gym?
The Competitive Edge does offer membership and packages, but they also welcome walk-in workouts and weight lifting, single session Zumba/Barre/HIIT/Cardio Kickbutt classes, and use of the sports court and turf field. They offer a variety of packages including individual or team training (12 or 24 sessions), private lessons, summer camps, and membership packages for 3, 6, or 12 months.
What sports does Competitive Edge cover?
Competitive Edge offers training and lessons for youth athletes looking to hone their strength, speed, and agility. They have general strength and performance sessions as well as specific programs geared toward: baseball, softball, track and field, basketball, football, lacrosse, soccer, golf, wrestling, and vertimax resistance jump training. They don't just cater to youth sports; you can also find fitness programs for adults and even toddlers.
What type of community events does Competitive Edge host?
I've attended special community events at Competitive Edge in the fall and during their anniversary celebration in early February. A few times per year they announce a fun, free community event which in my experience has involved free food samples, face painting, balloon twisting, photo booth, chair massages, nutrition coaching, clinics, and mini training sessions. They also have vendor tables set up who sell products and services as well as food trucks outside for attendees to purchase meals or a treat.
The community events I've attended have been very family-friendly with a wide variety of activities suitable for children of all ages. These have been great, free community events (one fell on a Friday evening, the other on a Saturday afternoon). Like Competitive Edge on Facebook or sign up for their e-mail newsletter on their home page to stay updated on their upcoming events.
What did my kids like best about Competitive Edge?
My daughter told me her favorite parts of the Competitive Edge one year anniversary were the face painting, balloon twisting and treats (free funnel cake!). My son said his favorite parts of the event were trying out the batting cages, virtual golf, and bubble ball.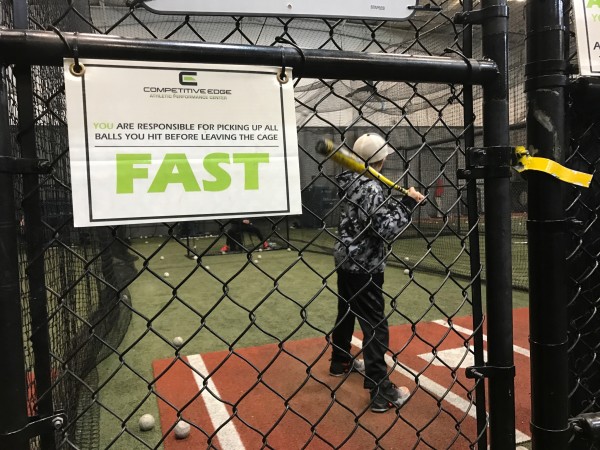 If you have children involved in sports, be sure to check out the Competitive Edge! They offer a wide variety of programs and packages for young athletes at all levels. Help your child gain a competitive edge and hone his or her athletic skills at one of Northern Virginia's best athletic performance centers.
Disclosure: This post is sponsored by Competitive Edge, and I have been compensated for my participation. All opinions are my own. To read my formal disclosure policy, please click here.