Disclaimer: I received an advanced copy of the "High Calling of Motherhood" to read and review
Being a mom is rewarding but it can also be hard. and messy. and tiring. In the midst of all the lovely days there are trying, exhausting, and discouraging days. As a mom, I'm always excited to find books that provide encouragement and tips for this crazy adventure of raising kids.
Local Christian author and Passsion4Moms founder, Chimene Dupler is a mom on a mission to encourage and inspire other moms in all walks of life. In her new book, The High Calling of Motherhood, published with Ambassador International Publishing, Chimene addresses the real struggles that moms face.
Chimene speaks to the weary mom, cheering her on to not just survive motherhood, but to thrive by raising world changers!
There are plenty of books on parenting and motherhood, but The High Calling of Motherhood takes a fresh look at the current state of motherhood, in light of our culture of comparison and immediate gratification. Chimene incorporates Scripture, personal stories and practical steps to embrace and enjoy the great gift of motherhood.
Today there are many reasons why moms are discouraged and dissatisfied: Mom guilt, comparison, the career and home-life balancing act, overcommitting, and stuffing our schedule with too many activities.
Chimene notes that the comparison struggle begins right away, as young moms compare how early their child is hitting milestones such as crawling, talking, talking, and reading. Becoming so focused on where your child stands compared to others can spark inadequacy or pride, and it can derail you from the joy of motherhood.
In this digital age in which we are more "connected" than ever before, social media has often done the opposite, making moms feel more alone.
This can be a very real battle for moms in the culture we live in today, where we expose everything and where we live very outwardly for "likes" and validation from others. When we thrive on approval from others, we begin eagerly anticipating and planning the next Facebook post in our mind long before the actual event may occur. (page 45-46)
Chimene doesn't just focus on where we've gone astray, she shares her thoughts on how and why mothers can regain their joy in motherhood by acknowledging and embracing the ultimate purpose. She encourages moms to not just go through the motions, but to set tangible goals and a game plan in order to impact and influence the next generation.
Motherhood is much like playing for the NFL. There is risk in- volved. There can be pain. There is serious dedication. We can get hurt. But the reward can be great. Like football, there is an opponent and a battle to be fought. We must train diligently, preparing for each and every day, working hard to fight for our mission in parenting. We must stay focused and keep our eyes on the prize. Even in the off- season, players are still staying fit, eating right, and training for the next season. Parents don't get an off-season, but like those football players, we too must stay focused day after day, month after month, year after year. (page 137)

When we have a game plan, we can figure out a strategy to reach those goals. By casting vision, I become less concerned about what everyone else is doing because I am on a mission for where I am going with my family. I understand that I am called to the high calling of motherhood for the children I have—not your children, but my children. I have a purpose and vision for where I am headed in discipleship and discipline. I can cheer for you, but I won't compare my children or circumstance to you. I am too busy creating my own masterpiece. (page 150)
Determining the mission of your home can help as you create your own game plan. Chimene also suggests setting parenting goals for each individual child, tailored toward helping him or her to develop, grow and gain life-long skills.
If you are a Christian mom who needs encouragement, this book is a good resource for refocusing your heart and mind on the high calling of motherhood. Chimene offers a real picture of the struggles and sacrifice that mothers face but she also drives home that as a mom you are a difference-maker and a world changer.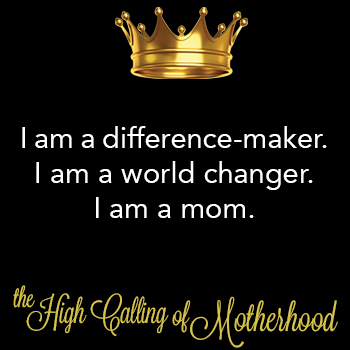 You can pre-order your own copy of the book on:
To enter to win a free copy of The High Calling of Motherhood fill out the entry form below for a chance to win.