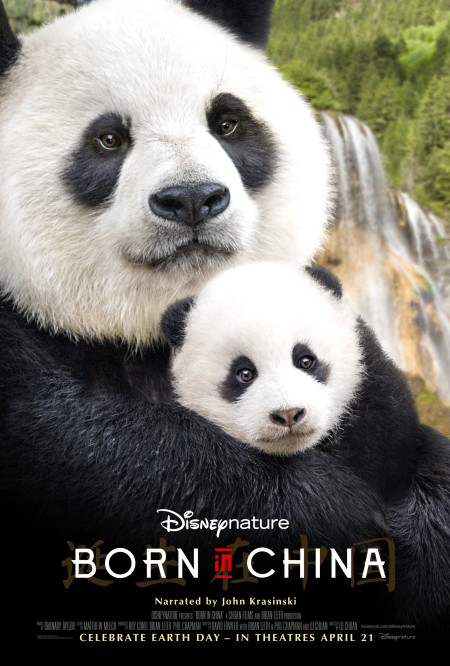 Disneynature's latest film is out just in time for Earth Day!
Experience the majestic beauty of China's wilderness through this feature-length nature film narrated by John Krasinski (Jim from NBC's "The Office"): Born in China.
During the film you are introduced to three animals who are the main characters:
Panda
Yaya, a panda bear mother, who seeks to guide her growing baby as she begins to explore and grow independent.
Golden Monkey
TaoTao, a two-year-old golden monkey who feels left out after the arrival of his baby sister joins up with a group of golden snub-nosed monkeys whose bunch resembles the "lost boys." TaoTao provides some of the more comedic scenes of the movie, and is probably one of my favorite characters.
Snow Leopard
Dawa, a mother snow leopard trying to raise her two cubs in one of the cruel and severe terrains on the planet. The snow leopard happens to be one of the most elusive animals and is rarely caught on camera, so seeing Dawa and her cubs in this movie was quite a treat!
The film is infused with both light-hearted humor and the harsh reality of survival among the animals. Children and adults alike will be enthralled with the awe-inspiring scenery and landscape of the Chinese wilderness, and the magnificent creatures who inhabit it.
Narrator John Krasinski brings life to these animal characters, letting us in on what their thoughts and dialogue may be, with funny lines and poignant revelations inside these animals' interactions with each other and their environment.
Both my 6 year old and 10 year old enjoyed this movie. When deciding whether or not this movie is appropriate for your own children, I want to share some parts of the movie, which you should be aware of for younger children, due to theme and content:
Live birth of a baby animal occurs.
Hunting scenes. Though they cut right before the actual killing of the animal an blood is minimal, you do see everything leading up to and directly after including eating the animal.
A baby golden snub-nosed monkey is hunted by a hawk and quickly swept up to be eaten. This may scare younger children.
A young animal is not welcome back to his family after returning from time spent away (this made my daughter cry; she wondered why the mom and dad wouldn't take him back).
Supporting the World Wildlife Fund
Disneynature is also making a generous donation to help animals: For everyone who sees Disneynature Born in China during opening week (April 21-April 27, 2017), Disneynature will contribute $.20 per ticket to World Wildlife Fund (WWF-US) through the Disney Conservation Fund, with a minimum guaranteed donation of $100,000.
Check out the trailer to Disneynature's Born in China below!
Title: Disneynature's "Born In China"
Rating: G
Movie Length: 1 hr 16 minutes 
Release Date: April 21, 2017
The following was a movie review for the newest Disneynature film. Beltway Bargain Mom and family were invited to attend a special pre-screening of earlier this week, and I'm excited to share this with you! I received no compensation to post this review.