The following post is in partnership with Transurban
As a pro sports athlete, Ryan Zimmerman, knows how frustrating it can be to mess up during a game. Thankfully with a baseball game, you can always shake it off and try again.
However, sometimes in life we don't get second chances, which is why Ryan has partnered with the 495 and 95 Express Lanes for an important safety campaign focused on stopping texting among teen drivers. Ryan shares "If you text and drive, you don't always get a second chance… just one call or text could mean game over."
Distracted Driving
Today, more accidents are occurring on the road due to distracted driving. It is a national problem and regional concern, as more accidents occur on Northern Virginia roadways due to phone use. You may remember that I shared a safety campaign with Redskins player Kirk Cousins back in the fall. I'm excited to share more about the 495 and 95 Express Lanes' newest safety campaign advocating safe youth driving habits in our region.
A recent survey found that 70% of teens admitted to using mobile apps while driving. When you mix young, inexperienced drivers with distractions, such as their phones, the consequences can be devastating. Right now six teens die everyday and over 650 more are injured because of accidents on the road.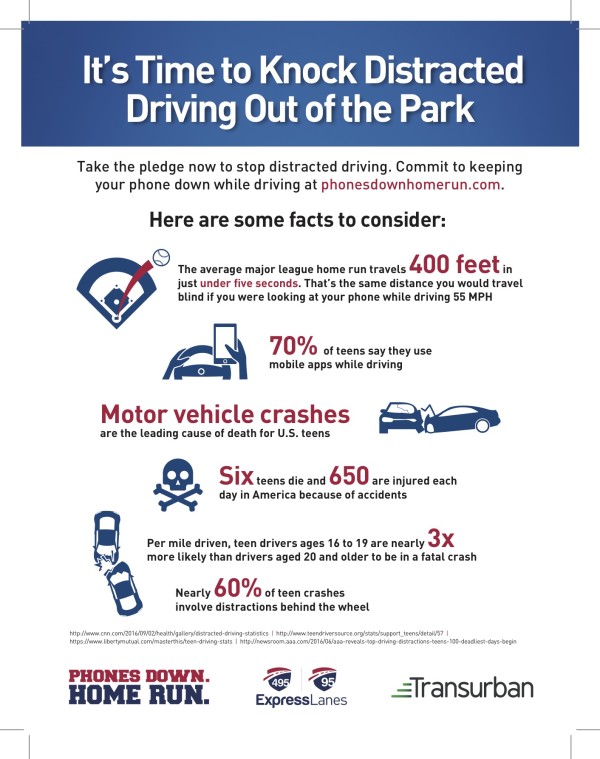 Phones Down Home Run
The new Phones Down Home Run campaign is aimed to bring awareness to this issue. The campaign just launched this month, coinciding with Global Youth Traffic Safety Month. "We are excited to partner with Ryan Zimmerman to increase awareness about the risks of driving distracted during Global Youth Traffic Safety Month" shared Jennifer Aument, group general manager for Transurban, the operator of the Express Lanes.
I was able to attend a press event at McLean High School last week to meet Ryan Zimmerman as well as hear from safe driving advocates on the importance of this issue.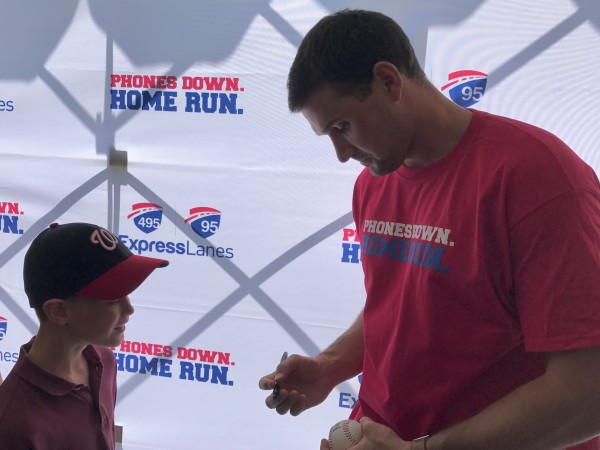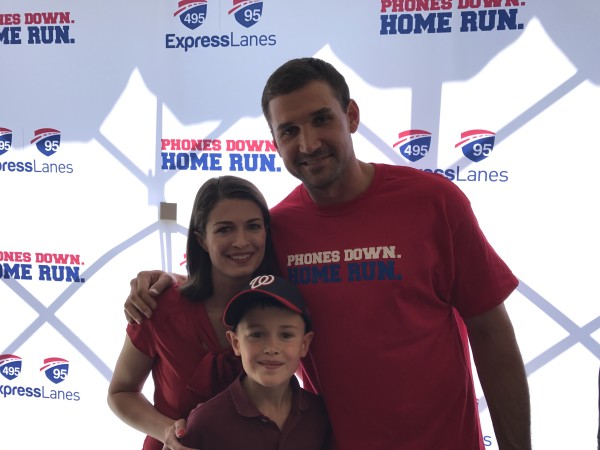 Richard Shahan from Partners for Safe Teen Driving shared valuable information and statistics on teen driving, and Linda Watkins from Inova Trauma Services emphasized that trauma is the third leading cause of death in the United States, and is also the most preventable. She shared her enthusiasm for the new safety campaign and the importance of young drivers taking steps to eliminate distractions while driving.
Particularly compelling were the words shared by students Mikaela Brooks from Youth of Virginia Speak Out, and Carenna Slotkoff from Sources of Strength Peer Leadership. Both young ladies expressed their concern for this epidemic and their commitment to practice safe driving while imploring their fellow students to not text and drive.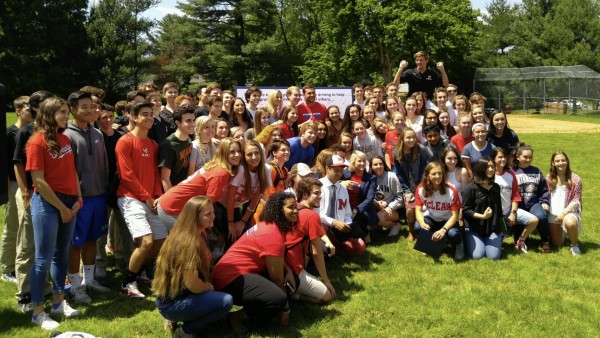 I'm glad to see Ryan Zimmerman, an esteemed, local, pro sports hero, team up with the 495 and 95 Express Lanes to encourage both teen and adult drivers to hang up on distracted driving for good by signing the Phones Down Home Run pledge.
Here's how you can participate in the Phones Down Home Run Pledge:
Go to PhonesDownHomeRun.com
Follow the prompts and click "Take the Pledge"
Fill out your first name, last name, e-mail, birthdate, and zip code then press the red "pledge" button.
By taking the pledge you commit to keep your phone down while behind the wheel. It's easy – take the pledge and share the hashtag #PhonesDownHomeRun on Instagram, Facebook, and Twitter.
Join Ryan Zimmerman and I in taking the pledge and let's make the Beltway and all our local roadways safer!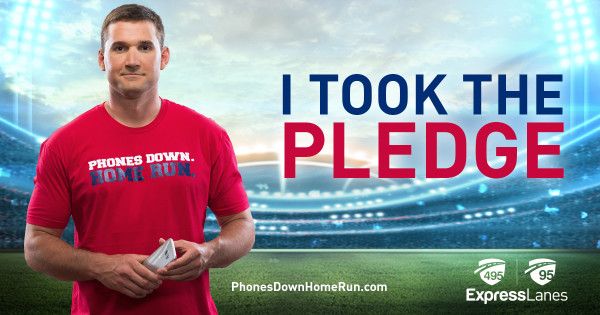 Disclosure: This blog post was sponsored by Transurban. All opinions shared in this post are my own. This is a safety campaign that I believe is valuable and relevant for my readers and for the greater Northern Virginia and DC region. For my formal disclosure policy, please click here.