Today I was honored to be a guest on BMORE Lifestyle!
With Mother's Day just a few days away, I got to share some unique gifts that are sure to suit the special mother, mother-in-law, grandmother, or mother of your children (ahem, I'm speaking to you dads!).
For the mom that seems to have it all or the mom who hasn't given many gift hints, these are sure to please!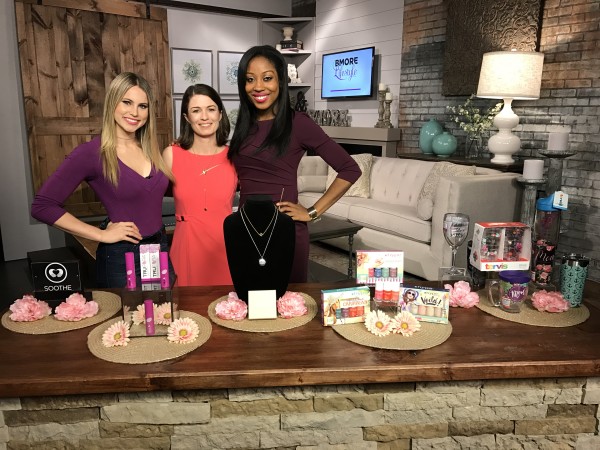 1. Soothe App
Don't have time for a massage? Let the massage come to you! Soothe is the on-demand massage service that comes to you with at least 60 minutes advance notice! Visit Soothe.com or download the app on your phone to pamper mom with a massage at her house or at the office.
Great skincare is so important (which I'm learning more as I start to notice more fine lines appearing on my face). Finding the right nighttime products to revitalize your skin is crucial. The Trufora Night Serum 85 was developed and tested by a dermatologist, is a patented product, and helps diminish fine lines and wrinkles.
This hip and classy jewelry line was created by British royal and mom of 5, India Hicks. She has a wide variety of accessories and home decor that is inspired by island life and that will appeal to moms. She also has many mom ambassadors, as she seeks to help other moms grow thriving businesses.
HYPE stands for Happy Young People Everywhere. Their nail polish certainly does create happy nails! Derived from plants like potatoes and corn, their nail polish is free of harsh toxins. The wide applicator brush makes it easy to quickly coat your nails and I love that the polish is quick-dry; perfect for busy moms!
5. Tervis Tumblers & Drinkware
Tervis is the mom-on-the-go's tumbler of choice. Their cups keep your hot beverages hot and cold beverages cold, come in thousands of original and licensed designs, plus come with a lifetime warranty. They just launched their stainless steel line, which have so many fantastic customizable options and designs!
You just have a few more days until Mother's Day, so don't forget to honor mom with some of these fantastic gift ideas!