Have you been waiting for the right time to take your kids to a Virginia amusement park?
Maybe you've been nervous about packing up the kids and all your gear, doing lots of walking, or the uncertainty of how many rides your kids can (or actually want to) go on, particularly if they are younger. If you're not sure about how your child will fare at a large amusement park, I'm happy to share that Kings Dominion, one of the top amusement parks in Virginia, has plenty of attractions for young kids plus they have special events scheduled throughout the year that are perfect for children of all ages and all adventure levels.
If you've been thinking about planning a visit with your family to Kings Dominion, their annual KidsFest event is the perfect time to go. They not only have their popular top kids rides, but during this special event they also bring other fun activities and live entertainment to the park. My family and I were invited to attend KidsFest during its opening weekend and we had a blast!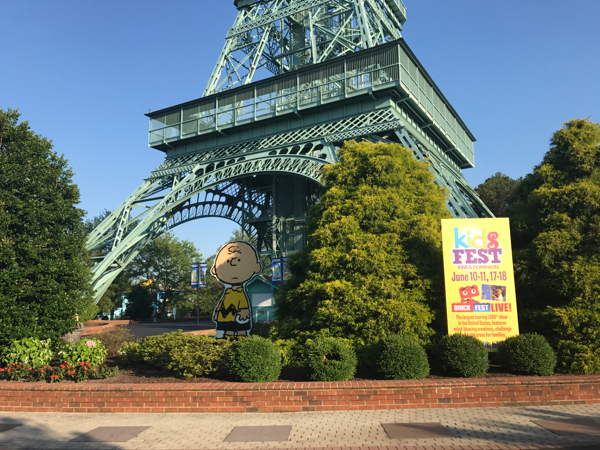 What is Kings Dominion KidsFest?
KidsFest is a unique two weekend experience hosted by Kings Dominion in Doswell, VA. It's a celebration for kids! Besides their regular amusement park attractions, they have 2 jam-packed weekends filled with extra kid activities and entertainment. This event first premiered at Kings Dominion in 2015 and has been held annually since then. KidsFest activities and events are held in the Planet Snoopy area of the park.
Watch my recap video of our time at Kings Dominion KidsFest!
I wanted to share some answers to the top questions about Kings Dominion KidsFest:
Kings Dominion KidsFest Event FAQ's
1. When is Kings Dominion KidsFest?
KidsFest takes place during two consecutive weekends in late Spring. The last KidsFest took place during the 2nd and 3rd weekends of June. Running Saturdays and Sundays, KidsFest offers even more value to your Kings Dominion admission, with family-fun entertainment and activities geared toward a wide-range of ages.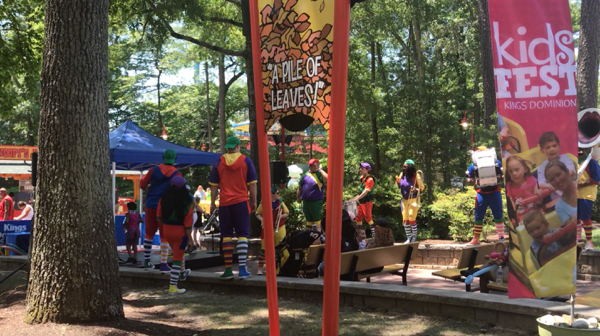 2. How much does it cost to attend KidsFest?
You can experience the live entertainment and most activities at KidsFest for free! No separate admission needed; your ticket into the park means you can participate in KidsFest.
3. What can you experience at KidsFest?
Cool Crafts
As soon as we walked into the Planet Snoopy area of Kings Dominion we found cool crafts underneath a tented area. My children created colorful sand art crafts, including bracelets and other keepsakes.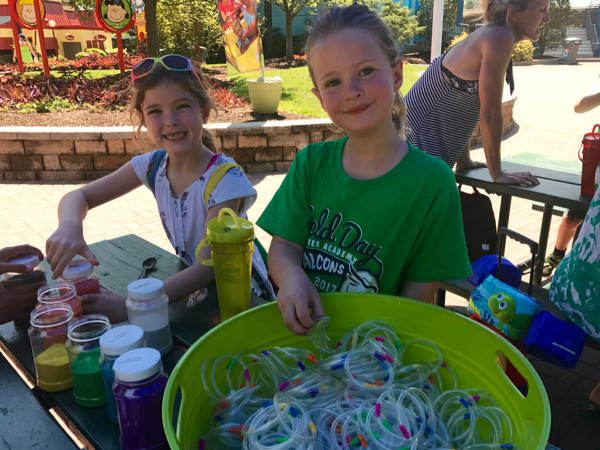 Main Attraction
In 2017, the headlining attraction for KidsFest was the popular BrickFest Live, the LEGO fan experience. Both my children love building with LEGOs so this was a big hit with them. The BrickFest Live featured a large Brick Pit, Build Wall, Build Your Own Derby Car, Glow Zone, and even a Duplo blocks play area for smaller kids.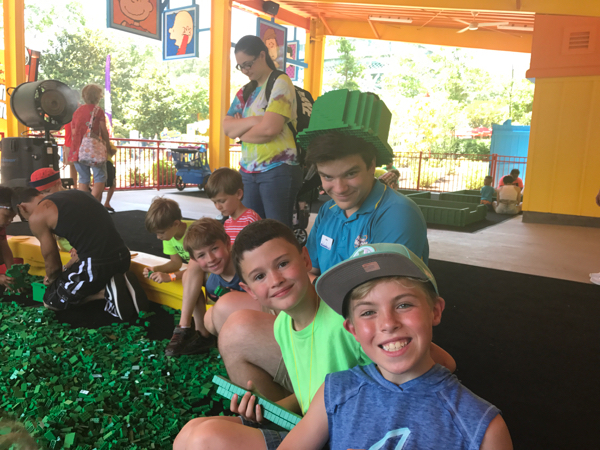 Animal Shows
Animal experts from Leesburg Animal Park and Maymont hosted fun, informative, and interactive shows with time for children to see and touch the animals up close. When we stopped by the show we got to learn about aquatic turtles.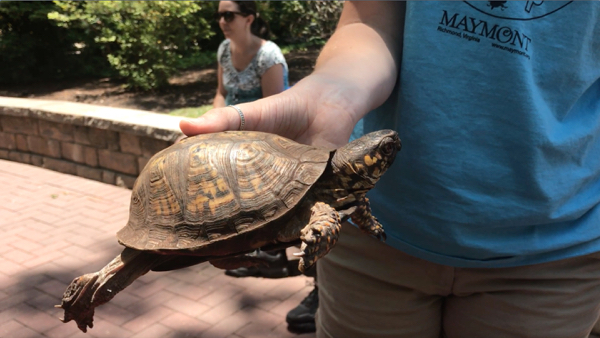 Live entertainment
Some of the live entertainment included: Mad Science demonstrations and shows, balloon artists, incredible dog stunt shows, music by the Clown Band, and other entertainment and activities with the beloved PEANUTS gang.
Activities
There are so many activities for your family to enjoy while at the park during KidsFest! Besides the activities I already listed above, additional ones featured in 2017 were:
Fire truck play and learn! Hands-on experience with the Hanover Fire & Rescue firetruck.
Premium Experiences
There are some extra, optional activities and experiences that require additional pay.
These included: Cookie decorating ($5 for 3 cookies) and some carnival games.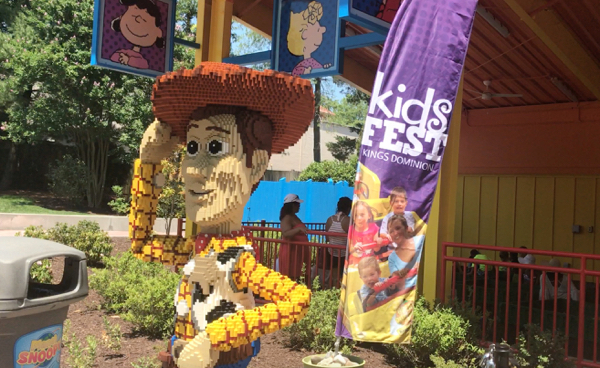 KidsFest has become a popular annual event because there is so much to do for kids of all ages!
Mom confession: I waited until my kids were a little older for their first trip to Kings Dominion and I quickly discovered that this is a great destination for families with kids of all ages. For families with smaller ones: I love that they've introduced the special Kings Dominion Pre-K pass too! I wish we had visited when my kids were younger, but my "coaster kids" definitely love visiting Kings Dominion any chance we get.
Moms Need To Know: If you or your young thrill seekers run into any medical issues while in the park, there is an awesome first aid and safety team working at Kings Dominion. Up until this latest visit for KidsFest, we had never needed to stop by their first aid station. However, I found myself needing to locate first aid not once but twice during this trip. Just so you know, the park has its main First Aid facility on International Street near the Eiffel Tower and there is an additional First Aid station in Soak City next to the lockers. I was so impressed and thankful for the hardworking professionals on Kings Dominion's safety team!
Have you ever attended a festival inside a Virginia amusement park? Plan on adding Kings Dominion KidsFest to your calendar for must-visit, family-friendly events in spring!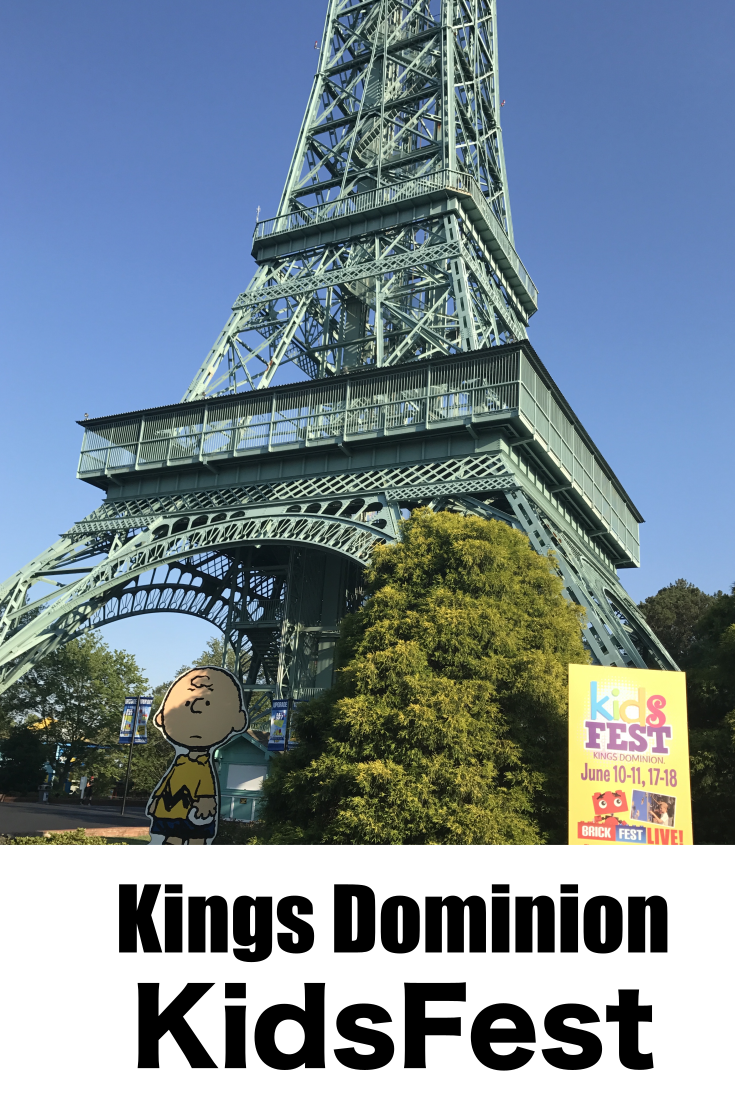 Disclosure: This post is sponsored by Cedar Fair Entertainment Company in conjunction with Blog Meets Brand, and I have been compensated for my participation. All opinions are my own.