Share the post "Quicken Loans National PGA Golf Tournament Family Fun"
I'm always on the lookout for fun events to attend with my family that won't break the bank. We have budding athletes in our family and love spending time outdoors. However, our whole family hasn't gone to many pro sporting events together simply because of the high ticket cost and inconvenient (late night) time.
Do you face this dilemma too? With summertime in full swing here in Washington DC, I definitely feel the need to get out of the house more.
I've been scouting out different events, and I'm happy to share a fun, affordable, family-friendly sporting event happening near DC this summer! Take dad, grandpa, and the whole family to Quicken Loans National golf tournament in Potomac, MD June 26 – July 2!
KEEP READING FOR A GIVEAWAY TO WIN 4 FREE TICKETS (at the bottom of this post)!
Perfect for everyone from dads and grads to moms with tots, anyone who loves spectator sports to kids who simply love being outdoors: The Quicken Loans National is a staple of Washington, D.C.'s top sporting events. Hosted by Tiger Woods, this PGA Tour tournament invites 120 golf pros to compete for the coveted Quicken Loans National title from June 26 – July 2, 2017.
Event: Quicken Loans National PGA Tour
Location: TPC Potomac
Parking Address: Rock Springs, 6720 Rockledge Drive Bethesda, MD 20817
Dates: June 26 – July 2, 2017
The bargain? Kids 12 and under can attend for free with a paying adult!
Not many other pro sporting events offer free tickets for kids and discounted tickets for teens and college students, so this is definitely a great savings for families. The tournament is proud to create a family-friendly atmosphere and introduce young and old to the golfing community.
I'm excited to share some of the reasons why your family will love going to Quicken Loans National later this month!
10 Reasons DC Families Should Go To Quicken Loans National Golf Tournament
1. Catch the golfing action live on the green.
If you've watched golf on TV it's a totally different experience seeing the action unfold live, in person.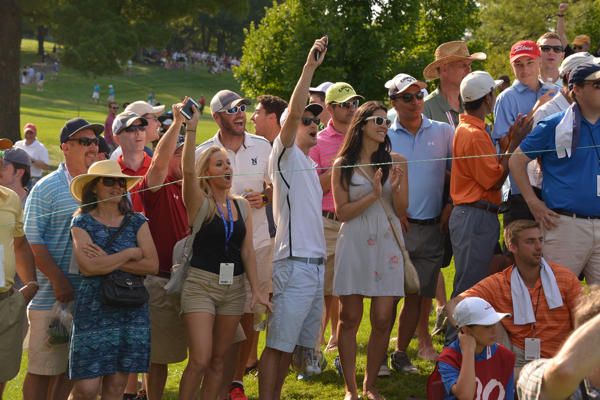 2. See pro golf star athletes in person.
Star struck by pro athletes or never had the chance to see them up close? You get the chance to see the top golf pros in person and perhaps even grab a quick photo of them on the course.
3. Free Kids Clinic with PGA Tour pros.
Kids have an incredible opportunity to attend a junior clinic on the driving range with a PGA Tour pro. On Wednesday, June 28, from 2-3 p.m. the junior clinic will take place at TPC Potomac. I love that all kids are welcome to this free clinic!
4. Kids Village and STEM Zone.
New for 2017, the Kids Village area will offer kids and families interactive games and activities, including mini golf, perfect for little ones who may want a break from the tournament. Located between The Yard and 16 green, the Kids Village will feature face painters, caricature artists, and mascot appearances. There will also be educational STEM programs and hands-on activities in the TGR Learning Lab Youth Activation Zone where kids can explore electricity, engineering, augmented reality, and mathematics.
5. Worthy cause.
All proceeds from the Quicken Loans National benefit the college access programs of the charitable Tiger Woods Foundation whose vision is to give students in need the right resources for lifelong success in school, their communities, and the working world.
6. See defending champion and DC-area native Billy Hurley III!
I'm excited to see Billy Hurley, III, defend his Quicken Loans National Championship. Billy has several DMV ties — he grew up in Loudoun County, VA, attended the Naval Academy, and currently resides in Annapolis, MD. After all Billy and his family have endured the past few years, I was so excited when this local hero was victorious and won his first PGA Tour during the Quicken Loans National last year. I'll be cheering him on again this year!
7. Spend quality time with dad.
If your dad, uncle, grandfather, or son loves golf, this is the perfect way to spend time together.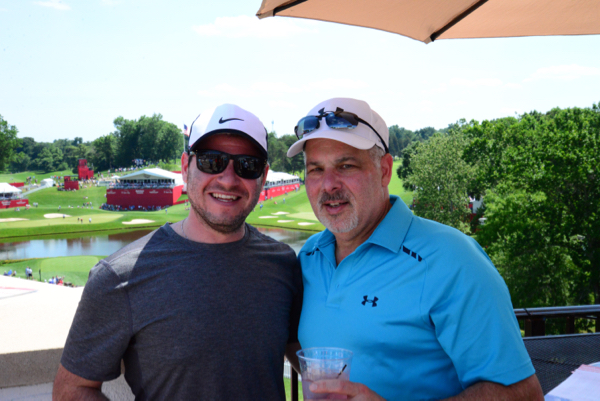 8. Flexible Competition Round Grounds Tickets.
Declare your day with flex tickets! The Quicken Loans National is introducing this option so that fans can purchase a ticket in advance, locking in the best price while having flexibility to attend whichever day you like. Perhaps one of your kids comes down with a one-day bug or maybe the weather is scorching hot the day you were planning to attend. No worries, you can just use your flex tickets for another day.
9. Free military tickets and discounted veteran tickets!
The tournament shows a strong support for the men, women, and families who are a part of the armed forces. There are various programs and activities which support military members and their families. From the Lockheed Martin Military Pavilion, the heroes tribute wall, military caddies, starters, and announcers, the Quicken Loans National seeks to honor those who have served. Active military can enjoy complimentary tickets and veterans can enjoy a 50% discount.
10. Free kids tickets!
I love a good bargain! Free tickets for kids means you save money on ticket costs, but you also avoid needing to hire a babysitter (additional savings). Here are all the details on the free and discount tickets for kids.
Quicken Loans National Free and Discounted Tickets
Free Kids Golf Tickets for Quicken Loans National
Kids 12 and under receive free admission to the tournament when attending with a ticketed adult.
Discounted Teen Golf Tickets
Tickets for kids 13 – 17 years old are just $10.
College Student Golf Ticket Discounts
All college students can purchase up to two good-any-day grounds tickets for a discounted price of $25. Verification of college student status must be confirmed through SheerID.
Kid-friendly viewing areas
Once you and your kids arrive at Quicken Loans National, seeing over the crowd may be difficult. To help young fans enjoy the experience, they have created specified youth viewing zones. Open to kids 12 and younger, the youth viewing zones are located at the driving range, 3 green, 17 green and The Yard viewing platform on 18 fairway.
Whether you are a raging pro-golf fan or realize that the only golf you follow lately has been on the putt-putt course chasing after your kids, the Quicken Loans National is the perfect mix of pro-golf and affordable family-fun. Enjoy their free activities at the event and enjoy this pro-sporting event with your whole family!
Get your tickets now — the perfect Father's Day gift! Get ready to hit the green later this month in Potomac, Maryland!
QUICKEN LOANS NATIONAL TICKET GIVEAWAY
The Quicken Loans National is giving away one four pack of tickets to the Rocket Mortgage MadHouse to one lucky winner. The MadHouse gives guests great views of the 17th tee and premier, indoor lounge style amenities. Just follow the directions on the entry form below to enter. Giveaway ends on 06/26/2017 at 11:59pm ET. It is open for U.S. residents only.
Disclosure: This blog post is sponsored by Quicken Loans National. All opinions shared are my own. I love to share affordable, family-friendly events in the greater Washington, DC region with my readers. To read my formal disclosure policy, please click here.