Summer has been busy in our household! Since the kids got out of school it feels like life has been going non-stop. Our summer hasn't been quite as peaceful as I was thinking it would be… we decided to sell our house (we're staying local, but it's still stressful) and I've taken each kid to the ER already on different occasions. Summer has honestly been a little hectic!
In the midst of a busy summer, I was excited when my family and I received an invitation from Gaylord National Resort & Conference Center to come experience their SummerFest: Music of America. This sounded like the perfect DC staycation! You know, not a long trip or one that involves a lot of planning, packing, and driving: a great option for busy families looking for fun attractions near DC. Although I've been inside Gaylord National several times for ICE! and conferences, I had never stayed overnight at their resort or visited during summer.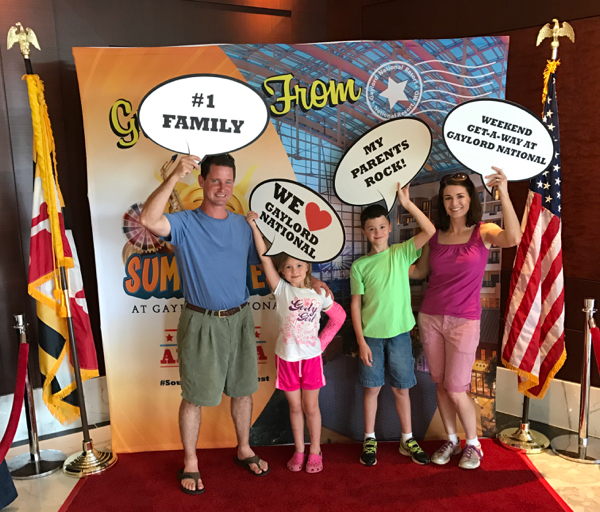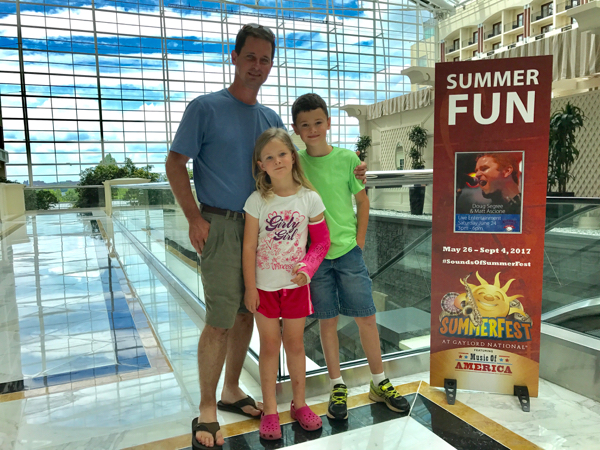 When we arrived at Gaylord National we checked in and dropped off our bags in our room, then went out to explore National Harbor. We ventured out to The Capital Wheel for the first time. This ferris wheel is a fun attraction and gave us a bird's eye view of the harbor. We weren't sure how long it would last, but my kids counted that we went around 6 times before our turn ended. Then we went to the large sand pit and play area by "The Awakening" sculpture and had some time for the kids to play and dig around followed by some window shopping at the PEEP Store.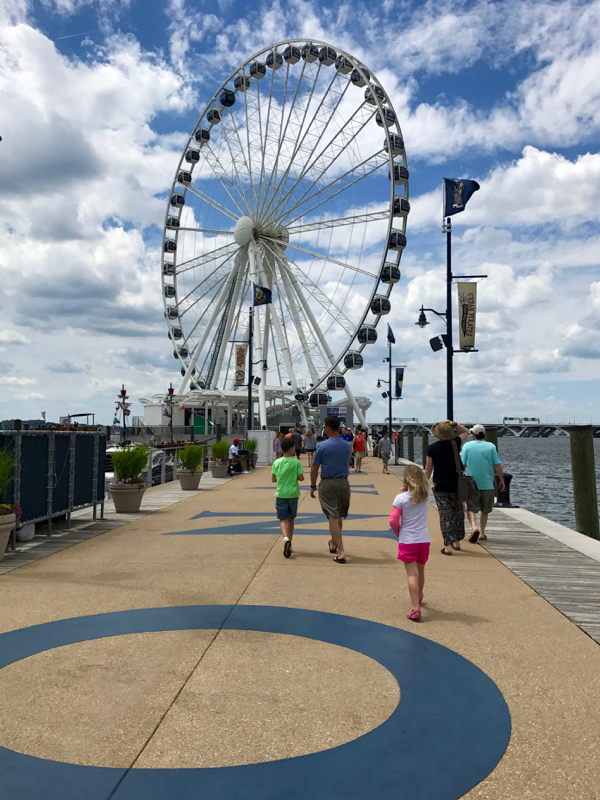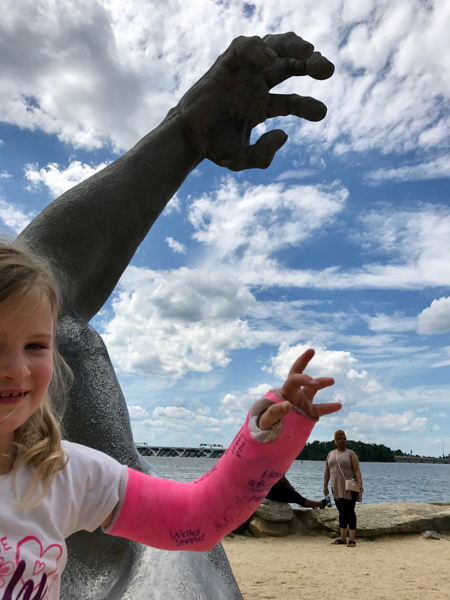 In the late afternoon we met at the Gaylord National pool to enjoy a soak and the cinema…. yep, you read that right! They have a weekly Aquafina Summer Movie Matinee and we got to watch "Sing." It was a great chance to splash around while taking in a family-friendly movie. We also discovered an outdoor splash zone connected to the the pool area, which was a fun area for kids to get sprayed and cool down.
After going back to our room to shower up and change, we then headed out to the National Pastime Sports Bar & Grill in the Gaylord National's lower atrium for dinner and live music. We had our pick of American cuisine classics including burgers, wings, sandwiches, and salads. The food was tasty and we enjoyed the restaurant's sports- and family-friendly vibe as well as the music.
After dinner we headed over to the Summer PJ Party and Silent Disco located in the lower atrium. Children are encouraged to wear their PJ's to this kid-friendly event, and my youngest wore her PJ's and brought along a stuffed animal. I had never heard of a silent disco, but apparently this is growing in popularity. Each person wears his or her own headset and can control the music and the volume level (genius idea for those of us who don't like our eardrums blasted!). The DJ speaks through a microphone which is amplified to participants. It must look a little strange for onlookers to see everyone dancing without music in the silent disco, but it was a big hit for all the kids and parents in attendance. The DJ was fantastic and both the parents and kids danced the night away.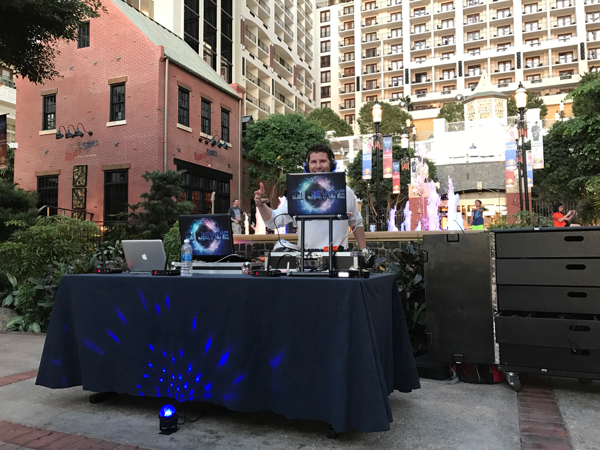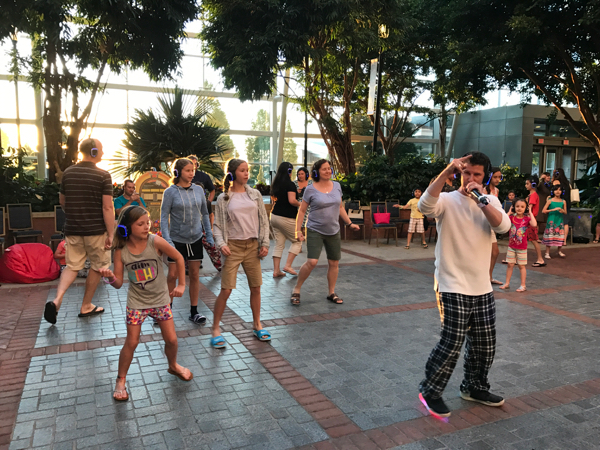 The evening culminated with the spectacular "Americana" laser light show at 9:00 pm. The water and light show was synchronized with the sounds of music classics from a diverse span of America's rich melodies and hits, ranging from jazz to country and more. I shared a Facebook Live video of the "Americana" laser light show because it is a one of a kind spectacle, and a signature feature of Gaylord Hotels.
After a full day of fun, we returned back to our room to catch some sleep. In the morning we enjoyed breakfast at the Pienza Marketplace and my children completed the Music Mystery Scavenger Hunt all before checking out.
Our DC staycation weekend at Gaylord National was a great break, plus a fun, local getaway for our family. If you're looking for a family-friendly weekend excursion this summer, be sure to check out SummerFest at Gaylord National!
Top 5 things to know about SummerFest at Gaylord National
1. What is SummerFest?
SummerFest at Gaylord National is a series of special events and music line-ups that runs during an extended summer season: May 26, 2017 – September 4, 2017.
2. Who can attend SummerFest?
Most SummerFest events are for resort guests only, but there are a few events and specials open to DMV locals (not staying overnight at the resort) including the nightly atrium laser light show at 9:00 pm and drink specials at certain restaurants inside Gaylord National.
3. What is this year's theme for SummerFest?
"Music of America" is the theme for this year's Gaylord National SummerFest. There are many fun music-themed events as well as opportunities to hear live music performed or dance along to music with a DJ.
4. What type of music and food is there?
Here is a list of the live music and restaurant options at Gaylord National during SummerFest:
Summer Soiree: A Night of Jazz
Old Hickory Steakhouse, Saturday, May 27 and September 2 at 7 p.m.
Guests are invited to experience an evening of world-class cuisine paired with the finest live jazz music in the capital region. Diners will enjoy the rich melodies of bassist and composer, Mike Pope, who has played with the likes of Michael Brecker, Blood Sweat and Tears, Chick Corea, and Manhattan Transfer.
Sips and Sounds
Belvedere Lobby Bar, Fridays on June 16, 23, 30; July 7, 14, 21, 28; August 4 and 11
Visitors to Gaylord National can unwind with drinks, live music and breathtaking sunsets overlooking the Potomac River with music performances range from Jazz, Adult Contemporary, R&B, and more.
Burgers, Brews and Country Tunes
National Pastime Sports Bar & Grill, Saturdays, June 3, 10, 17 and 24 from 3 to 6 p.m.
Diners can enjoy specialty burgers and more than 20 brews as the capital region's best solo Country artists pay tribute to Music City.
5. What other activities are there?
Some of the other special SummerFest activities include the following:
Americana – Nightly Atrium Laser Light Show at 9 p.m.
Guests are encouraged to gather in the resort's garden atrium nightly to celebrate the music of America throughout the ages. During the show, viewers will experience samples of some of America's favorite tunes choreographed with a laser light show and dancing water from the resorts signature fountain.
Aquafina® Summer Movie Matinees
Saturdays from 4 to 6 p.m.
Overnight guests can enjoy musical movie magic by the pool during Gaylord National's Summer Movie Matinees every Saturday through Labor Day.
Music Mystery Scavenger Hunt
This free activity can be done anytime! The music mystery scavenger hunt encourages guests to search for hidden musical notes throughout the resort's atrium. Upon finding all the notes, guests can decode a song title and enter to win a free overnight stay in the future.
Silent Disco Party
Pose Rooftop Lounge, Saturdays, July 1, 8, 15, 22 and 29 at 8 p.m.
Resort guests can experience the coolest new way to enjoy music at the resort's 18th floor rooftop lounge. Participants are given special headphones to wear and can select different music mixes created by a DJ to dance along to.
Summer PJ Party
Atrium, Saturdays, August 5, 12, 19 and 26 at 8 p.m.
Kids are encouraged to put on their pajamas and experience the latest dancing rage, The Silent Disco, in the resort's lower atrium. Participants are given special headphones to wear and can select different music mixes just for kids to dance along to.
Want to come stay at Gaylord National during SummerFest?
To experience the best of both National Harbor and Gaylord National's SummerFest celebration, visitors can book the resort's SummerFest package that includes:
One night room accommodations
$100 resort credit to be used at resort restaurants and Relâche Spa
Two tickets for The Capital Wheel
Complimentary self-parking
You can book your SummerFest package now. Prices start at $299.
If you're looking for a unique, local destination for a family excursion, check out SummerFest at Gaylord National!
Disclosure: My family and I were invited to a press trip with other bloggers at Gaylord National which included free meals, activities, and overnight accommodations. Please know the opinions shared in this post are my own. To read my formal disclosure policy, please click here.