Most people love summer for the extra sun and leisure time, but let's be honest, the sweltering summer temperatures can put a damper on time spent outdoors! With the recent heat wave, many families are cranking up the AC and staying inside to keep cool. If your kids are like mine, they need some fun indoor games and entertainment to bust summer boredom when the heat index keeps rising!
Earlier this week I stopped by Charm City's My TV 24 to be a guest on the BMORE Lifestyle show. I got to share some unique games and activities that will keep your kids engaged and having fun even when "stuck" indoors.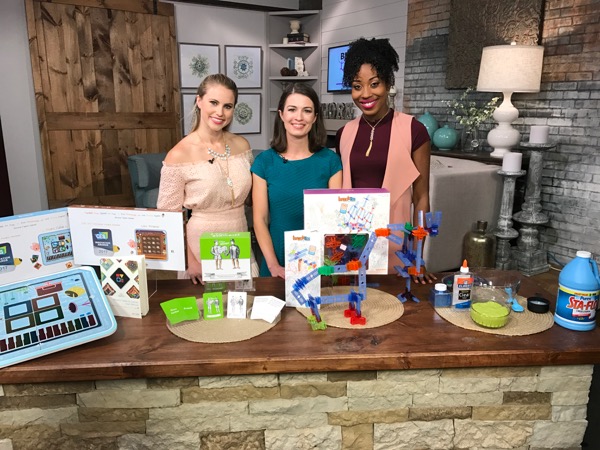 Summer Fun: 4 Amazing, Kid-Friendly Indoor Games & Activities:
Tired of your kids being glued to a screen? Think beyond the screen with a new interactive family board game with a tech twist. Beyond Tablet is an electronic board for family games, education, and music geared towards ages 3-12. What's unique is that Beyond Tablet is a tablet without a screen! You place the board map on top of the large, smart tablet base, and use physical objects like blocks, figurines, and cards. The game board senses the objects and provides spoken responses and encouragement along with colorful LED light displays.
Cost: $199 for the game set, smart tablet, and 5 games. Additional games can be purchased at $19.99 each.
Available on: Amazon
2. Utter Nonsense: Family Edition
If you love silly sayings and improv, then you'll love the new Utter Nonsense: Family Edition game. The original Utter Nonsense was geared toward adults and they recently released their new family edition appropriate for ages 8 and up. This card game has players combine silly accents (examples: French, Singing, Stuffy Nose, Batman, etc.) with outrageous phrases to create saying that are just plain ridiculous and sometimes utter nonsense. In each round a nonsense judge selects an "accent" card and each player must choose one of seven cards in hand, to say with the chosen accent. The winner is selected by the nonsense judge depending on which is the funniest. My family and I were laughing up a storm playing this!
Cost: $24.99
Available exclusively at: Target
3. Brackitz
Brackitz is a unique, connect-anywhere building set created by a dad. You can attach bright colorful connectors to planks at any angle, enabling builders of all ages to construct everything from small-scale builds to larger-than-life, gravity-defying, 3D structures with no limits.
This building and constructing toy is open-ended (not limited to 90 degree angles) and is perfect for ages 3 – 103 according to the box ;).
Cost: $19.99 (28-piece Innovator set) up to $99.99 (170-piece Innovator set)
Available at: Amazon, Target, and Brackitz.com
4. DIY Slime
Slime is the coolest craft around right now! Kids love helping make this oozy, squishy creation!
Ingredients for DIY Slime:
1 Container Clear School Glue
2-4 Drops Food Dye or Water Color Paint
Fine Glitter (the more the better!)
1/2 cup Liquid Starch (can be found in the laundry aisle at your big box store).
First dump the clear glue into a bowl. Add the coloring and mix well. Next add the fine glitter (add 3x more than you think you need!) and mix well. Lastly, add the liquid starch gradually and stir well (it is important to not dump all the liquid starch in at once, as this will ruin the consistency and texture of your slime). Voila, you've got slime!
From humor and construction, to DIY and tech, these games and activities are sure to cure cabin fever on these hot, dog days of summer.