It's back-to-school time!
You have probably already completed purchasing your school supply list for what your child needs in the classroom, but what about all those other items besides notebooks and pencils? Us moms know that back to school shopping includes so much more!
Earlier this morning I stopped by Fox 5 Morning News in DC to share some innovative products that will help students from college all the way down to preschool.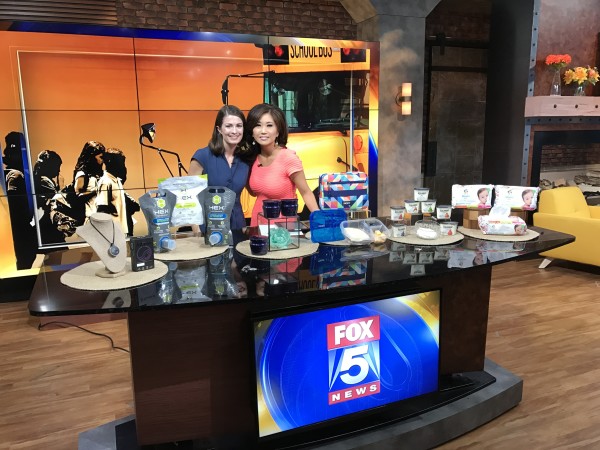 Here's what I shared:
1. Athena by ROAR for Good 
College campus assaults are often in the news and now there is a new, wearable safety device to help prevent and deter attacks. Athena by ROAR for Good pairs with your smartphone via Bluetooth. With the touch of a button your location is shared with emergency contacts, and you can also activate a loud alarm to deter assailants.
Cost: $99 (price will increase next month).
Pre-order: ROARforGood.com
2. HEX Performance Advanced Laundry Detergent
New college students may be tackling laundry on their own for the first time, plus moms like me are cleaning fall sports gear and clothes that have more mud and stains from recess & P.E. Enter HEX Performance: a new, innovative detergent created by Baltimore pro-athlete and lacrosse player, Drew Westervelt. HEX Performance cleans and protects today's performance fabrics (the clothes you live and work in) from sweat, stains, dirt, and STINK caused by bacteria.
Suggested Retail Price: $8.99
Available at: All Maryland retailers, including Target, Amazon, Target.com.
Website: HEXPerformance.com
3. Sains & Sinners Velvet Divine Hair Masque
College students: Saints & Sinners has created a great product to help repair all of the damage the summer sun and swimming did to your hair: The Velvet Divine Hair Masque.
Cost: $30
Available at: Salons across the country.
Website: RealSaintsAndSinners.com
4. PackIt Freezable Bento Box Set
This product makes healthy school lunches easy, whether you have a college student on-the-go or you are packing lunch for younger, elementary school kids. The PackIt Freezable Bento Box Set includes 3-compartments for variety of food. No more bulky freezer packs stuffed into your lunchbox; you simply put the freezable sleeve in the freezer and it fits perfectly around your Bento box, helping keep your food cool for hours.
Cost: $19.99
Available at: PackIt.com
5. Icelandic Provisions Skyr 
Would you like your child to eat more healthy snacks during lunchtime or once they get home from school? Icelandic Provisions uses 200-year-old heirloom skyr cultures from Iceland to create a creamy and delicious treat! It has 20% more protein and 33% less sugar than the leading Greek yogurt brands, plus it's low in fat and rich in calcium.
Cost: $1.69 – $1.99 per 5.3 oz cup
Available at: A variety of retailers including Sprouts, Whole Foods, Wegmans, Pavilions, Safeway and Shop Rite.
Website: IcelandicProvisions.com
6. Bloom BABY Wipes 
Bloom BABY Wipes aren't just great for babies, they're perfect to stash in the car or send into the classroom for easy clean-up after snacks or crafts. These wipes are hypo-allergenic, jumbo-sized and made in the US.
Cost: $9.99 for 80-count. $19.99 for 240-count.
Available at: Bloom-Baby.com and Amazon.
Website: Bloom-Baby.com
Whether you're leaping for joy or holding back tears as you send your kids back to school after summer, these innovative products are sure to help you weather the new school year!