America's favorite sport and pastime just got a little more fun here near DC! On Sundays, families across the D-M-V have extra fun in store when they plan an outing to the ball park during the Nationals Sunday Family Funday. You can attend Family Funday games every Sunday now through the end of the season.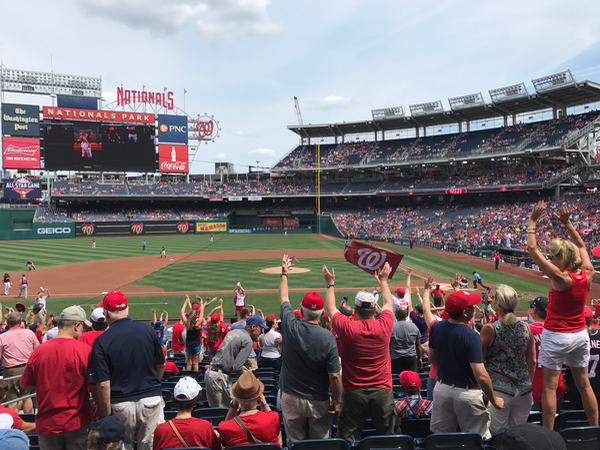 Last month my family and I were invited by the Nationals Baseball team to attend a Sunday Family Funday afternoon game to see all the excitement. My son plays little league and my husband plays church softball, so we are undoubtedly baseball fans!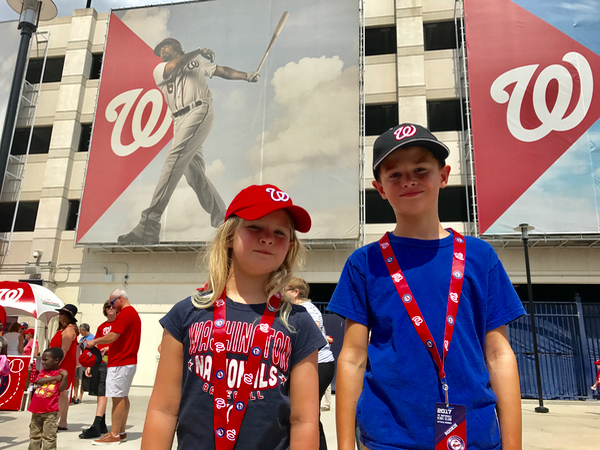 Here's just a few reasons why you should buy tickets to see the Nationals play on Family Fundays!
Special Activities
During Family Fundays there are so many extra activities geared toward kids and families that you won't get during normal ball games. When you walk into the ball park you'll notice face painting, yard games, and arcade-style games (note, some cost money to play), plus a large jungle gym. Most of these are free! The corn hole toss was quite popular as well as the inflatable tee ball game. My tip is be sure to arrive early so you have plenty of time to take your children around to all the fun activities. You can also go visit the activity and game stations during the game, in case your kids get tired of sitting and want to play.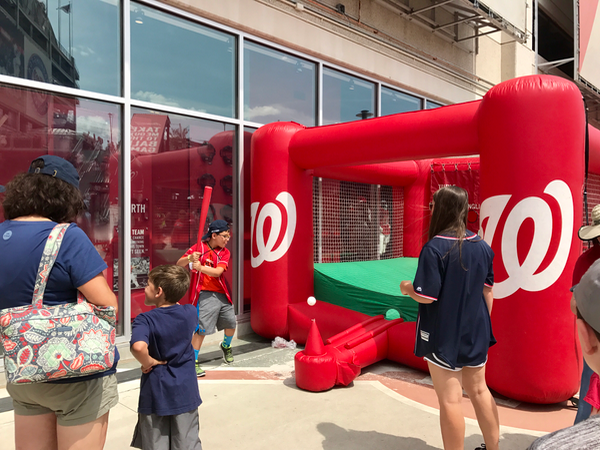 Activities include:
Chalk Station
Face painting
Inflatable Tee Ball Game
Yard Games (Corn Hole)
Nationals Prizes and giveaways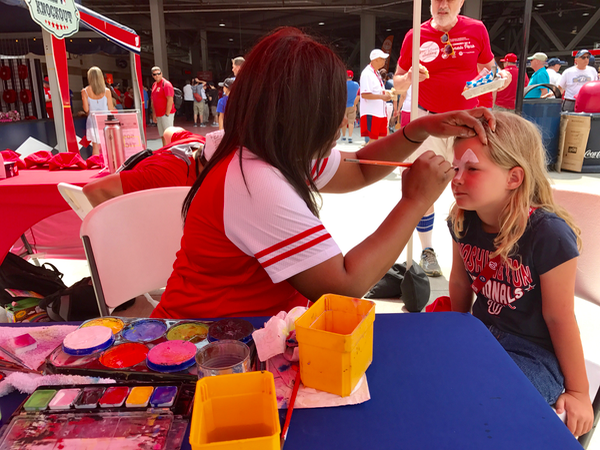 Jungle Gym
Kids will love the new play area!  Children can enjoy the special, kids-oriented play area inside Nationals Park, conveniently located inside the Right Field Gate, next to the Team Store. The jungle gym (which looks like a castle with turrets and flags) looks like so much fun! This play structure was closed for repair when we visited, but we hope to return again soon for another Family Funday game so my kids can explore and play inside it!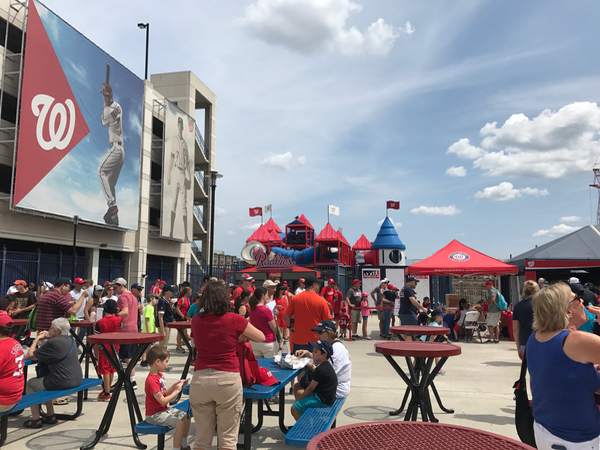 Kid-friendly ticket options
Has the ticket price for bringing the whole family made you balk when considering planning a family outing to the ball park? Save money on tickets with the Family Fun Pack presented by Harris Teeter. You can save $11.75 on every ticket (and when taking your entire family, this adds up to a pretty significant saving!). These special family fun packs are available Friday, Saturday, and Sunday throughout the 2017 season and include a game ticket, hot dog, chips, and a Coca-Cola/Dasani beverage.
Kids run the bases
Want a cool opportunity for your little slugger to get down on the Nats field and run the bases him- or herself? At Family Funday games kids ages 4 – 12 years old get to run the bases after Sunday home games. This is a unique chance for your children to see the field exactly as their favorite Major League players see it. Be sure to check the online calendar, as game days with double-headers may mean that the "Kids run the bases" activity is cancelled (this was the case when we visited). This activity is weather-permitting as well.
Jr. Nationals Kids Club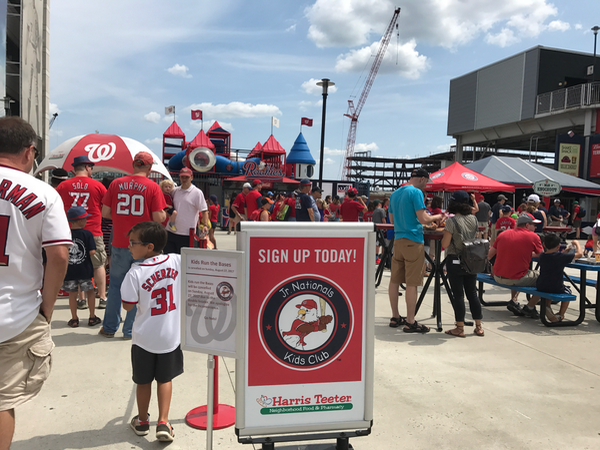 On Family Fundays you can sign up your child to become a Jr. Nats Kids Club member for free! For the "Rookie" level (free option) kids get a membership card and lanyard, special meet and greet opportunities, exclusive e-mail offers, and a monthly e-newsletter. If you upgrade the membership to "MVP" level, you'll pay $20 to get the Rookie level benefits, plus you'll get a coupon book and passport, MVP book bag, exclusive Jr. Nats baseball cap, MVP baseball seam bracelet, 3 Nationals Team store coupons, 1 welcome/birthday scoreboard message, free meal at any NatsDog stand, and one promotional item.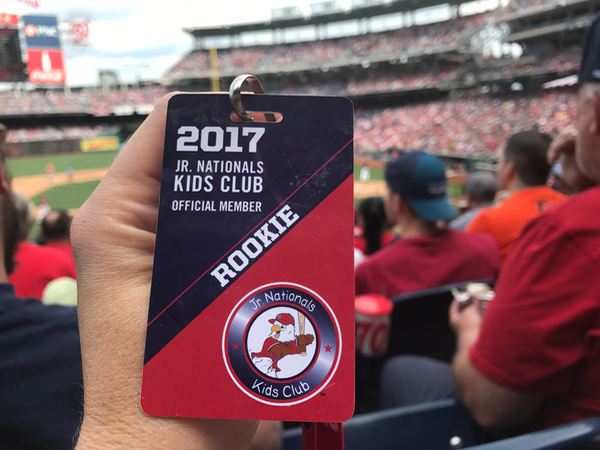 You definitely want to plan a family trip to Nationals Park during Family Funday this season! We had a blast rooting on the home team during Family Funday. If you've never been to a Nats game while living here in DC, this is definitely something you need to experience!
Disclosure: My family and I were invited by the Nationals baseball team to attend a game on a Family Funday Sunday. We were provided with complimentary tickets to the game. I received no additional compensation. Please know the opinions shared in this post are my own. To read my formal disclosure policy, please click here.