The following post is sponsored by Potomac Mills Mall as a part of their More Than Pink initiative
October is simply an inspiring month. I can sense a moving stir woven throughout Virginia and DC: evident in nature, through the deepening of the fall season, and in the people and stories bustling here near our nation's capital.
Right now Northern Virginia is full of brilliant pops of color in the leaves, and the excitement is in the air with the arrival of the cool, crisp, autumn air.
This month also happens to be National Breast Cancer Awareness Month. I'm extremely inspired by the grit and grace of the women in my life who have battled this disease. October, and all year-round, is the time to rally around the brave women battling breast cancer, as well as celebrate survivors, and mourn those who have lost the fight.
Has someone close to you battled breast cancer?
Over the past few years I have had five friends develop breast cancer. One friend from college received her breast cancer diagnosis just two days after her 34th birthday, the exact same age her own mother was when she lost her battle to cancer. Just last week I learned that an old friend from high school received a devastating Stage 4 diagnosis. All five of the women I know who have battled breast cancer recently have been healthy mothers of school-age children. This disease has turned their lives and that of their families upside down as they have bravely made the journey as a cancer survivor.
If you're like me, you want to support your friends and family however you can, whether it be by sending cards and lifting prayers, making meals and helping with errands, or simply providing hugs and a shoulder on which to cry. I also want to do what I can to make a positive impact in the national and global fight against breast cancer. Donating toward non-profits like Susan G. Komen can help save lives and make strides toward ending breast cancer. Your donation can help with groundbreaking research as well as provide information and services to those people fighting breast cancer.
Shop, Support, and Save
I love it when retailers partner with charities to support worthy causes and provide easy ways for consumers to give and make a difference. I was so happy to learn that Simon Malls across the nation, including Potomac Mills in Woodbridge, VA, are supporting Susan G. Komen! They are encouraging employees, retailers, and shoppers to make a bigger, bolder impact in the fight against breast cancer through their More Than Pink initiative. In fact, during the spring Simon Malls surpassed their goal of raising $1M for Susan G. Komen and plans to keep that momentum going during National Breast Cancer Awareness Month.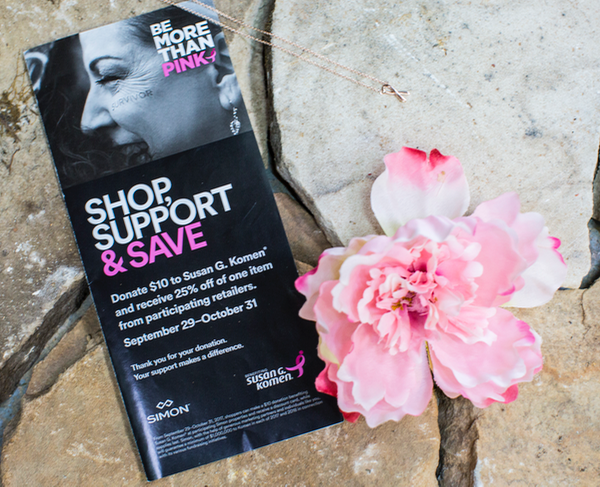 Join me in shopping for a great cause to save lives and end breast cancer! Simply visit Guest Services or the Mall Office to make a $10 donation to Susan G. Komen, and you'll receive a special "More Than Pink" discount booklet including savings of 25% at over 50 participating retailers.
In an effort to help raise awareness of this partnership with Susan G. Komen, Potomac Mills challenged me to shop for pink apparel and accessories using their More Than Pink discount booklet.
Pink Fashion Trends
Pink is the signature color of Susan G. Komen and the pink ribbon is the international symbol of breast cancer awareness. This month you'll see everyone from pro-sports athletes and little league teams, to celebrities and TV journalists sporting pink. You'll of course see people in the workplace, in schools, and across the country wearing pink to support survivors and bring awareness to breast cancer.
Hot pink has also been heralded as one of the hottest color trends of the year thanks to designers and celebrities alike who established bright pink as the biggest street style trend during the latest New York Fashion Week.
It's also noteworthy that "Millennial pink" was one of the most searched back-to-work terms according to the Pinterest 2017 Back to School and Work Trends study.
I'm excited to share some of the stylish pieces with pops of pink I found at Potomac Mills while shopping at retailers participating in the More Than Pink campaign!
Potomac Mills Shopping Trip
About Potomac Mills: Potomac Mills is Virginia's largest outlet mall, located just 30 miles outside of Washington D.C. Potomac Mills features an indoor shopping experience with over 200 stores!
Website: PotomacMills.com
Address: 2700 Potomac Mills Circle, Woodbridge, VA 22192
Mall Hours: Mondays – Saturdays: 10 am – 9 pm.  Sundays: 11 am – 6 pm.
My Pink Shopping Finds
Potomac Mills Travel Tote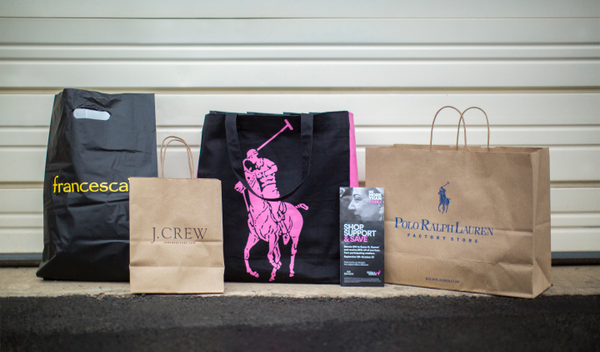 Pink Pony Tote from Polo Ralph Lauren Factory Store (located in Neighborhood 5)
When you purchase this cute, 100% organic cotton pink pony tote for $10, the net proceeds go toward the Pink Pony Fund for cancer care and prevention. Note: You cannot use the More Than Pink discount coupon on this item.
Pink Potomac Mills Apparel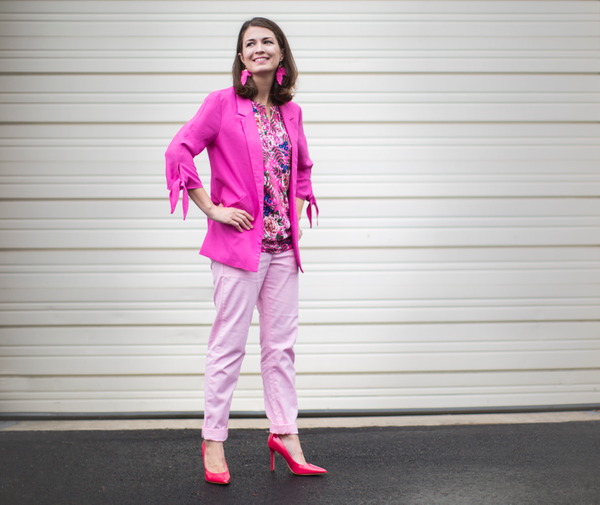 Pastel Pink Pant from Polo Ralph Lauren Factory Store (located in Neighborhood 5)
Pink Floral Blouse from J.Crew Factory Store (located in Neighborhood 1 Fashion District)
Pink Blazer from Francesca's Collections (located in Neighborhood 1 Fashion District)
Pink Potomac Mills Accessories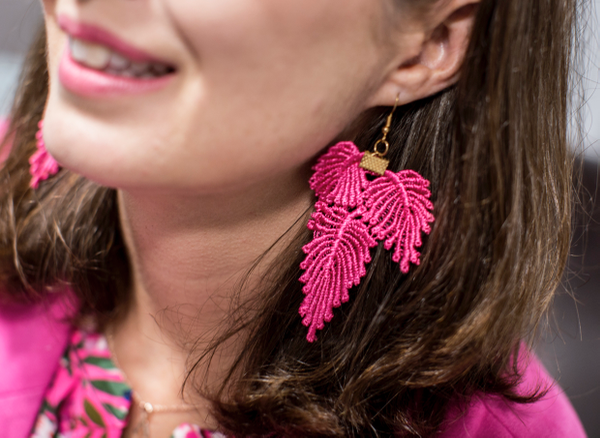 Delicate, Pink Embroidered Earrings from Francesca's Collections (located in Neighborhood 1 Fashion District)
Breast Cancer Awareness Ribbon Rose Gold Necklace from Francesca's Collections (located in Neighborhood 1 Fashion District)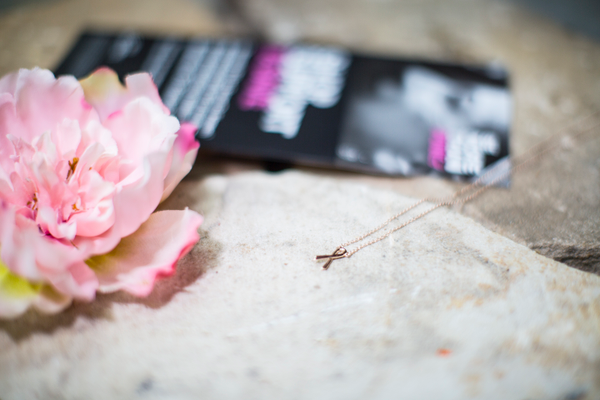 Pink Potomac Mills Footwear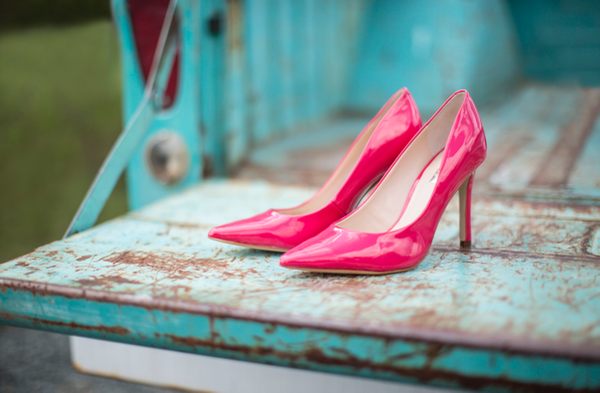 Pink GUESS Pumps from my last Potomac Mills Mall Shoe Shopping Trip.
A sample of some of the participating merchants in the coupon booklet include:
Aéropostale
Banana Republic Factory
Calvin Klein
Converse
Corningware Corelle & More
Disney Outlet
Fossil Outlet
Fragrance Outlet
Francesca's
Gap Factory
GUESS Factory
HanesBrands Outlet
J. Crew Factory
Kate Spade New York
Levi's Outlet
Lucky Brand
Michael Kors
NAUTICA
New Balance Factory
Payless ShoesSource
Polo Ralph Lauren Factory
Tommy Bahama Outlet
Tommy Hilfiger
Under Armour
Zales Outlet
Whether you want to spice up your closet with some prominent, pink statement pieces, or simply want to warm up your wardrobe with comfy, chunky sweaters for the cooler weather headed our way, Potomac Mills is the best outlet mall for you to shop and save.
Make sure you stop by this month to help support the Susan G. Komen foundation and pick up your More Than Pink discount booklet! You can also fill out the name of your own breast cancer survivor hero on a pink sticker and add that to the More Than Pink Hero Wall located inside the food court area.
Join me this month at Potomac Mills to shop, support, and save!
More about "More Than Pink": Susan G. Komen's "More Than Pink" initiative wants to remind people that 40,000 women a year still die from breast cancer in the U.S. In fact, one in eight women will be diagnosed with breast cancer. It's not just a sea of pink anymore. It's More Than Pink. The movement toward action and urgency, is needed in addition to awareness. Susan G. Komen is on a mission to celebrate the heroes who go above and beyond to make change. And they invite those who have been sitting on the sidelines to join the cause.
Disclosure: This post is a sponsored post in partnership with Potomac Mills Mall and I have been compensated for my participation. All opinions stated here are my own. I love to share retail destinations that offer great products and great savings. To read my formal disclosure policy, please click here.