Share the post "Ollie's Bargain Outlet: Serious Savings in Manassas VA"
The following is a sponsored post in partnership with Ollie's Bargain Outlet. Keep reading for a fun giveaway!
As a bargain shopper who enjoys scouting out deals, I love to discover new retail destinations that offer big discounts on everything, everyday.
Ollie's Bargain Outlet is one such bargain destination that prides itself in selling "Good Stuff Cheap." They deliver on that promise.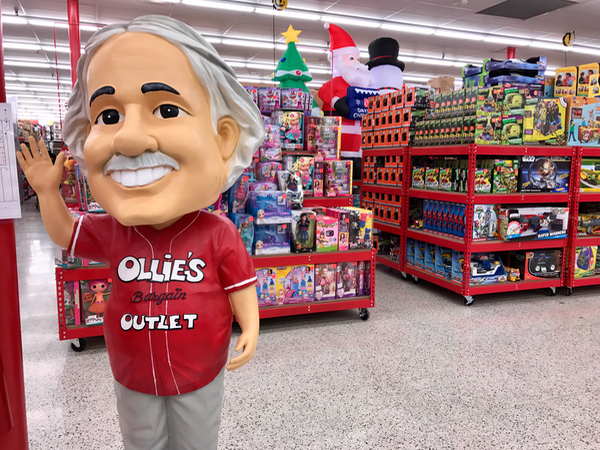 Headquartered in Harrisburg, PA, Ollie's has over 260 established locations including Baltimore, Frederick, Hagerstown MD, and Fredericksburg VA. Ollie's Bargain Outlet is unveiling its newest store and it happens to be right here in the D-M-V!
The newest Ollie's Bargain Outlet is opening in Northern Virginia. You'll find oodles of bargains inside Ollie's, located inside Manaport Plaza in Manassas VA, near the Food Lion, McKay Used Books, and Tuesday Morning. They celebrated their grand opening to the public on Wed. November 8th with a ribbon cutting ceremony at 9:00 AM.
Ollie's Bargain Outlet Manassas Store Info
Ollie's Bargain Outlet in Manaport Plaza
Address: 8351 Sudley Road, Manassas, VA 20109
Phone: 571-292-1797
Hours: Sunday: 10 am – 7 pm. Monday-Saturday: 9 am – 9 pm
Find Ollie's online & on social media
Website: Ollies.us
Main Facebook Page: FB.com/OlliesBargainOutlet
Manassas Store Facebook Page: FB.com/OlliesManassas270
Twitter: @OlliesOutlet
Instagram: @OlliesOutlet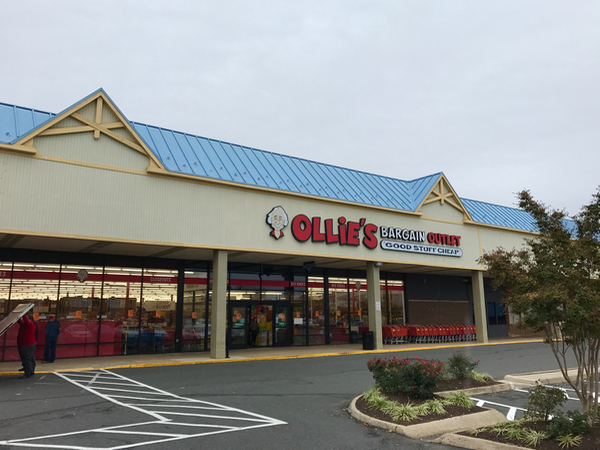 What is Ollie's Bargain Outlet?
Ollie's Bargain Outlet is one of America's largest retailers of closeout merchandise and excess inventory. You'll find name brand merchandise for up to 70% off. Real brands at real bargain prices. Ollie's has been in business for over 35 years and they have stores in 20 states across the US. The newest store launch shows they realize that Virginia is for bargain lovers!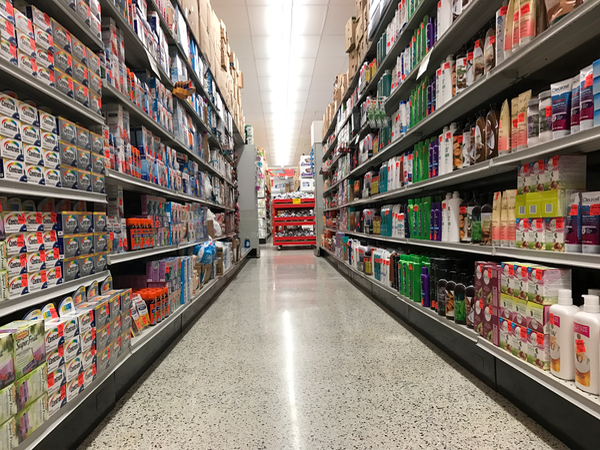 How can Ollie's Bargain Outlet offer such deep discounts?
Ollie's Bargain Outlet discounts are a result of closeouts, overstocks, package changes, manufacturer refurbished goods, and irregulars. They pass on the savings to the customer, which makes my bargain-seeking heart rejoice. They keep a current listing of their best, great deals on their website.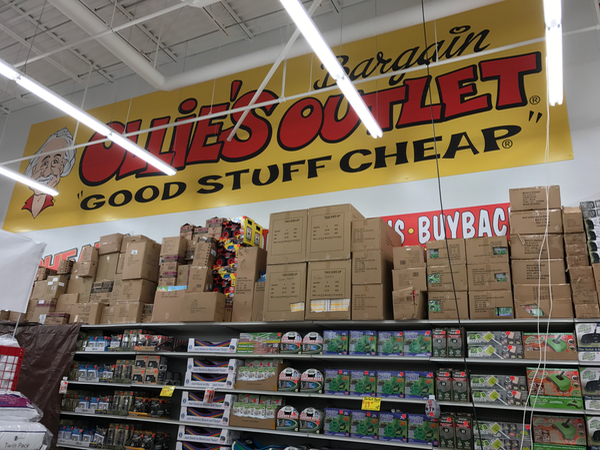 What sets Ollie's Bargain Outlet apart?
Ollie's is a no-frills, warehouse-style store with an eclectic assortment and spunky, saver-centric atmosphere. They lovingly refer to their stores as "semi-lovely stores." Their product assortment is diverse, ranging from laminate flooring, rugs, and home decor to premium gourmet treats, health and beauty products, and more. You'll also find plenty of colorful, humorous signage plastered across the walls incorporating their lovable mascot Ollie and a healthy dose of puns.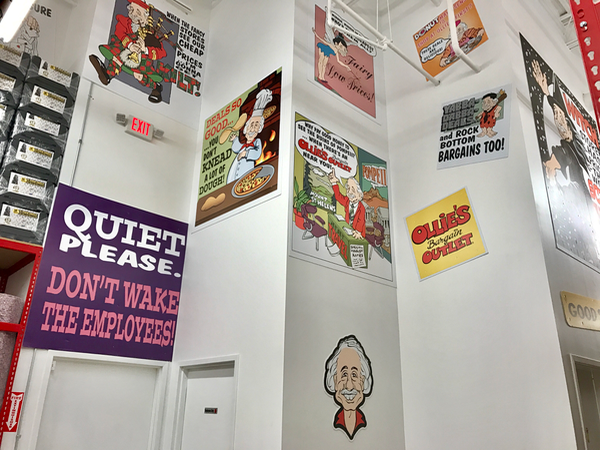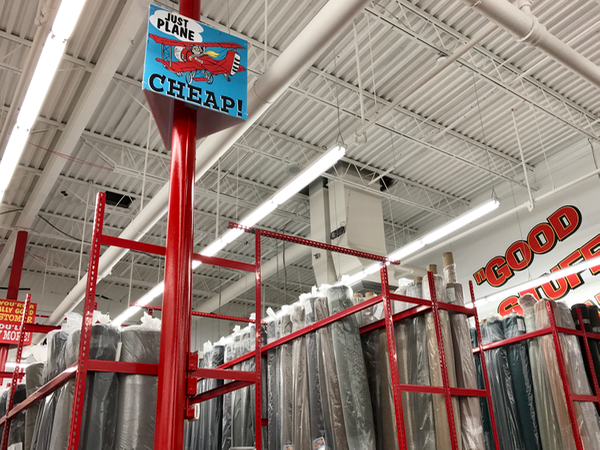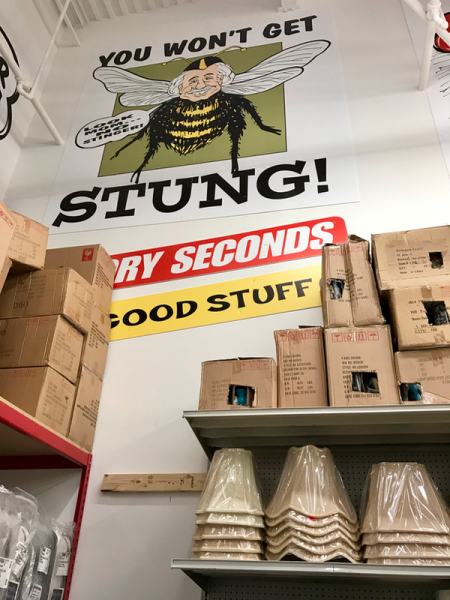 You can even grab a free cup of coffee from their coffee pot in the back of the store beneath a sign "The pot's always on! Have a FREE cup of coffee on us, and if you like, use 2 sugars… it's been a pretty good year!"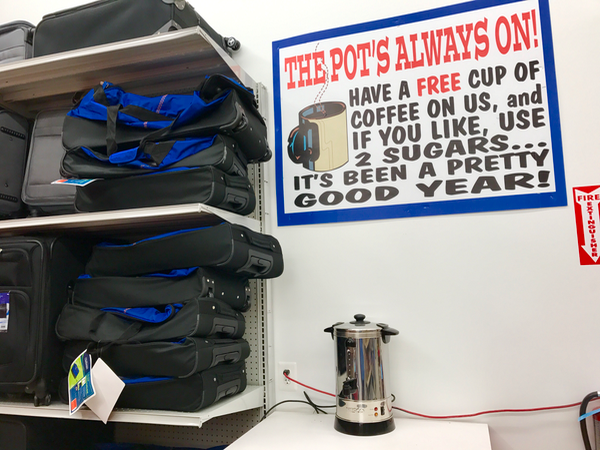 What kind of deals can you find at Ollie's Bargain Outlet?
They offer products in the following categories:
Housewares & Home Textiles
Home Improvement & Hardware
Flooring
Lawn, Garden & Patio
Sporting Goods
Food
Electronics
Health & Beauty Supplies
Pet Supplies
Automotive
Clothing & Luggage
Books & Stationery
Toys
Holiday Items
Here are just a few deals I found when I got to visit and shop at their exclusive preview shopping event over the weekend! Be sure to peruse their current sales flyer as well.
HOME & DECOR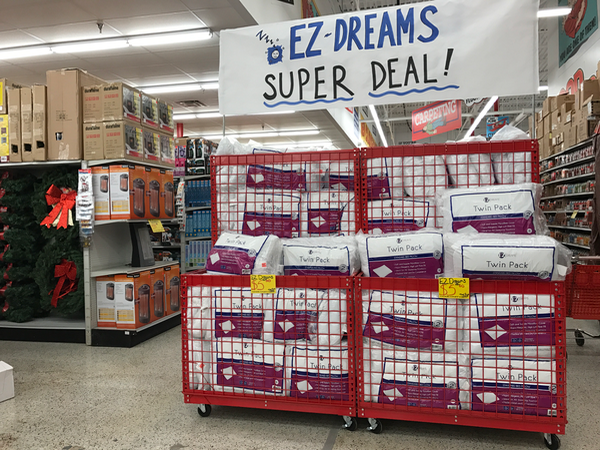 EZ Dreams Twin-Pack Pillows
$5 (versus $14.99 normal retail)
Large 24″ x 36″ framed paintings and pictures
$14.99 – $19.99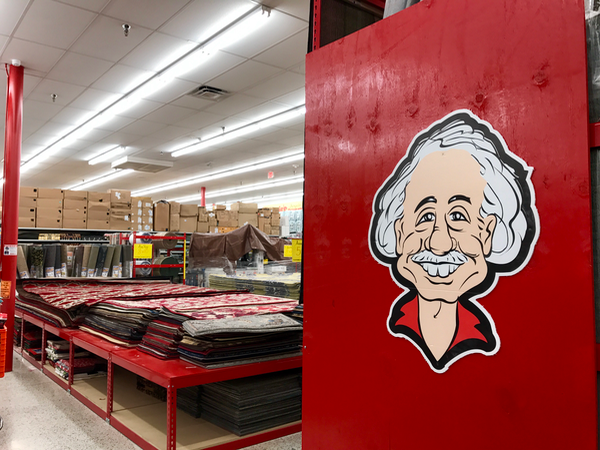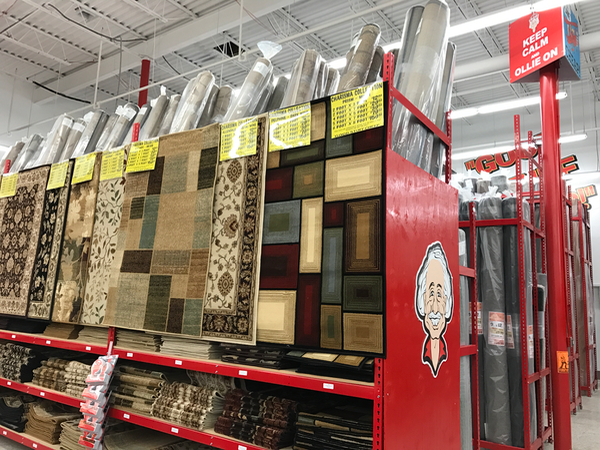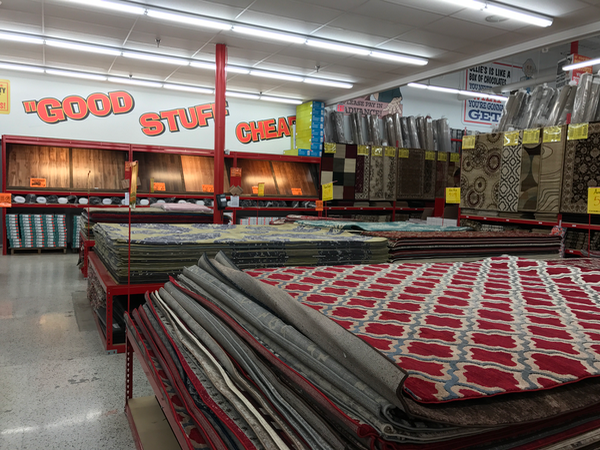 Carpet Remnants, 12″ x 12″, 12″ x 15″ or 12″ x 18″
$3.99 per square yard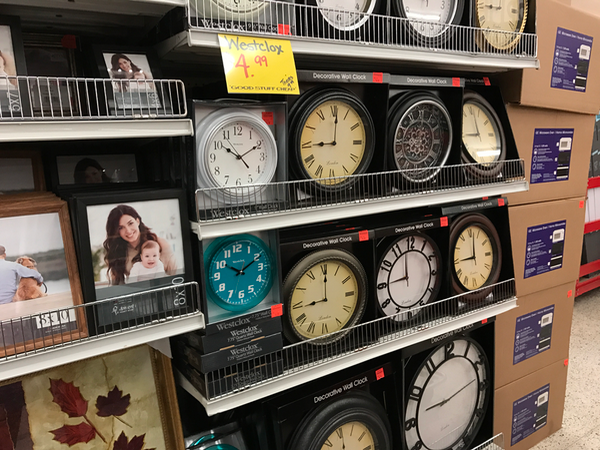 Decorative wall clocks by Westclox
$4.99 (versus $9.99 normal retail)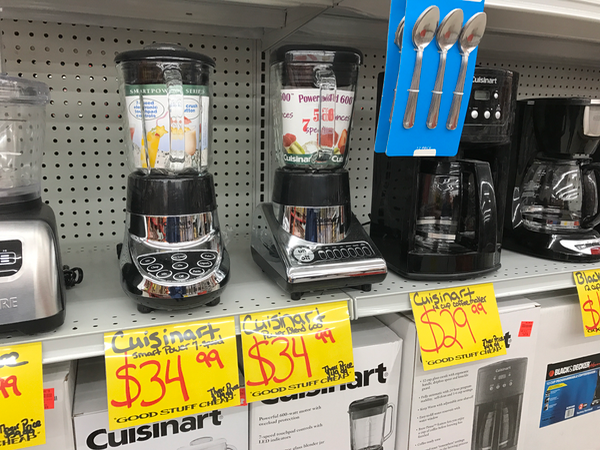 Cuisinart Power Blend 600 or Smart Power 7-Speed Blender
$34.99 (versus $49.99 normal retail)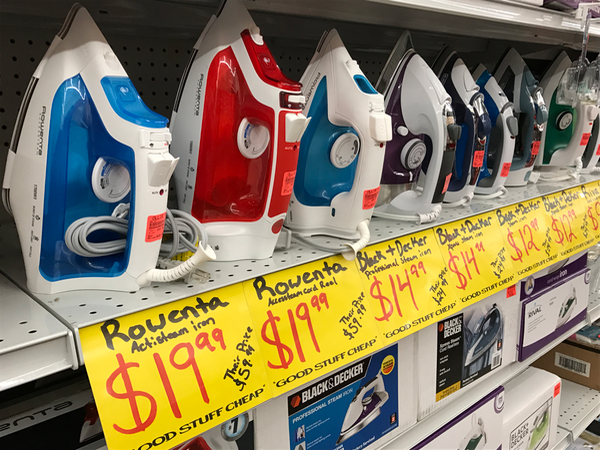 Rowenta Iron
$19.99 (versus $59.99 normal retail)
FOOD
Harry & David Moose Munch
$3.99 (versus $7.99 normal retail)
Spice Time Assorted Spices
$0.50 (versus $1.79 normal retail)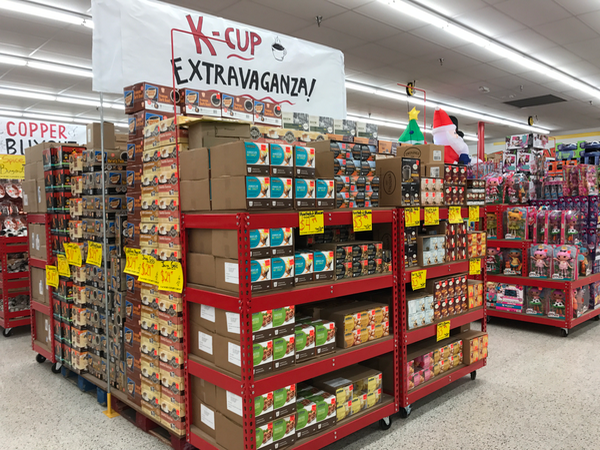 Keurig Hot Twinings Coffee K-Cups
$7.99 (versus 12.99 normal retail)
Cheez-It Crackers, assorted varieties
$1.29 – $1.59 (versus $2.29 – $2.49 normal retail)
HEALTH & BEAUTY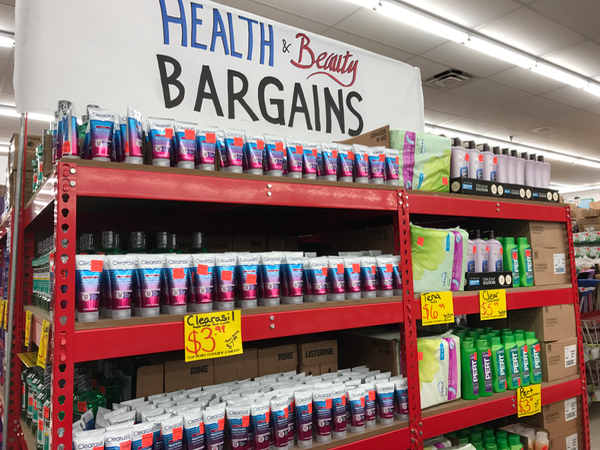 Suave Professionals Shampoo and Conditioner
$1.19 (versus $1.99 normal retail)
John Frieda Sheer Blonde Everlasting Blonde Color Preserving Shampoo, 8.45 oz
$2.99 (versus $4.99 normal retail)
Clearasil Rapid Action Face Wash
$3.99 (versus $7.99 normal retail)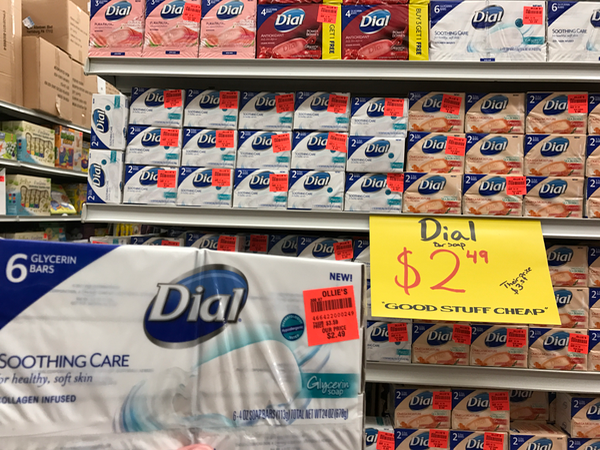 Dial Soothing Care Glycerin Bar Soap, 6 pack
$2.49 (versus $3.59 normal retail)
Dead Sea Collection Lavender Bubble Bath, 33.8 oz
$2.89 (versus $5.99 normal retail)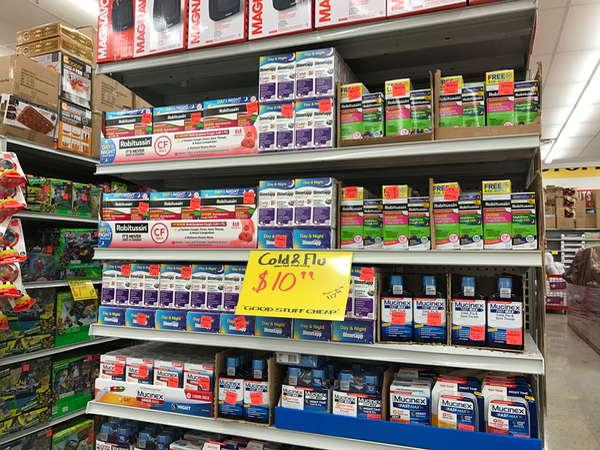 Dimetapp Nighttime Cold & Congestion, 4 oz, 2-pack
$4.99 (versus $8.99 normal retail)
Robitussin Cough Cold & Flu Medicine, 8 oz
$6.99 (versus $11.99 normal retail)
Mucinex Fast-Max Cold, Flu & Sore Throat
$7.99 (versus $13.99 normal retail)
FITNESS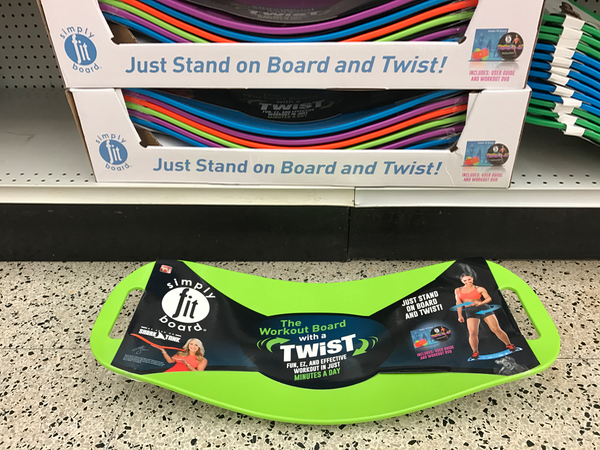 Simply Fit Board as featured on Shark Tank
$29.99 (versus $39.99 normal retail)
BOOKS & TOYS
Uninvited by Lysa TerKeurst
$3.99 (versus $16.99 normal retail)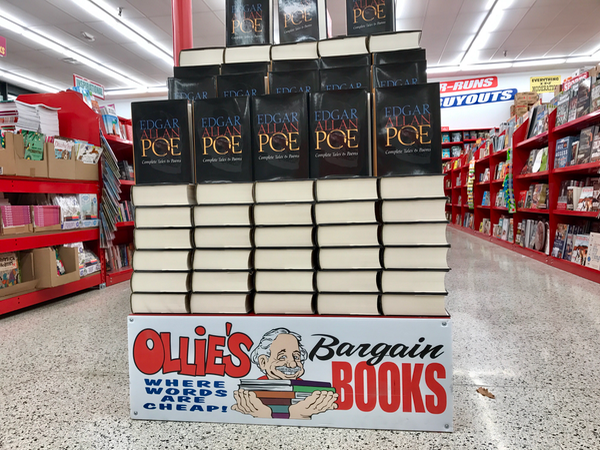 Edgar Allan Poe Complete Tales & Poems
$6.99 (versus $12.99 normal retail)
DK LEGO Great LEGO Sets: A Visual History
Includes 102-piece LEGO set plus 2 hardcover books
$12.99 (versus $40.00 normal retail)
Nickelodeon Teenage Mutant Ninja Turtles Cra-Z-Art Turtle Maker Mold & Play Set
$7.99 (versus $14.99 normal retail)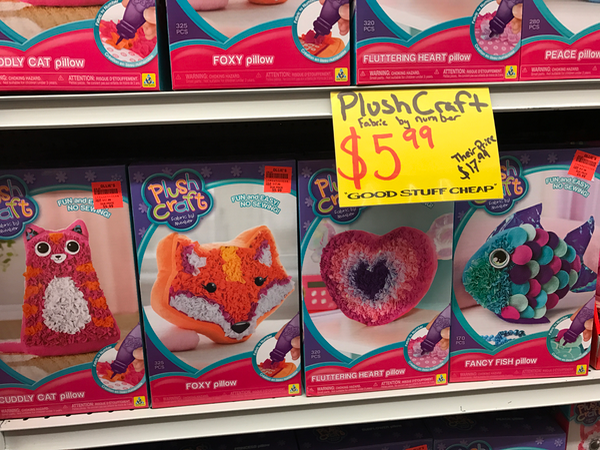 Plush Craft Fabric by Number, No-Sew Fancy Fish Pillow
$5.99 (versus $17.99 normal retail)
Shopkins Soft-n-Lite Air-Dry Clay Activity Pack
$9.99 (versus $19.99 normal retail)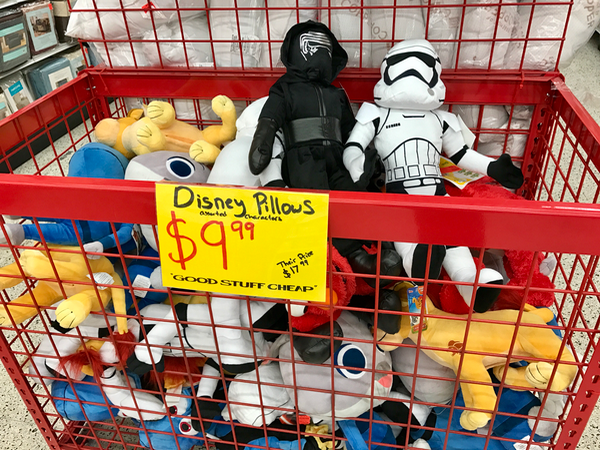 Disney Large Plush Pillows (Star Wars, Lion King, and Finding Dori)
$9.99 (versus $17.99 normal retail)
Assorted Play Tents (Disney, Paw Patrol, Thomas The Tank Engine)
$9.99 (versus $19.99 normal retail)
SEASONAL & HOLIDAY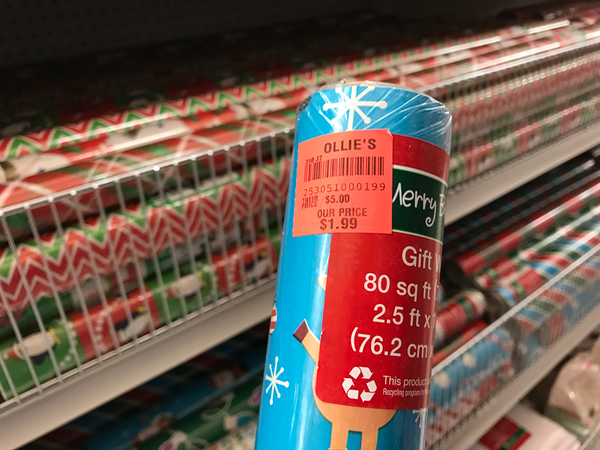 Christmas and Winter-themed wrapping paper, 80 sq ft
$1.99 (versus $5 normal retail)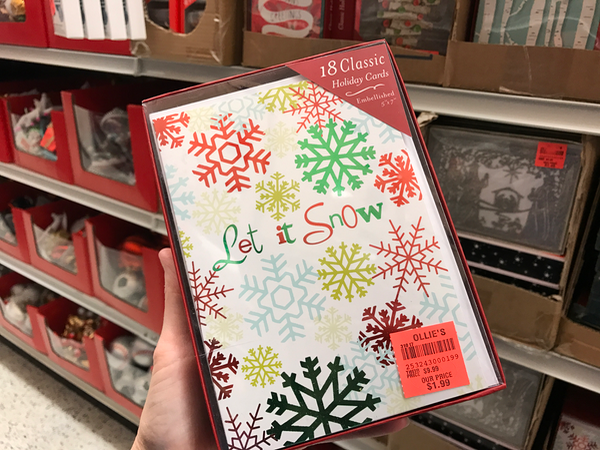 Holiday Greeting Cards, 18 count
$1.99 (versus $9.99 normal retail)
Here are a few additional things to know about Ollie's Bargain Outlet: 
Merchandise is constantly changing and once the products are sold out, you may not see that same product in Ollie's again. Their products are closeouts, excess inventory, and salvage merchandise sourced from other retailers.
Ollie's Army Membership: Sign up at the register to become an Ollie's Army Member for free. You'll receive an Ollie's Army card to earn points on every purchase, plus be eligible for exclusive offers and store coupons.
Return policy: Ollie's has a "No Hard Time" 30-day guarantee. If unsatisfied, you can return items for a full refund within 30 days of purchase, as long as the product is in its original condition and you have your sales receipt. Returns without a receipt will require a valid government issued ID and a re-stocking fee may be deducted from your refund amount.
No Manufacturer Coupons: Because they already offer such deeply discounted merchandise, they do not accept manufacturer coupons.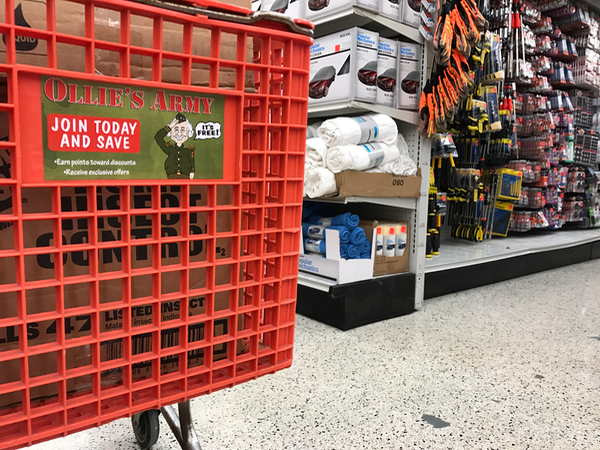 Ollie's Bargain Outlet is the real deal, offering deep discounts on real name brands. Their newest outlet store in Manassas is a welcome addition to the Northern Virginia shopping scene, one that bargain shoppers are sure to adore. What's not to love about thousands of bargains all under one roof? I also appreciate the fun vibe of the store and the friendly, customer-focused staff.
Be sure to visit Ollie's Bargain Outlet for their grand opening on Wed. November 8th!
To celebrate the new store opening, I'm giving away a $20 Ollie's Bargain Outlet gift card to two (2) lucky Beltway Bargain Mom readers! Simply fill out the entry form below for a chance to win.
Disclosure: This is a sponsored post in partnership with Ollie's Bargain Outlet and I have been compensated for my participation. All opinions stated here are my own. I love to share retail destinations that offer great products and great savings. I also enjoy hosting giveaways for my readers. To read my formal disclosure policy, please click here.