The following is a sponsored post in partnership with Hanes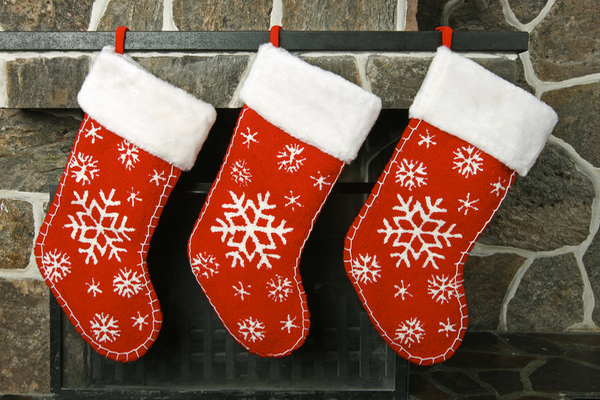 Scrambling to find the perfect Santa-approved stocking stuffers?
With dreary December weather and frightful, frigid temperatures, my favorite stocking stuffers are ones that create comfort and warmth, plus spark leisure time with my family.
It's now Christmas "crunch time." Less than a week until the big holiday, and you've probably already figured out the main, big ticket items for your friends and family. But what about your stocking stuffers?
Here are a few gift ideas to warm up your loved ones' stockings:
Cozy Stocking Stuffers & Last-Minute Christmas Gifts Under $10
1. Knit Cup Cozy
Hot beverage… handle with caution! Thank goodness there are adorable and stylish knit cozies for mugs! What could be more cozy than a cozy? Keep your hands protected from the heat, while adding some style to your mug. If you are an avid knitter, you can make your own DIY cup cozy. For those of you short on time (or yarn) you can purchase coffee cozies on Etsy, Amazon, and find these delightful drinkware accessories in some big box stores.
2. Gourmet Hot Beverage
Coffee, Hot Chocolate, Tea, and Latte Mix are popular gifts to add to your stocking. Most of us enjoy cuddling up with our favorite hot drink accompanied by a good book, movie, or TV show. Sipping a delicious, hot beverage on a cold winter day can be a favorite morning ritual or a decadent treat. My favorite hot drink is Chai Tea Latte, and I love getting the powder mix which sells for under $5 at Trader Joe's. Another popular hot beverage stocking stuffer is a $5 or $10 gift card to a local coffee shop.
3. Insole Foot Warmers
What could be more appropriate to put in a stocking than something that actually goes on your feet? If you have outdoor adventurers on your gift-giving list insole foot warmers are the perfect, practical gift. I asked for these a few years ago, because spending lengthy time outside with my kids in the snow led to incredibly cold feet (I must have bad circulation, because I'm always cold, especially my feet, even when I wear two layers of socks). The foot warmers do the trick to keep your toes toasty and are great for some of our longer winter outings that involve snow-time adventures. The adhesive toe and foot warmers sell for as little as $10.
4. Hanes Apparel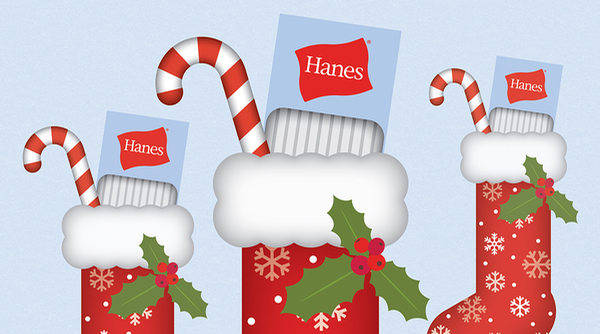 I'm a big fan of giving and receiving comfortable clothing that my family members will actually enjoy wearing. Comfort, fit, and style are key in our household which is why we love Hanes. It seems like each winter we are always in need of a few more wardrobe basics like socks, undies, and t-shirts. Plus, as my kids continue to grow they are needing bigger sizes and are getting pickier about what they wear.
My whole family loves the tagless Hanes T-shirts and underwear. Their 100% cotton products as well as their cotton blends feel so comfortable. I love the quality and durability of their clothes and am thankful they hold up to the tough wear that my kids (and my contractor husband) put them through.
Of course, another stocking stuffer classic is a snazzy new pack of socks. Socks are one of the most popular stocking stuffer gifts in our family. My daughter loves Hanes Premium Girl's Athletic Socks. The polyester blend creates a light and comfortable feel, great for sports or regular wear. They come in a variety of fun colors and designs. I love that our favorite Hanes premium sock packs all sell for under $10.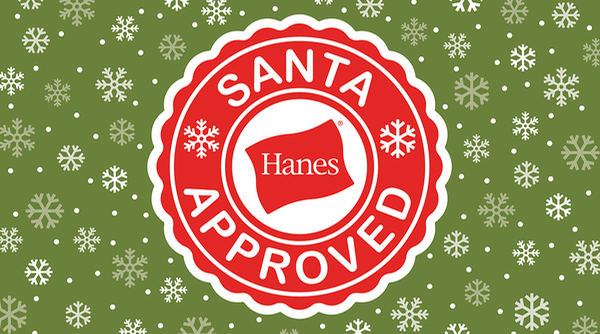 Hanes is Santa approved! Here are a few of Santa's (and my family's) favorite Hanes stocking stuffers:
Boys
Hanes Boy's Boxer Brief (Target)
Boy's Hanes Premium Crew Socks (Target)
Girls
Hanes Ultimate Girl's Cotton Stretch Hipster (Walmart)
Hanes Premium Girls Socks (Target)
Women's
Hanes Cool Comfort Sport Women's No Show Socks (Hanes.com)
Men's
Hanes Men's Ultimate Stretch Crewneck Tees (Kohls)
Hanes Men's FreshIQ Crew Neck T-shirt (Walmart)
Hanes Men's ComfortBlend Socks (Walmart)
Now that you have some last-minute stocking stuffer ideas to help warm up your winter, Hanes wants to put the "happy" into YOUR holiday with a fun giveaway!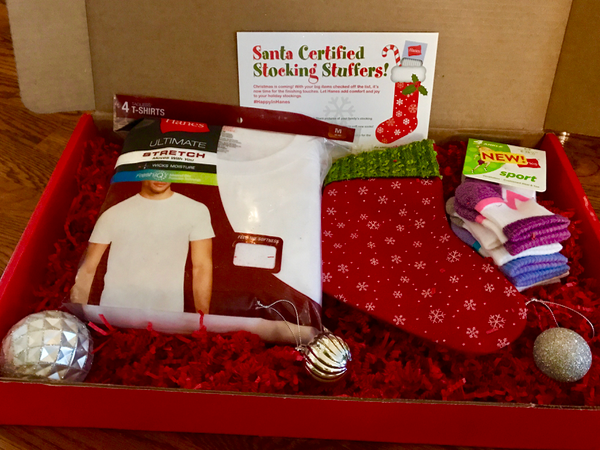 Enter below for the chance to win a $50 Hanes gift card plus your favorite stocking stuffer (T-shirt, underwear or socks).
Disclosure: This is a sponsored post in partnership with Hanes and I have been compensated for my participation. All opinions stated here are my own. My goal, as always, is to share great deals, products, and gift ideas for the whole family. I love the opportunity to host giveaways for my readers. To read my formal disclosure policy, please click here.