Looking for a fun holiday attraction for the whole family? ICE! at Gaylord National ranks as one of the most popular Christmas-time attractions in the DC metropolitan area.
Open the Saturday before Thanksgiving through New Year's Day, this seasonal spectacle located in National Harbor MD is a favorite among guests of all ages. The Gaylord National Conference Center & Resort goes all out to create a fun, winter wonderland. My family has enjoyed ICE! so much, in fact, we have attended it 6 years in a row, turning into an annual family tradition.
ICE! at Gaylord National
ICE! at Gaylord National opens to the public each year beginning late November and remains open through early January.
Address: Gaylord National Resort & Convention Center, 201 Waterfront St, Oxon Hill, MD 20745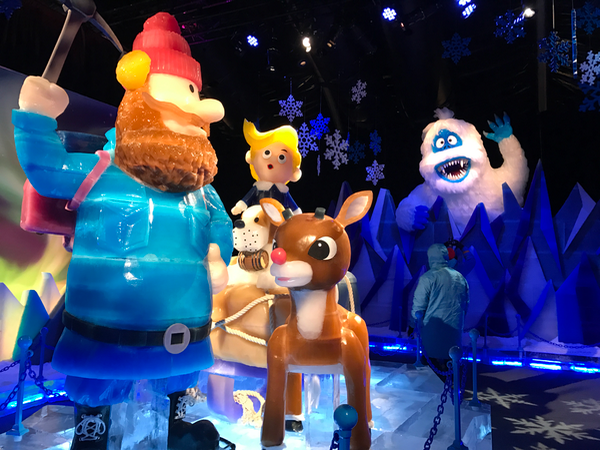 ICE! is an impressive DC area attraction which takes months to create. Gaylord National brings in around three dozen artisans from Harbin, China to hand-carve 2 million pounds of ice. The artisans transform blocks of ice into rooms filled with colorful ice sculptures, tunnels, and slides. The Gaylord National ICE! attraction is contained within a large, 15,000 sq ft insulated tent located on the grounds of the resort, kept at a chilly 9-degrees!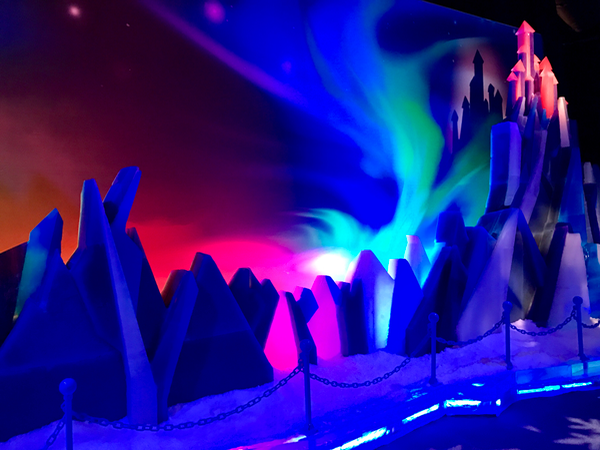 The 2017 theme for Gaylord National's ICE! attraction is: Rudolph the Red-Nosed Reindeer. Based on the 1964 classic TV special "Rudolph the Red-Nosed Reindeer," the walk-through ICE! attraction features beloved characters, such as Rudolph, Santa, Hermey the Elf (a "misfit" elf who wants to be a dentist), and Bumble the Abominable Snowman.
In ICE! you'll see 13 scenes from the TV movie transformed into spectacular, colorful ice vignettes. One of my children's favorite sections of ICE! is the "Island of Misfit Toys" which includes four slides constructed out of ice, made for both young and old guests to slide down.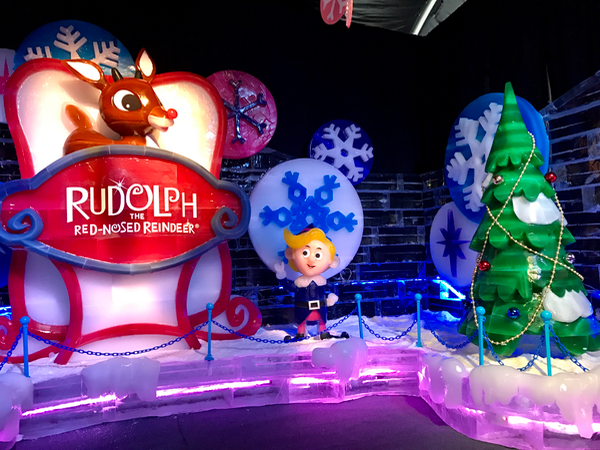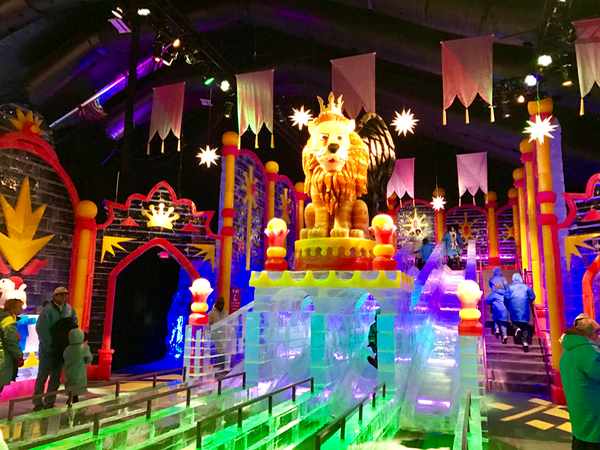 The final portion of the ICE! attraction is one of my favorites. This area features a brilliant, crystal-clear nativity scene with a starry backdrop, situated across from a gigantic, hand-carved angel Gabriel. This is a marvelous and awe-inspiring ice sculpture depicting baby Jesus, Mary, Joseph, the shepherds and wisemen.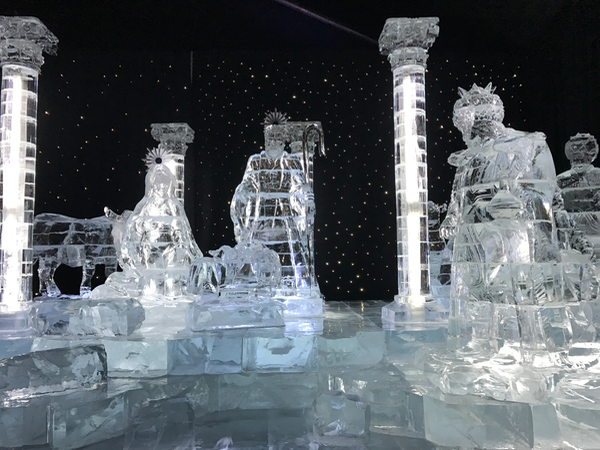 Our family loves ICE! The 9-degree temperature within ICE! feels extremely cold, so we can typically only last 30-60 minutes inside the ICE! attraction. The walk-through experience takes about 15-30 minutes, and I've been told most people spend anywhere from 30 minutes to 2 hours inside ICE. I definitely recommend you wear your own coat, mittens, hat, and scarf underneath the big blue parka you wear inside the attraction. Once you exit the ICE! tent you may not re-enter.
Gaylord National ICE! Rules
There are a few rules for those going to ICE! A few important items to note:
No "heels, open toed shoes, or bare feet" are allowed in ICE! or down the slide.
Children under 4 years old or under 40 inches tall, must ride the designated slide (there are two they may ride, the other two larger slides are intended for older children and adults).
Do not lick the ice (yep, they actually have this posted)!
Gaylord National ICE! Ticket Prices
Value Day Pricing (Nov. 18-22, 26-30. Dec. 1, 3-8, 10-15, 18-21):
$32* for adults & children ages 12+
$24* for children ages 4 – 11 years old
General Admission Pricing (Nov. 23-25. Dec. 2, 9, 16-17, 31. Jan. 1):
$38* for adults & children ages 12+
$31* for children ages 4 – 11 years old
Peak Day Pricing (Dec. 22-30):
$39*for adults & children ages 12+
$32* for children ages 4 – 11 years old
* = price does not include additional service fee or taxes.
Discounts on Gaylord National ICE tickets
Looking for discounts on Gaylord National ICE! tickets?
Visit on "Value Days" for lower pricing and less crowds.
Children 3 years and younger are free with a paying adult.
Military can save up to 20% off tickets by showing a valid military ID.
Groups of 20+ can save $6 off per ticket by purchasing group tickets, by contacting 301-965-4006.
Marriott Rewards members can save up to 25% off on ICE! tickets by using promo code "MRICE17" and showing their rewards card.
Boy Scouts and Girl Scouts can enjoy a $7 discount on tickets during
"Scout Days" (Nov. 19, 26, Dec. 3 – 7) by using promo code "SCOUT17".
In November and sometimes early December you can find discount ticket deals for ICE through CertifiKid and Groupon.
FREE things to do at Gaylord National during Christmas
If you are visiting ICE! or simply near National Harbor, be sure to check out their free attractions around Christmas. You can enjoy the Gaylord National's nightly fountain shows, indoor snowfall, and their 55-foot-tall suspended star-tiered Christmas tree all within their Atrium. In the hotel lobby, near the main entrance, you'll also find a 20-foot wide gingerbread replica of Washington, DC!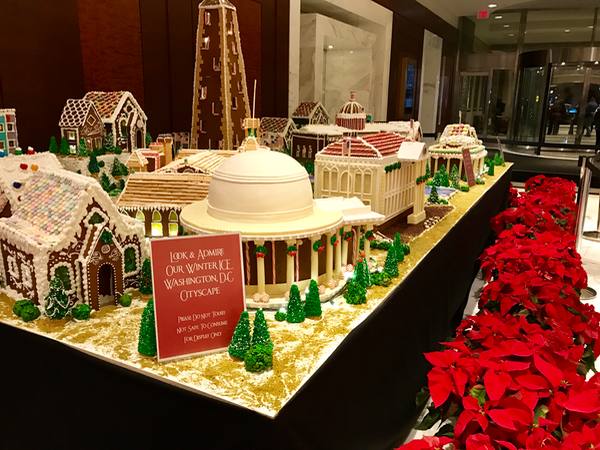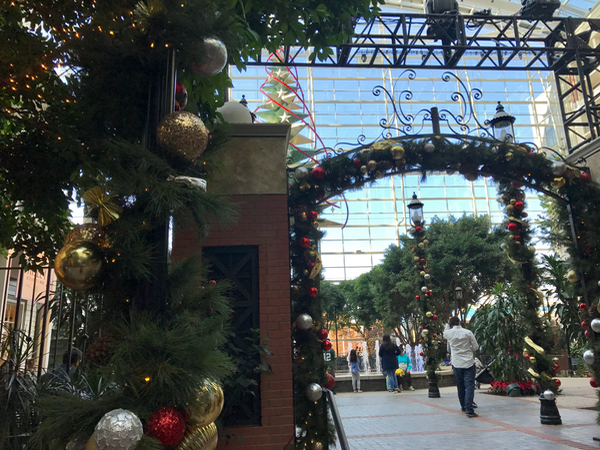 Additional holiday experiences to purchase at Gaylord National
Besides ICE, Gaylord National provides additional family-friendly activities and experiences available for purchase:
Rudolph's Holly Jolly Breakfast
Children can enjoy tableside visits by Rudolph the Red-Nosed Reindeer, Bumble the Abominable Snow Monster and Clarice the reindeer. The breakfast buffet features delicious hot and cold breakfast options. Our favorites were the fresh omelettes and the waffle-making station. During Rudolph's Holly Jolly Breakfast you'll enjoy games and have the opportunity to sing-along to your favorite holiday tunes. Available on select days, costs for adults and children ages 12+ are $39.99*, children 4 – 11 years old are $26.99*, and kids 3 and under are free with a paying adult.
Christmas Village
Near the entrance for ICE! inside the hotel, you'll discover the Christmas Village which includes various paid experiences, including a carousel, train rides, ice skating rink, gingerbread decorating corner, and Santa meet and greet photo opportunity. You can purchase these experiences a la carte, or get the "Play and Save" package which includes several attractions at a discounted rate, starting at $29.45 per person.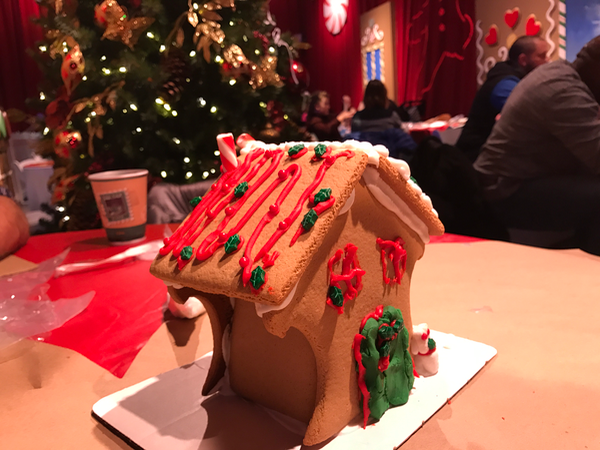 Build-A-Bear Workshop Experience
It's no secret that kids love Build-A-Bear. During this special season, Gaylord National offers their own Build-A-Bear Workshop experience inside their Christmas Village. Kids can create their own cuddly polar bear plush toy and see if filled and brought to life, plus add winter clothes and accessories including a signature Gaylord Hotels blue parka! Prices vary.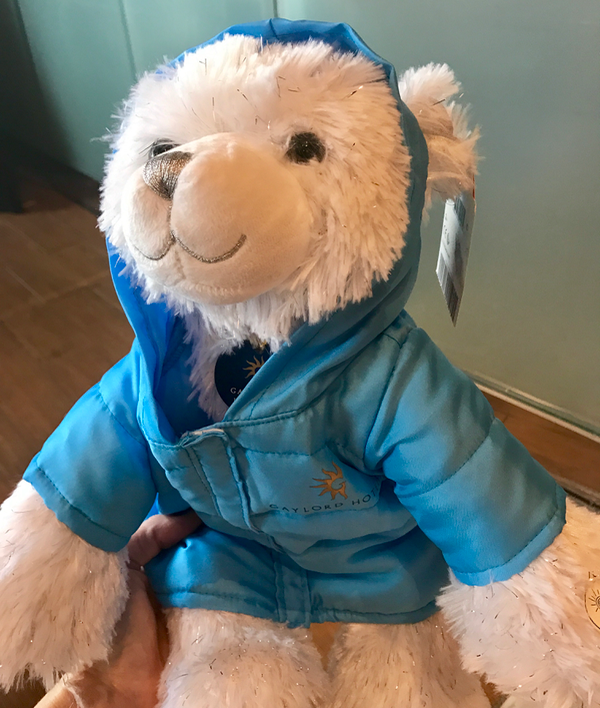 JOY: A Holiday Spectacular
JOY – A Holiday Spectacular is a new, live entertainment show features the Gaylord National singers. The show features dancing and harmonic melodies performed live, including both classic and modern holiday tunes. The theme of the show is a celebration of Hope, Love, Peace and Joy. The show lasts approximately 25 minutes and occurs two to three times per evening, with the exception of Wednesdays. Ticket prices start at $11.99 per person on Value Days, $15.99 per person on General Admission Days, and $19.99 on Peak Days. A ticket includes a seat right in front of the stage set up in the Atrium. I will note, those without tickets, can still hear the performance within the Atrium if you stand near the fountain.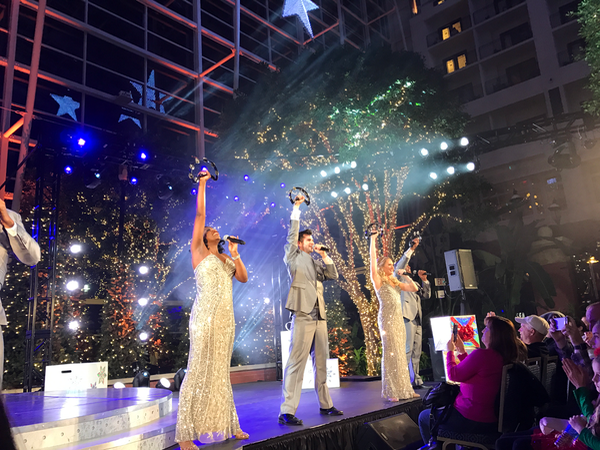 You could spend the whole day at Gaylord National having holiday fun with your whole family. There's enough to do that you may even want to stay overnight or the entire weekend to fully experience all that Gaylord National and National Harbor have to offer, including the Capital Wheel, Carousel, and unique restaurants and boutiques.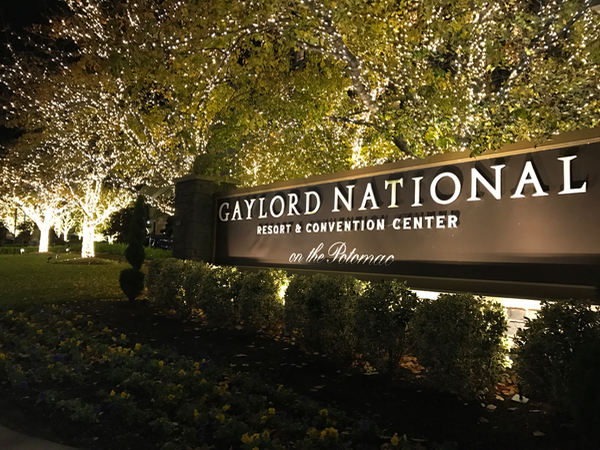 If you haven't been to Gaylord National around Christmas time, be sure to check it out this year and experience one of the most unique, family-friendly holiday experiences just miles away from DC!
Disclosure: My family and I were invited to attend ICE! and experience other Gaylord National and National Harbor holiday attractions along with other bloggers on the opening day of ICE. This included complimentary admission to ICE, character breakfast, and activities. Please know the opinions shared in this post are my own. To read my formal disclosure policy, please click here.