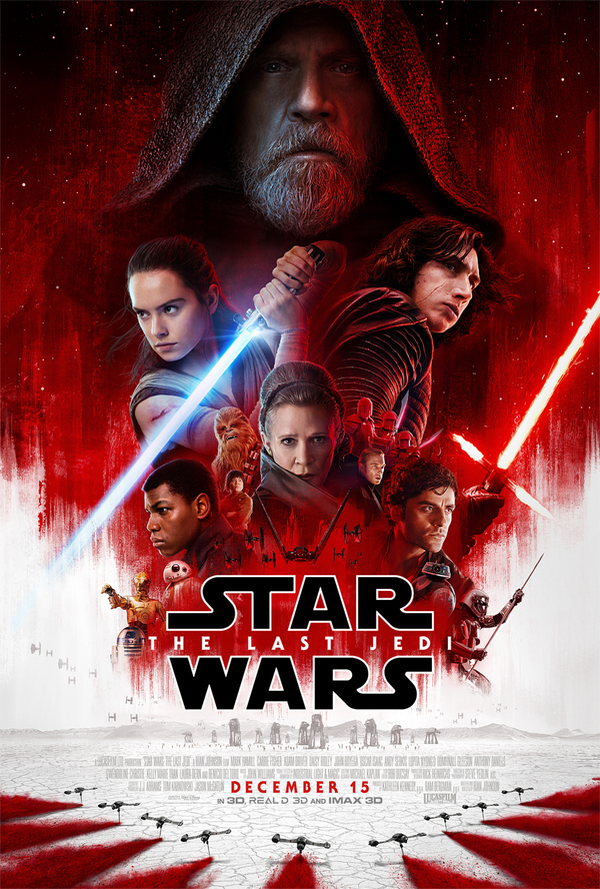 In a galaxy not so far away, my son and I were invited to a private, media screening for the newest Star Wars Movie. This is a pretty big deal, because, although I've attended press screenings for Star Wars films in the past, this is the first year I was allowed to bring a guest.
In 2015 I was one of the few bloggers in a sea of DC film critics and professional movie reviewers invited to screen Star Wars: The Force Awakens. My goal was to share a "Parent Review" of the new Star Wars episode and provide some input and "parent perspective" so other parents could determine if this PG-13 film was suitable for their own children. My own son was crushed that I couldn't bring him along, but thankfully he only had to wait a few days longer to go see it opening weekend with my husband. The same happened last year when I got to screen Rogue One: A Star Wars Story.
The Star Wars screenings have tightened security and have historically been limited to press and select bloggers. So without hesitating, I knew my "plus one" this year would be my 11 year old son, the biggest Star Wars fan in my direct family. I also wanted to see what he thought of the movie and if he'd recommend it to his peers.
I surprised him, pulling him out of school after lunch on Monday, and we excitedly drove into Washington, DC for the screening, even greeted with a Star Wars themed message from V-DOT on Interstate 66… NO JOKE!
What does my 11 year old son think of Star Wars: The Last Jedi?
My son absolutely loved Star Wars: The Last Jedi! He is already a big Star Wars fan, so this was no surprise to me.
He shared:
"This movie kept me on the edge of my seat. Secrets were revealed in the movie. Some people came back from the last movie (The Force Awakens) who we presumed were dead. It was so exciting to see the return of Luke Skywalker and watch Rey learn how to use the force. The Last Jedi also provided a great glimpse into just how Kylo Ren turned to the dark side."
Would he recommend this movie to other kids? Yes!
What is Star Wars: The Last Jedi about?
Star Wars: The Last Jedi picks up where The Force Awakens leaves off. Our heroine, Rey, has located Luke Skywalker on a remote island and seeks his help as she tries to learn how to use the force.
Meanwhile the Resistance continue to battle the First Order throughout the film as they experience both victories and devastating losses.
We are reunited with beloved characters and also introduced to new, compelling characters. There is a surge in strong women filling many of the heroic roles. Leia is again played by Carrie Fisher who delivers a strong performance in her last Star Wars role before passing away unexpectedly last December. Other heroines of the movie include strong Rey (Daisy Ridley), and the introduction of new characters Admiral Holdo (Laura Dern), whose leadership style clashes with some of our favorite Rebels, and the courageous and quirky mechanic Rose (Kelly Marie Tran).
This movie helps provide even more clarity to any non-StarWars-geeks on what The Force actually is (and is not) as well as more background on the sacred "Jedi religion" which is fading away.
What makes this latest Star Wars film unique?
The humor definitely sets this movie apart from some of the past Star Wars films. There is a different style of humor infused into this film. Even more instances of slapstick, off-the-wall responses from characters, as well as more use of physical comedy. There are of course some quick witted, one-liners, but it seemed like there were even more drawn-out, comedic scenes involving awkward moments, comical body movements, and more modern dialogue. One scene in which Poe is sending a voice message to General Hux attempting to patch in and dialogue with his foe made me laugh out loud, but at the same time, I admit it felt a tad bit like the old Verizon commercials "… can you hear me now?" General Hux's subordinate replies "I think he's messing with you."
Hope is a recurring theme throughout the Star Wars films, but other themes running throughout The Last Jedi include: the pursuit of peace, purpose, and love. We also see how hubris has lead to destruction, turning away from your calling, and even channeling the dark side. This excessive pride is not isolated to the dark side; it can hit even our heroic, Force-infused heroes.
My favorite line from the film was passionately delivered by Rose: "We will win by saving what we love, not fighting what we hate." Although much of this film focuses on the fight between good and evil, this raw and impactful statement resonates: in our lives we must focus on preserving the light, not being drawn down by the darkness around us.
Is Star Wars: The Last Jedi appropriate for kids?
The latest Star Wars film is rated PG-13 for sci-fi action and violence. There are intense, violent battle scenes, and you see some characters die through stabbing or laser blasting. There are also a few instances of profane language (some curse words thrown in to the dialogue).
In regards to romantic, adult-themed content: There aren't too many instances of this. We do get a glimpse of a shirtless Kylo Ren, and we see some chemistry develop between some of our main characters. There is a brief kissing scene in the movie.
It is up to you to ultimately decide if the latest Star Wars film is appropriate for your own children. You know them best! If your child has seen the previous two installments, Rogue One and The Force Awakens, this movie is about on parr with those. I felt this movie was appropriate for my eleven year old son and he said he enjoyed the film.
See Star Wars: The Last Jedi in theaters now
This movie lives up to the hype and includes great acting, action-packed scenes, and breath-taking visuals. Both young and old Star Wars fans will certainly love this new episode. I have no doubt that this sci-fi adventure will do well at the box office and be a popular film among families over the holidays and winter break!
Genre: Action-Adventure
Rating: PG-13
U.S. Release Date: December 15, 2017
Run time: 2 hours & 31 minutes
Summary provided by Lucasfilm:
In Star Wars: The Last Jedi, the Skywalker saga continues as the heroes of The Force Awakens join the galactic legends in an epic adventure that unlocks age-old mysteries of the Force and shocking revelations of the past.
Connect with STAR WARS on Social Media & Online:
Facebook: FB.com/StarWarsMovies
Twitter: @StarWars
Instagram: StarWarsMovies
YouTube: YouTube.com/starwars
Visit the official STAR WARS: THE LAST JEDI website: StarWars.com/films/The-Last-Jedi
Are you planning to see the new Star Wars film in the theater? I can't wait for you to experience this new film which champions hope, peace, and purpose!
*My son and I were invited to attend a special media screening event for Star Wars: The Last Jedi earlier this week. Please note, I am not a formal movie critic and I was not compensated to write this post. All opinions are my own.