Do you want to plan more family travel this year with your tween? Now is the time to start researching destinations, saving up money, and planning those big, memory-making vacations.
When you think about the perfect family vacation resort what comes to mind? If you're like my family, you run through a list of different criteria that will appease everyone:
Unique destination.
Great amenities.
Family-friendly activities.
Water-based play (we love having a pool, lake, or beach to splash around).
City with historical significance.
Short travel time from DC.
I admit, I love keeping our travel time short and thus our travel costs low. We accomplish this by planning many family trips within a few hours car-ride of the greater Washington, DC area where we live.
We love finding destinations that are just a bit outside our stomping ground, which offer a variety of family-friendly activities suitable for a wide age range…. I now have an almost middle-school aged son and a younger, 1st grade daughter.
One popular Virginia destination met all our top criteria and had secretly been on my wish list for some time. Last fall I was excited to receive an invitation for our entire family to stay at Great Wolf Lodge Williamsburg.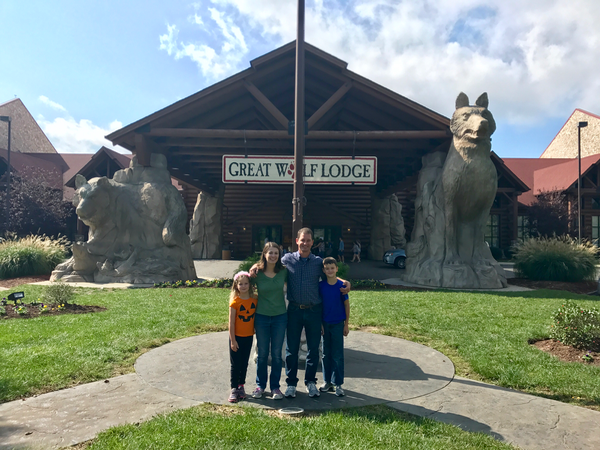 Our family got to experience Great Wolf Lodge for the first time just a few months ago! Years ago I had heard friends rave about the resort and thought it was something our family would enjoy. However, after years passed and we never made it down, I have to admit that I was a little concerned we had "missed the boat." My oldest child is 11 years old, and most of my friends started taking their children to Great Wolf Lodge when they were in preschool. With a "tween" in my house, I was worried that the whole experience might be better suited for a family with little children.
If you have a tween or teenager, you've probably noticed a shift in interests and opinions. My son has gotten more picky about what he wears, where I take him, and what activities he does. Rewind back a few years and he was pretty easy-going, mainly excited about whatever I planned. But as a tween? He doesn't like venues or activities that he considers too babyish. And sometimes he's just a bit more reluctant if he doesn't know exactly what's in store. Is your tween like this?
I wondered, is Great Wolf Lodge Great for Tweens?
In my circle of friends and acquaintances, it seemed like many families went to Great Wolf Lodge when their kids were in preschool or early elementary school and they visited multiple times. When the kids got older, things got busier with sports, activities, and scholastic demands; ultimately family travel plans and destinations changed. One could easily think of Great Wolf Lodge as a "been there done that" destination. However, I believe many families are missing out on an amazing experience, because staying at Great Wolf Lodge as a tween is completely different than visiting the resort as a toddler or younger child.
Great Wolf Lodge has a variety of activities and amenities making it appealing to a diverse range of ages. Yes, you'll see babies, toddlers, and elementary school aged kids, but you'll also see tweens, teenagers, parents, aunts and uncles, and grandparents alike, enjoying different aspects of Great Wolf Lodge. The resort is catered toward families and kids of all ages who love fun and adventure.
Wondering what your tween can do at Great Wolf Lodge? Thankfully there is a ton for tweens to do at this family-friendly water park resort. Many of my tween's favorite activities were just added to Great Wolf Lodge Williamsburg within the last few years, so if you haven't been lately, you definitely need to plan a visit!
10 Reasons Tweens Will Love Great Wolf Lodge Williamsburg
This 84-degree, 67,000 square foot indoor water park is exclusively available to guests of Great Wolf Lodge. There are a variety of slides, including a six-story funnel slide, raft ride, three-story body slides, enclosed tube slides, and more. The Wolf Rider Wipeout surf simulator is sure to be a hit with your tween (it was with mine!). There are also wave pools, whirlpools, water basketball, a lazy river, and a lily pad balancing obstacle course. Our family spent hours and hours enjoying all that the water park had to offer.
2. MagiQuest
This interactive, live-action experience was my son's absolute favorite activity at Great Wolf Lodge! You enter the magical world of Vellara as a young Magi. Your quest is to safeguard realm portals and battle an evil dragon, goblin king, and work towards earning the prized title of Master Magi. My son loved running around to the different floors to find the portals and testing out his wand. He begged to keep playing this and would have played it all night if we had let him! Prices start at $15.99 per wand (which can be kept and used again during future visits) plus $14.99 per game which is valid during your entire stay (Fall 2017 rate. Subject to change in future).
Reach new heights and adventure on the Howlers Peak Rope course! If your tween loves high-flying adventure, he or she will be able to face obstacles, cross bridges, walk the tightrope, and zipline during this aerial adventure. The rope course is open, weather-permitting (closed during part of fall and winter). Prices start at $12.99 per person (Fall 2017 rate. Subject to change in future).
4. Eagle Peak Rock Climbing Wall
Does your tween enjoy rock climbing? Then he or she will enjoy the outdoor climbing wall located next to the Howlers Peak Rope Course. This is a chance for you and your kids to harness up, grab a rock, and find your footing as you climb and pull yourself to the top. My tween made it to the top and victoriously rang the bell! I'm happy to share that I did too (barely; I almost lost my grip a few times!). The climbing wall is open, weather-permitting (closed during part of fall and winter). Prices start at $5 per person (Fall 2017 rate. Subject to change in future).
Enjoy putt-putt outdoors with a game of miniature golf! Reserve your tee time and put 9 holes in their mini-golf range by the outdoor pool, complete with sand traps, challenging shots, and large animals. Mini golf is open, weather-permitting (closed during part of fall and most of winter). Prices start at $5 per person (Fall 2017 rate. Subject to change in the future).
Hold on to your seat during this thrilling 4-D attraction. Buckle up and get ready for this interactive adventure from the theme of your choice! We chose an adventure with larger than life dinosaurs and a speedy car. You'll feel like you're transported into the movie thanks to the motion-enhanced chair, 4-D glasses, and sound effects. The movie is short, I would say about 5-10 minutes, but it is thrilling! Prices start at $7 per movie, or see all four movies for $20 ($5 each). Paw points are accepted. One paw point equals $0.25 (Fall 2017 rate. Subject to change in the future).
7. 4D World
Enter this enchanting out-of-this-world adventure by slipping on the high-tech 4D glasses and seeing the action that unfolds. Give it your best shot as you aim at moving targets and compete with friends and family. Prices start at $3 per game. Paw Points are accepted. (Fall 2017 rate. Subject to change in the future).
Don't run out of time for this popular attraction! Oliver's Time Challenge is a fast-paced adventure that has you sprint between LED boards, trying to push the buttons as fast as they illuminate. Get as many points as you can before the clock runs out! Prices start at $2 per game. Paw Points are accepted. (Fall 2017 rate. Subject to change in the future).
If your tween loves arcade games, he or she will thoroughly enjoy the Northern Lights Arcade. You'll discover classic and modern arcade games, from air hockey and basketball to motorcycle and car racing. Pick between games of chance or skill, and see if you can hit the jackpot. Redeem your Paw Points (which never expire) for prizes or bring your card back when you visit in the future for more dazzling arcade fun. The arcade uses Paw Points, a re-loadable gaming currency. Price varies by game.
10. Delicious Dining Options & Treats
Tweens will love the diverse dining options at Great Wolf Lodge. There are classic tween favorites like pizza from Hungry As A Wolf, but also a wide range of eats from different culinary backgrounds at the Loose Moose buffet (my tween loved the macaroni and cheese, Chinese food, and beef. There are also plenty of chances to satisfy your sweet tooth at the new Great Wolf Candy Company, as well as Bear Paw Sweets & Eats. Another popular dining option for tweens, adults, and kids of all ages is the Dunkin' Donuts on site near the lobby; this had a long line each morning!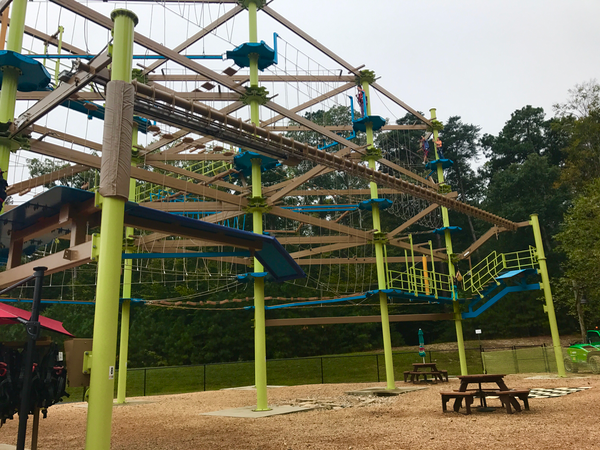 If you plan to have your tween and kids partake in a variety of activities, be sure to look into the Paw Pass which will save you up to 41% off activities and products like MagiQuest, a wand or totem, Paw Points game card, and a Candy Cup. Plus the outdoor activities package will get you discounts on a combination of activities like rock climbing, ropes course, and mini golf.
These are just 10 reasons why Great Wolf Lodge will be a hit with your tween, but guess what? Great Wolf Lodge Williamsburg is great for the whole family, no matter your child's age. In fact, they were recently designated as a 2018 TripAdvisor Top 25 Hotels for Families!
Plan your visit to Great Wolf Lodge and create some fun family memories!
Address: 549 East Rochambeau Drive
Williamsburg, VA 23188
Phone: 800-551-9653
Website: GreatWolfLodge.com/Williamsburg
Connect with Great Wolf Lodge on social media:
Facebook: FB.com/GWLWilliamsburg
Twitter: @GreatWolfLodge
Instagram: Instagram.com/GreatWolfLodge
YouTube: YouTube.com/GreatWolfLodge
About Great Wolf Lodge
Great Wolf Resorts, Inc. is North America's largest family of indoor water park resorts, and through its subsidiaries and affiliates, owns and operates family resorts under the Great Wolf Lodge brand. Great Wolf Resorts is a fully integrated resort company with Great Wolf Lodge locations in: Williamsburg, VA; Wisconsin Dells, WI; Sandusky, OH; Mason, OH; Traverse City, MI; Bloomington, MN; Kansas City, KS; Pocono Mountains, PA; Niagara Falls, Ontario, Canada; Grapevine, TX; Grand Mound, WA; Fitchburg, MA, Charlotte, NC; Garden Grove, CA, and Colorado Springs, CO. Additional resorts planned include LaGrange, GA (late spring 2018) and Gurnee, IL (summer 2018).
Disclosure: My family and I were invited to a press trip with other bloggers at Great Wolf Lodge which included free meals, activities, and overnight accommodations. Please know the opinions shared in this post are my own. To read my formal disclosure policy, please click here.