I saw this sign near my local Chick-fil-A (sorry that part of it is cut off… I hopped out of my car quickly to take a picture and was dealing with some extremely windy weather, so apparently I got a little too close up!).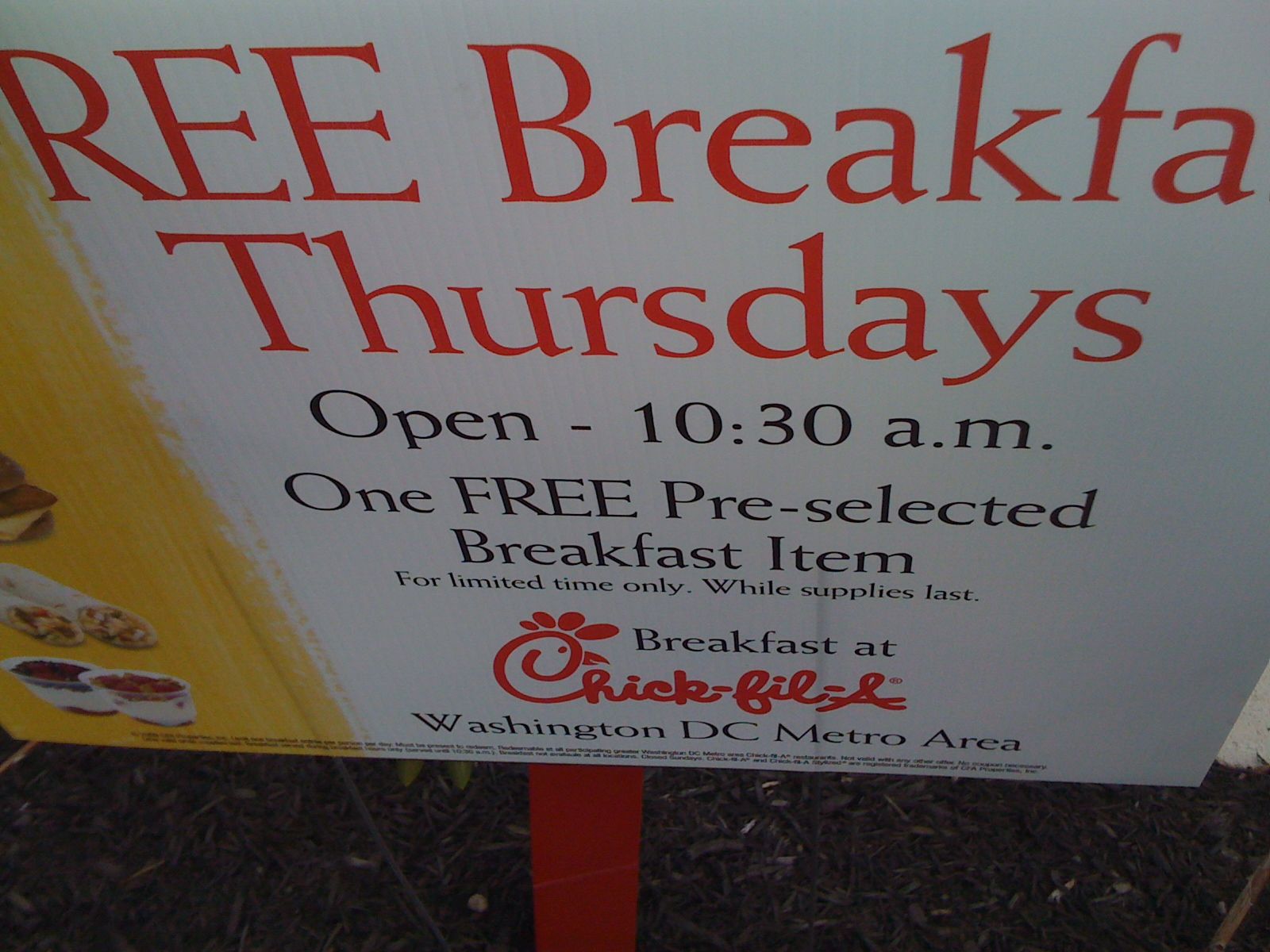 Apparently Washington, DC Metro area Chick-fil-A locations are offering FREE Breakfast items (pre-selected entrée item by the store, one per person, while supplies last, and for a limited time) on Thursdays from opening time (some open as early as 6 AM) through 10:30 AM. To find your local Chick-fil-A restaurant click here. I would suggest calling your local store to confirm participation (and opening time) before heading out.
According to the online events calendar here for the Manassas, VA Chick-fil-A (Signal Hill location), they will have the Free Breakfast Thursdays from January 7th – February 25th, 2010! That's two months of free Thursday breakfasts at Chick-fil-A! **UPDATE: I JUST SPOKE WITH ANOTHER STORE THAT SAID THEY ARE ONLY DOING THE FREE BREAKFAST THURSDAYS IN JANUARY. IT APPEARS SOME STORES ARE NOT OFFERING THIS FREEBIE IN FEBRUARY**
According to this post on Frederick.com (covering events in Frederick, MD) last year the following items were given out for "Free Breakfast Thursdays" in January at the Frederick, MD Riverview Plaza location:
Thursday, January 8, 2009 – Free Chicken Biscuit
Thursday, January 15, 2009 – Free Chicken Burrito
Thursday, January 22, 2009 – Free Bacon, Egg & Cheese Biscuit
Thursday, January 29, 2009 – Free Chicken, Egg & Cheese Bagel
So you have an idea of what to expect for your free breakfast items on Thursdays! To view the Chick-fil-A breakfast menu click here.