Last month Gina from MoneywiseMoms.com hosted a $10 Food Bank Challenge – a special challenge for folks to set aside $10 and see how far you could stretch it with savvy shopping to donate to a local food bank.
In reviewing recent statistics from the 2009 USDA Household Food Security Survey I was saddened to find that "Children were food insecure at times during the year in 4.2 million households (10.6 percent of households with children)." Basically, "Food-insecure" is defined as a household that had difficulty at some time during the year providing enough food for all their members due to a lack of resources. I was also discouraged to read on the Hunger in America 2010 study that there has reportedly been a 25% increase in Washington DC metro area residents needing emergency food assistance, as well as the finding that 1 in 5 children in the DC metro is at risk of or experiencing hunger; over 200,000 children, including 50,000 in the District alone. The food banks are in great need of donations, now more than ever.
I decided to donate to SERVE located in Manassas, Virginia. SERVE is a part of Northern Virginia Family Services and includes shelter, a food distribution center, transitional housing, emergency assistance and life skills education for individuals and families in need.
Here's what I was able to purchase with only $10 by shopping at three stores, combining coupons with special sales and promotions: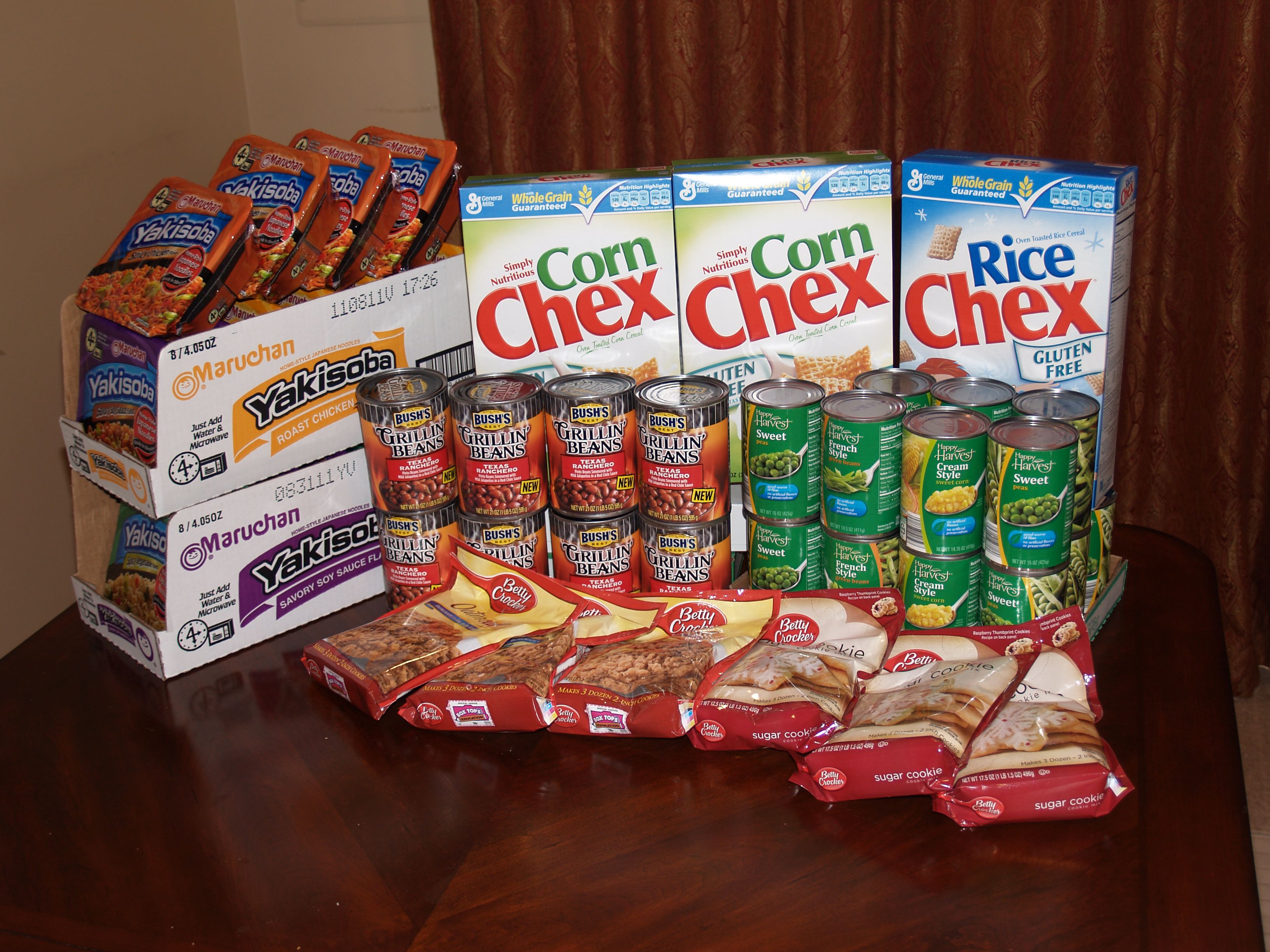 (18) Maruchan Yakisoba Noodles, $0.85 – $1 each
Used (9) $1/2 SS 10/10/10 coupons which doubled during Super Doubles Promotion
(8) Bush's Grillin' Beans, $1.99 each
Used (8) $1/1 SS 10/30/10 coupons which doubled during Super Doubles Promotion
(19) Sweet Harvest canned Corn, Green Beans & Sweet Peas, $0.39 each
No coupons used – these were discounted down from $0.59 & $0.49 each at Aldi, which does not accept manufacturer coupons
(3) Chex cereal boxes, $3.40 each
Used (1) $1/2 GM 11/14/10 combined with Bloom promotion Buy 2, Get 1 Free and also combined with $5 off automatically at register when you purchase 5 participating items
(6) Betty Crocker Cookie Mix pouches, $1.66 each
Used (6) $0.40/1 GM 11/14/10 & SS 11/21/10 & Internet Printables from Coupons.com combined with Bloom $5 off automatically at register when you purchase 5 participating items
Retail value of the donated items came to over $60. After coupons and store promotions (including Super Double Coupons at Harris Teeter on 11/3/10-11/9/10 and Super Double Coupons at Bloom on both 11/1/10 & 12/1/10) my pre-tax totals came to $2.53 (Bloom) + $7.41 (Aldi) + $0 (Harris Teeter), which equaled $9.94 as my pre-tax total.
If you like to use coupons and shop sales (and even if you don't!), I really want to encourage you to consider participating in your own $10 Food Bank Challenge. A little bit can go a long way, and you can help bless others even if you are living on a tight budget. To see other examples and entries from the Moneywise Moms $10 Food Bank Challenge, click here.