Back in February I had the opportunity to attend a Northern Virginia bloggers event hosted by DC Dunkin' Donuts. I got to taste test some new products and try some new-to-me menu items (I usually stick to my fave caramel latte, but it was nice to branch out and try some other yummy items on their menu). Dunkin Donuts doesn't just serve up awesome donuts and coffee beverages. They have breakfast sandwiches, such as the new Big N' Toasty, muffins, bagels, danishes, hash browns and more. I'm definitely a breakfast kind of gal (probably my favorite meal), so I was in heaven! Plus meeting up with some of my blogger buddies in person, such as Gina (Moneywise Moms), Liz (Frugally Blonde) and Sarah (Capitally Frugal) was a blast!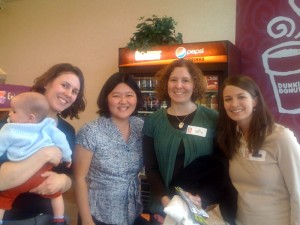 And because I love Dunkin' Donuts so much (our family "runs on Dunkin") I'm happy to announce Two lucky winners will each win a $25 gift card to Dunkin Donuts! This contest is open to anyone in the United States, and the gift card is redeemable at any US Dunkin' Donuts location. A special thanks to Mark and the entire DC Dunkin Marketing Team for supplying these gift cards for my readers!
To enter, you can choose up to 3 different ways (you can choose any or all of the options below). Please a separate comment for each entry:
Simply leave a comment. Plain and simple!
"Like" both BeltwayBargainMom.com on Facebook and DC Dunkin on Facebook. You must "like" both pages and leave a separate comment here on this post letting me know you "like" both on Facebook.
Follow both @BeltwayBargain and @DCDunkin on Twitter. You must follow and then leave a separate comment here on this post letting me know you follow on Twitter.
This giveaway (and all my other giveaways scheduled for this month) will last through the end of May. Entries will close on 5/31/11 at 11:59 pm E.T. I will randomly choose 2 winners via And The Winner Is and will be announcing the winners in early June. Winners will be contacted via email and announced on this blog.
Disclaimer: I did receive a gift basket for attending the blogger event back in February. However the opinions and coffee cravings expressed in this post are my own.