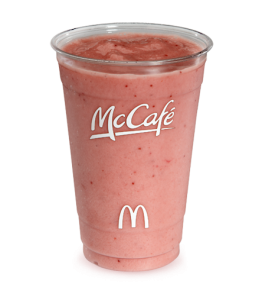 CONGRATULATIONS TO EMILY! SHE WAS RANDOMLY SELECTED AS THE WINNER! *CONTEST IS NOW CLOSED*
McDonalds is celebrating the summer in the DC metro with a special 10-day deal to help you cool down with delicious smoothies!
Starting Friday, July 15 through Sunday July 24, 2011 you can get any small Smoothie for just $1. Also as a part of this promotion, customers can taste-test all 3 McCafé Smoothie flavors: Strawberry Banana, Wild Berry, or the newest addition, Mango Pineapple.
With smoothies for only a buck, McDonalds is helping you save and beat the heat; all the more reason to treat yourself to more smoothies this week and try all of their great flavors. As a matter of fact, McDonalds wants to hear from you on what your favorite flavor is. They'll be collecting votes for the "favorite flavor of the DMV" to be announced on July 27. You can join in the fun on Facebook by visiting here or on Twitter with @McDonalds_DMV hashtag #McDsSmoothies to vote for your favorite smoothie flavor.
Since I'm a smoothie-fiend, I'm super excited to give away 1-Month's supply of FREE McDonalds Smoothies to 1 lucky winner! Please note, the prize is supplied by the McDonalds Washington DC Metro Marketing Team in the form of a pre-loaded McDonalds Arch Card redeemable only at McDonalds Restaurants in the Greater Washington DC market.
This giveaway is open to anyone in the US, but please note the prize is only redeemable in the DC metro market. To enter, you can choose up to 3 different ways (you can choose any or all of the options below). Please leave a separate comment for each entry:
Simply leave a comment. Plain and simple!
"Like" both BeltwayBargainMom.com on Facebook and McDonalds on Facebook plus mention/link to this giveaway in your status. You must "like" both pages, link to this giveaway in your status and leave a separate comment here on this post letting me know you "like" both on Facebook.
Follow both @BeltwayBargain and @McDonalds_DMV on Twitter and tweet the following message: $1 Smoothies at @McDonalds_DMV until 7/24 + Enter to win 1-month FREE SMOOTHIES via @BeltwayBargain http://bit.ly/nb299N #McDsSmoothies
You must follow and then leave a separate comment here on this post letting me know you follow on Twitter.
This giveaway will last through the end of July. Entries will close on 7/31/11 at 11:59 pm E.T. I will be choosing 1 winner via And The Winner Is.
Don't forget to grab a $1 smoothie at McDonalds this week and good luck in winning a 1-month supply of delicious smoothies!