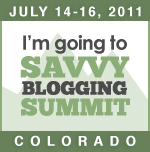 This weekend I am attending the Savvy Blogging Summit, a conference aimed to help "take your blog to new heights." I am enjoying my time in Colorado Springs, CO and am so excited to be in the presence of so many talented bloggers. Did I mention there are a ton of frugal bloggers and deal bloggers here? I'm in good company!
After the conference I'll be taking a vacation with my family (yay for summer road trips!). While I'm out-of-town the posts will be a little light, but I'm hoping that my time spent here at the Summit will bring about a better blog and a better experience for you readers, plus a little vacay should hopefully re-energize me as well.
Thanks for reading Beltway Bargain Mom! Hope you all are enjoying your summer!