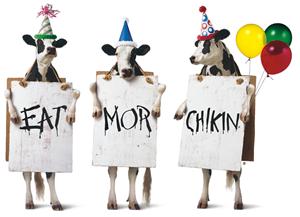 Coming up this Monday, July 11th, 2011, Chick-fil-A at Ballston Common Mall (located at 4238 Wilson Blvd Ste 102, Arlington, VA 22203) will be celebrating its 20th anniversary. In honor of the occasion, they'll be offering a special rollback price of $1.99 for the Original Chicken Sandwich or 8 pack of Chicken Nuggets all day on Monday.
Also, starting at 12:00 noon that day you can receive a gourmet cupcake treat from Sweet Fleet of Arlington with each purchase*
(*limited quantity available – while supplies last)
Check in on the CFA Ballston Common Facebook Page and you could win a prize as well!
For more information go to www.cfarestaurant.com/ball​stoncommon or check out their Facebook event page here.