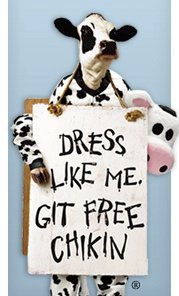 Prepare for some fun and free food courtesy of Chick-fil-A here in our nation's capital tomorrow, Thursday July 7th, 2011.
Running of the Cows in Washington, DC!
On Thursday, July 7th, 2011 more than 40 cows will stampede through the streets of Washington, D.C. traveling via open-top bus and converging upon public spaces across the city to give out FREE Chicken Sandwiches, and distribute bovine-themed stickers, headbands, masks and other prizes!
On Thursday, you can find the cows at:
Union Station at 9:30 am
Lafayette Square at 11:45 am
Lincoln Memorial at 1:00 pm
The first 400 fans to meet the Chick-fil-A cows at each stop get a FREE Chicken Sandwich!
For more information, click here.
In addition to the fun on Thursday, the following day, Friday, July 8th, 2011 is Chick-fil-A's annual Cow Appreciation Day being celebrated nationwide. If you dress like a cow from head-to-toe you will receive a free meal (including fries & drink). Those partially dressed as a cow (think a spotted t-shirt or headband with cow ears or cow tail pinned to the bottom of your shirt) will receive a complimentary entree. For more information on this event, click here. To find a Chick-fil-A restaurant near you, click here.
Thanks to Pam Donahoe and the team from Chick-fil-A of Ballston Common for the info!