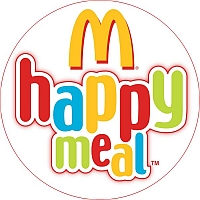 *UPDATE* Winners were selected, but I have some big news. McDonald's of Greater Washington DC has decided to open up this event to all my readers that want to attend! Just stop by Fri. 9/16 at 1:30pm at the McDonald's restaurant located at 4130 Wisconsin Avenue, NW, Washington, DC 20016.
You may have already noticed, but McDonald's has been making some bold changes in their restaurants and menu. They've been listening to their customers and striving to create meals that are healthier.
And now they are proud to announce that our DC-area McDonald's will be among the first to launch a brand new Happy Meal, which will include:
Apple Slices – as part of every order
Chicken McNuggets or a Hamburger or Cheeseburger
A choice of beverage – including 1% white milk, and fat-free chocolate milk
A brand new smaller size French Fry – 1.1 ounces
And of course the ever-popular toy
McDonalds knows that parents want their children to eat healthy and meet their daily recommended consumption of produce. But did you know that apples are chosen only 11% of Happy Meal purchases? They're helping to support parents in encouraging our children to enjoy the foods that are good for them along with the foods they love by automatically including both apples and fries as part of a balanced, kid-appropriate meal.
And did you know the sodium in Chicken Nuggets has been reduced by more than 20% since 2003? They've been committed to making improved nutrition choices for years, and will continue to be.
Next Friday, September 16th, 2011 in the afternoon there will be a special celebration in Washington, DC for the launch of the new happy meal. I'll be there with my picky 5-year old to try out the new Happy Meal. And McDonalds wants to invite 5 Beltway Bargain Mom readers and all their kids to come too!
The first 5 people to comment on this post will receive an invite to this special event including free happy meals for all your kids! I'll email you the details early next week; it is scheduled to be held at a McD's in DC. Several of the local McDonald's franchisees and their children will be in attendance, as well as McDonald's own local nutritionist to answer any questions, plus Ronald McDonald himself.  Hope to see you there!