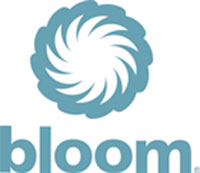 This Sat. December 31st, 2011 Bloom grocery stores in the DC-area are holding another Super Double Coupon Event! (and I think it is pretty hilarious that the shopper in the ad is dressed up as a "super hero" armed with her coupons

. That's right, saving money can be like a "super hero power"!).
Super Double Coupons events at Bloom stores mean that your $1.00 coupons will double up to $2.00 off, $1.50 coupons will double up to $3.00 off, etc. (manufacturer coupons up to $1.99 in face value are doubled). Limit 20 coupons per visit, per day. Feel free to browse my favorite regional coupons from the Washington Post Sunday paper to see if there are any $1+ coupons that stand out. This is a great opportunity for you to use up any coupons that will be expiring at the end of this month and year. Start clipping those coupons!
I'll be adding some of my favorite match-ups to this post over the next few days.
Sorry, I haven't made it out to the store to price-check (I sure miss the days when Bloom had online shopping so I could do this from home!). But here are some coupons of interest that you may want to pull and take with you on Super Double Day!
Pop Secret Popcorn, 3-pack – Buy 1, Get 1 Free (regular price $3.19)
Buy 2 and use $1.00/2** coupon from 11/13/11 RedPlum insert or buy just 1 and use $0.50/1* Internet Printable Coupon 
Final Price: $0.59-$0.60 each
General Mills Cereals, select varieties (Lucky Charms, Cookie Crisp or Cinnamon Toast Crunch) – Buy 1, Get 1 Free
Use $1.00/2 coupon from the 12/11/11 SmartSource insert or $1.10/3 Internet Printable Coupon or $1.00/3 Internet Printable Coupon
Final Price: varies, but should be around $1 or less
9/11/11 SmartSource Insert
$1.00/1 Grande Tortilla Chips, 10 oz+ (expires 12/31/11)
$1.00/1 Carpet Fresh Instant Carpet Odor Eliminator (expires 12/31/11)
9/11/11 RedPlum Insert
$1.00/1 Johnsonville Smoked Chicken Sausage (expires 1/31/12)
$1.00/1 Purina Kit & Kaboodle 3.5 lb or larger bag (expires 12/31/11)
$1.00/1 Bayer Aspirin product (expires 12/31/11)
9/18/11 SmartSource Insert
$1.00/1 Marzetti Caramel Dip, 12 oz+ (expires 12/31/11)
$1.00/1 Fruitables 8-pack Juice Boxes (expires 12/31/11)
$1.00/1 Spot Shot Instant Carpet Stain & Odor Eliminator (expires 12/31/11)
9/18/11 RedPlum Insert
$1.00/1 Smucker's Snack'n Waffles (expires 12/31/11)
$1.00/1 Sensodyne ProNamel Iso-Active Foaming Gel (expires 12/31/11)
9/25/11 SmartSource Insert
$1.00/1 Welch's 64 oz Grape Juice, 100% Grape Juice Blend or 10 oz 6-pk 100% Juice (any flavor) (expires 12/31/11)
$1.00/2 Welch's Refrigerated Juice Cocktails or Healthy Start 100% Juice (any flavor) (expires 12/31/11)
$1.00/2 Welch's Jams, Jellies or Spreads (expires 12/31/11)
$1.00/1 Popcorn Indiana Family Size Bag (expires 12/31/11)
$1.00/2 Brawny Paper Towels (expires 12/31/11)
$1.00/2 Morton Season-All (expires 12/31/11)
$1.00/1 Stouffers Family Size Entree (expires 12/31/11)
$1.00/2 Extra gum 15-stick packs (expires 12/31/11)
$1.00/1 Duncan Hines Whole Grain Muffin Mix (expires 12/31/11)
$1.00/1 Zantac 24-ct or larger (expires 12/31/11)
$1.00/1 WisPride cups (expires 12/31/11)
$1.00/1 Pyrex glass storage (expires 12/31/11)
$1.00/1 One-A-Day Adult or Teen Multi-Vitamin product (expires 12/31/11)
9/25/11 RedPlum Insert
$1.00/1 Sparkle Paper Towels 2-Giant Roll Pack (expires 12/31/11)
10/2/11 SmartSource Insert
$1.50/2 Tribe Hummus 8 oz or larger (expires 12/31/11)
$1.00/1 Lite POM, 16 oz or 48 oz (expires 12/31/11)
$1.50/1 Pedialyte product (expires 3/31/12)
$1.50/1 Zyrtec 12-ct or larger (expires 12/31/11)
$1.00/1 Woolite Carpet & Upholstery Formula (expires 12/31/11)
$1.00/2 Werther's Original Caramels (expires 12/31/11)
$1.00/2 Frigo Cheese Heads String Cheese 10 oz or larger (expires 1/31/12)
$1.00/1 Celestial Seasonings Tea Bags box (expires 1/2/12)
10/2/11 RedPlum Insert
$1.50/1 Citrucel Bulk Fiber Therapy Product (expires 12/31/11)
$1.50/1 Ecotrin Aspirin Therapy product (expires 12/31/11)
$1.50/1 Sarna Anti-Itch product (expires 12/31/11)
$1.00/2 Mrs. T's Perogies (expires 12/31/11)
10/9/11 SmartSource Insert
$1.50/1 Fleischmann's Simply Homemade (expires 12/31/11)
$1.00/2 Northland Dark Fruit Juices (expires 12/31/11)
$1.00/1 Wolfgang Puck sauce jar (expires 12/31/11)
$1.00/1 Boudreaux's Butt Paste product for babies (expires 12/31/11)
$1.00/2 Dole Frozen Fruit Single-Serve Cups (expires 12/31/11)
$1.00/1 UP2U Pack Mentos Gum (expires 12/31/11)
$1.00/2 Butterball Turkey Bacon, Sausage Links or Sausage Patties (expires 12/31/11)
$1.00/1 PediaCare product (expires 3/31/12)
10/9/11 RedPlum Insert
$1.00/1 L.A. Looks Product 20 oz, 26 oz or 30 oz (expires 1/9/12)
$1.00/1 Hatfield Ham Steak (expires 12/31/11)
$1.00/1 Listerine Smart Rinse Anticavity Mouthwash or Listerine Agent Cool Blue Tinting Rinse 500 mL or any Reach Kids Toothbrush (expires 12/31/11)
$1.00/1 Land O'Frost Bistro Favorites (expires 12/31/11)
10/16/11 SmartSource Insert
$1.00/2 Blue Diamond Chilled or Shelf-Stable Almond Breeze AlmondMilk (expires 1/31/12)
$1.00/2 Blue Diamond Nut Thins or Nut Chips (expires 1/31/12)
$1.00/2 Land O Lakes Fresh Buttery Taste Spread Products (expires 12/31/11)
$1.50/1 Freshpet Dog Joy Treats for Dogs (expires 1/8/12)
$1.00/2 Nestle Nesquik Powder (expires 1/15/12)
$1.00/1 Tyson Any'tizers Wings (expires 1/16/12)
$1.00/1 Triaminic Fever Reducer Pain Reliever Product (expires 12/31/11)
$1.00/1 Benefiber product (expires 12/31/11)
$1.50/1 4-Way Nasal Spray Product (expires 1/31/12)
$1.00/1 Everybody's Nuts! Pistachio bag (expires 12/31/11)
$1.50/1 Luster White 7 (expires 12/31/11)
$1.00/1 Imagine Broth, Stock, Soup or Gravy (expires 1/31/12)
$1.00/1 Palermo's Hand Tossed or Primo Thin Pizza (expires 12/31/11)
$1.00/1 Simply Sensible Fresh Entree (expires 1/31/12)
$1.00/2 Welch's Refrigerated Fruit Juice Cocktail 64 oz or Healthy Start 100% Juice 59 oz (expires 1/31/12)
$1.00/1 NoDoz product 36-ct or larger (expires 12/31/11)
$1.50/1 GenTeal (expires 2/29/12)
$1.00/1 Oxy product (expires 12/31/11)
$1.00/2 Softlips products (expires 12/31/11)
$1.00/3 Prego Italian Sauce jars (expires 12/31/11)
10/23/11 SmartSource Insert
$1.00/2 Land O Lakes Butter packages (expires 12/31/11)
$1.00/1 Arm & Hammer SpinBrush Kid's (expires 12/31/11)
$1.00/1 Orajel My Way! Toothpaste (expires 12/31/11)
$1.00/1 Neutrogena Naturals Cleanser (expires 12/31/11)
$1.00/1 Neutrogena Hand or Body Lotion (expires 12/31/11)
$1.00/1 Zantac product 24-ct or larger (expires 1/31/12)
10/30/11 SmartSource Insert
$1.00/1 Health Valley Organic Soup, Bar or Natural F-Factor Bar (expires 1/31/12)
$1.50/1 Similasan products (expires 1/7/12)
$1.00/1 Aveeno Active Naturals product (expires 12/31/11)
11/6/11 SmartSource Insert
$1.00/1 EAS product (expires 12/31/11)
$1.00/1 4C Grated Cheese (expires 1/31/12)
$1.00/2 4C Bread Crumbs (expires 1/31/12)
$1.00/3 Nissen Big Cup Noodles (expires 2/5/12)
$1.00/1 Celestial Seasonings Tea Bags box (expires 2/6/12)
$1.00/3 Pringles Super Stack Cans 180 g or larger (expires 12/31/11)
$1.00/2 Jolly Time Microwave Pop Corn boxes (expires 12/31/11)
$1.00/1 BIC Multi-Purpose Lighter or Multi-Position Lighter (expires 12/31/11)
$1.00/1 Tyson Grilled & Ready Frozen Chicken Breast Chunks (expires 2/5/12)
$1.00/2 Rubbermaid TakeAlongs (expires 1/31/12)
$1.50/1 Johnsonville Chicken Sausage (expires 1/29/12)
$1.50/1 Opti-Free Replenish 10 oz or larger (expires 1/31/12)
$1.00/1 Pur Luv brand dog treats (expires 12/31/11)
$1.00/1 Sentry Petrodex Dental Care product (expires 12/31/11)
$1.00/1 Gold Bond Ultimate Body Lotion (excludes 1 oz) (expires 1/31/12)
11/13/11 SmartSource Insert
$1.00/1 Marzetti Salad Dressing (expires 1/8/12)
$1.00/3 Hershey's Kisses 10 oz or larger bag (expires 12/31/11)
$1.00/2 Hershey's, Reese's or Heath Baking chips, 8 oz or larger (expires 12/31/11)
$1.00/1 Sister Schubert's Product (expires 2/13/12)
$1.00/2 Welch's Sparkling Juice Cocktail (expires 1/31/12)
$1.00/1 Pyrex product (expires 1/31/12)
$1.00/2 Pam Cooking Sprays (expires 12/31/11)
$1.00/1 Swiss Miss Hot Cocoa 12-ct K-Cup Portion Pack (expires 12/31/11)
$1.00/2 Pure Wesson Vegetable Oil (expires 12/31/11)
$1.00/1 Lubriderm 8, 13.5 or 16 oz product (expires 12/31/11)
$1.00/2 Land O Lakes Cinnamon Sugar Butter Spread (expires 1/7/12)
$1.00/2 Nabisco Crackers, 6-16 oz (expires 12/31/11)
$1.00/1 Torani Syrup bottle (expires 3/31/12)
$1.00/2 Better Bowls Instant Pudding or Gelatin Pouches (expires 2/29/12)
$1.00/2 Pepperidge Farm bakery products in the Fresh Bread Aisle (expires 1/22/12)
$1.00/1 California Olive Ranch Extra Virgin Olive Oil (expires 3/31/12)
$1.50/1 Airborne Immune-Support Product (expires 12/31/11)
$1.00/2 Kikkoman Panko Bread Crumbs (expires 1/31/12)
$1.00/2 Luden's 25 or 30-ct bags (expires 3/31/12)
$1.00/1 Chloraseptic product (expires 3/31/12)
$1.00/1 Bruce's Baked Sweet Potatoes 21 oz can (expires 1/15/12)
$1.00/2 Heluva Good Sour Cream Dips (expires 12/31/11)
$1.50/1 Fleischmann's Simply Homemade (expires 1/31/12)
$1.00/1 Zantac product 24-ct or larger (expires 2/29/12)
$1.00/2 Blistex Lip Care products (expires 1/31/12)
$1.00/1 Clairol Hair Color (expires 12/31/11)
11/20/11 SmartSource Insert
$1.00/2 Sesmark products (expires 2/18/12)
$1.00/1 Depend product (expires 12/31/11)
$1.00/1 Alouette Soft Spreadable Cheese (expires 2/1/12)
$1.00/2 Pennsylvania Dutch Noodles (expires 12/31/11)
$1.00/1 Scotch-Brite Cook Top or Stainless Steel Cleaner Starter Kit (expires 12/31/11)
$1.50/1 Starbucks K-Cup Pack, 10-ct or 16-ct (expires 2/29/12)
$1.50/1 Smart Balance Milk carton (expires 1/4/12)
$1.00/1 Smart Balance Buttery Sticks (expires 1/4/12)
$1.00/1 Energizer Brand batteries or Energizer Brand flashlight (expires 12/31/11)
$1.00/1 Brut product (excludes trial sizes) (expires 12/31/11)
$1.00/1 Bissell Carpet Cleaning Powder or Bissell Carpet Cleaning Foam (expires 1/31/12)
$1.00/2 Chinet Cut Crystal Cups or Plates (expires 2/26/12)
$1.00/1 Playtex Gentle Glide Tampons 18-ct+ or Playtex Sport Tampons 14-ct+ (expires 1/31/12)
$1.00/1 Drano Snake Plus product (expires 1/14/12)
12/4/11 SmartSource insert
$1.00/2 Godiva Gems or Godiva Chocolate Bars, 1.4 oz+ (expires 1/31/12)
$1.00/1 Cuties 5 lb box (expires 1/4/12)
$1.00/1 Schick Hydro Shave Gel (expires 1/15/12)
$1.00/2 Krusteaz Bakery Style Cookie Mix (expires 2/29/12)
$1.00/1 T.G.I. Friday's Frozen Entrees for One (expires 1/15/12)
$1.00/2 Chex Cereal boxes (expires 1/14/12)
$1.00/2 Pillsbury Refrigerated Cookie Dough (expires 2/25/12)
$1.00/1 POM product (expires 3/31/12)
$1.00/1 Celestial Seasonings Tea Bags box (expires 3/4/12)
$1.00/4 Kleenex Facial Tissue 50-ct boxes (expires 1/1/12)
$1.00/2 Snyder's of Hanover Pretzel Pieces or Pretzel Sandwiches (expires 2/5/12)
$1.50/1 Scott Natural Bath Tissue 8 or more rolls (expires 1/15/12)
$1.50/1 Luster White 7 (expires 1/31/12)
$1.00/2 Solo Cups, Plates or Bowls (expires 2/29/12)
$1.00/1 Nancy's Frozen Appetizer or Dessert (expires 3/11/12)
$1.00/1 Neutrogena Makeup Remover, Lip or Eye Makeup (expires 1/31/12)
$1.00/2 Ziploc Brand Bags (expires 1/14/12)
$1.50/2 Ziploc Containers (expires 1/14/12)
$1.00/1 Glade Plugins Scented Oil twin refill or $1.00/2 single refills (expires 1/14/12)
$1.00/1 Smithfield Bacon (expires 1/15/12)
$1.50/2 Purina Dog Snacks (expires 3/4/12)
$1.50/2 Purina Friskies or Whisker Lickin's (expires 3/4/12)
$1.00/2 Werther's Original Chewy Caramels (expires 1/31/12)
12/11/11 SmartSource Insert
$1.00/1 Everybody's Nuts! Pistachio bag 7 oz or larger (expires 2/29/12)
$1.00/2 Pillsbury Refrigerated Cookie Dough (expires 3/3/12)
$1.00/4 Progresso Soup Cans (expires 2/4/12)
$1.00/2 General Mills Cereals (expires 1/21/12)
$1.00/2 Treasure Cave Cheese 4 oz or larger (expires 3/31/12)
$1.00/1 Poise product (expires 1/21/12)
$1.00/1 Cepacol product (expires 1/22/12)
$1.00/1 Arm & Hammer Spinbrush product (expires 3/31/12)
$1.00/1 Opti-Free Pure Moist Multi-Purpose Disinfecting Solution (expires 1/28/12)
$1.00/1 California Olive Ranch Extra Virgin Olive Oil (expires 3/31/12)
$1.00/1 Woolite formula (expires 1/31/12)
$1.00/1 Covergirl product (expires 1/31/12)
$1.00/1 Blink Tears or Blink GelTears Lubricating Eye Drops (expires 1/9/12)
$1.00/2 Mazola Oil or Spray product (expires 2/5/12)
$1.00/2 Heluva Good! Sour Cream Dips (expires 1/31/12)
$1.00/1 Sorrento Home Style Shred Mozzarella (expires 3/11/12)
$1.00/2 Terra Chips bags 5 oz or larger (expires 2/11/12)
$1.00/1 L'Oreal Paris Skincare Products (expires 2/5/12)
$1.00/2 Blistex Lip Medicated Lip Ointment or Blistex Medicated Lip Balm (expires 3/1/12)