I've already shared about the grand opening of the newest DC-area Dunkin' Donuts store here in Northern Virginia (located in Manassas), and even though their grand opening promotions have come to a close, I have good news for those of you who weren't able to wake up early on the 10th & 18th to claim the 1st 100 free coffee & donut each week for a year cards.
I've got a caffeine-fueled giveaway that will keep 8 readers smiling all year-long…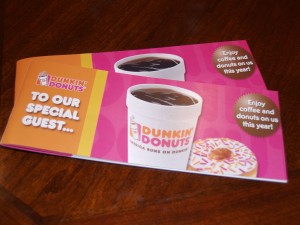 Eight readers will get the chance to enjoy 1 free coffee & donut each week for all of 2012, in the form of a coupon booklet. Please note the coupons are only valid at the new Dunkin' Donuts store (located at 9685 Liberia Ave Suite 101, Manassas, VA 20110 in the Evergreen Terrace shopping center). The coupon booklets include 4 coupons valid each month in 2012 (48 free coffee & donuts for the year).
Since 4 of the coupons expire at the end of this month (in just 8 days), this will be a quick giveaway (because I want to mail them out to the winners ASAP). You have until Tues. January 24th at 11:59 pm to enter, using one or all of the following entry options:
Simply leave a comment on this post!
Additional optional entry: Like BeltwayBargainMom.com on Facebook and DC Dunkin' Donuts on Facebook then leave a comment letting me know that you have done so. If you're already a fan, leave a comment and let me know. Note: In order to comply with Facebook rules, please remember that it is not the act of liking the page that is the additional optional entry, it is the act of then commenting here that counts as your entry.  Please do not feel compelled to like my page if you are not interested in receiving Facebook updates from BeltwayBargainMom.com.
Additional optional entry: Follow @BeltwayBargain and @DCDunkin on Twitter and tweet about this contest with a link back to this page. Be sure to come back and leave a comment here with the Timestamp of your tweet.
Here's a sample tweet: I want to win a FREE Coffee & Donut each week in 2012 at the new #Manassas VA @DCDunkin store via @BeltwayBargain http://bit.ly/xH4kus
Eight winners will be randomly selected on Wed. January 25th and contacted via email to confirm mailing address.
For another chance to win, be sure to visit PWC Moms giveaway for the same awesome coupon booklet! In case you aren't familiar with PWC Moms, it is a great website, blog and online calendar resource for families in Prince William County Virginia run by a sweet gal named Kristina. Be sure to check it out if you haven't already!
Since this is a quick and hyper-local giveaway, be sure to share with folks in the Manassas-area who'd love to win some free DD donut & coffee goodness for the year!
Disclosure: The giveaway prize is provided courtesy of Dunkin' Donuts of Greater Washington DC and the management team from the new Manassas store. I was provided coupons for my family to enjoy and I thought some readers would enjoy them too! The opinions shared here are my own. To read my formal disclosure policy, please click here.