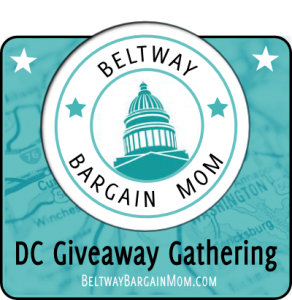 During the past 3+ years that I've been blogging, I've had the opportunity to meet some wonderful fellow bloggers here in our nation's Capital. It's been wonderful to meet other bloggers who have a passion to share and help others on the web and who love to connect on social media. As a thrifty mom, I've found a lot of support and resources online, and have been fortunate enough to get to know some creative, encouraging, funny and resourceful ladies along the way.
If you follow more than one blog, you've probably noticed that many bloggers hold giveaways for their readers. Over the past few years of meeting many local bloggers I've run across a similar question: "Laura, I have this hyper-local giveaway and I have minimal entries. Do you know a way I can get the word out?"
Well, I'm happy to launch a new weekly feature here at Beltway Bargain Mom called the "DC Giveaway Gathering." I love sharing great deals and my own frugal finds with my readers, who happen to be highly concentrated here in the DC metro area, and this new weekly feature will be a great place for local bloggers to get the word out about the awesome giveaways they're holding. I'm hoping this will also give local readers the opportunity to win more fun stuff and get connected with other blogs here in their own backyard.
This link-up is geared toward bloggers here in the DC metro area, but I'm opening it up to any blogger that is allowing entries from folks in the DC metro area, ie. if someone in DC can enter your giveaway, and it is free to enter, please post your link in my giveaway gathering. This includes hyper-local giveaways (like tickets to an event at the Kennedy Center or a gift card to a local mom & pop store) and national giveaways alike. If you're a blogger or a business that has a blog, you are welcome to participate in the DC Giveaway Gathering to spread the word about your giveaway. Your giveaway item must be suitable for a family-friendly audience and completely free. If all goes as planned, I'll be posting the first DC Giveaway Gathering link-up later today and plan to hold it each Wednesday ("Win-It Wednesday").
If you're a blogger I hope you'll link-up with the DC Giveaway Gathering for your giveaways to reach a great group of DC-area residents and thrifty folks who love winning free stuff! Let the winning begin!