Share the post "*CLOSED* Giveaway: Ringling Bros & Barnum Bailey Fully Charged Tickets"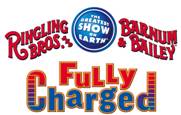 Coming up later this month and next month: the Greatest Show on Earth is coming to town! Ringing Bros. and Barnum & Bailey present Fully Charged to bring a surge of excitement to the DC area.
Fully Charged is an all-new surge of circus entertainment where you'll get to see superhuman stunts and never-before-seen performances that are sure to energize children and adults alike. The 141st edition of The Greatest Show On Earth is the most electrifying edition of Ringling Bros. ever to come to DC! The show will be lead by dynamo newcomer, Brian Crawford Scott, only the 36th Ringmaster in the 141-year history of Ringling Bros.
This year, Fully Charged performs at three arenas in the Washington, DC and Baltimore region:
The Verizon Center in DC from March 15th – 18th, 2012
The Patriot Center in Fairfax, VA from April 4th – 15th, 2012
The 1st Mariner Arena in Baltimore, MD from March 21st – April 1st, 2012
During the show you'll get to see:
Amazing acts from Tabayara, a dynamic animal trainer whose rare ability to communicate with animals allows him to ride rearing stallions at a fully-charged gallop, orchestrate majestic four-ton Asian elephants in a symphony of dance, and stand eye to eye in a cage with a dozen ferocious tigers.
Strongman duo Dmitry and Ruslan, who are as wide as they are tall
The fearless Fernandez Brothers who perform daring feats of athleticism on the Twin Turbines of Steel, including extreme jumps and twists inside the moving wheels!
The world-famous Ringling Bros. Clown Alley, charge up the audiences' funny bones with hysterical silly antics and clownish comedy.
Plus audiences can enjoy a pre-show party one hour before the show begins! The All Access Power Up Pre-show Party is hosted one hour before show time and is free to ticket holders. During the Pre-show, audience members get to meet and take photos with performers, try on circus performer costumes, learn circus skills and have the chance to win a painting created by Asia, a true "pachyderm Picasso."
You can purchase tickets starting at $14 each by visiting TicketMaster online, calling 800-551-SEAT, or calling the box office at your local arena (Verizon Center, Patriot Center or 1st Mariner Arena). Show dates and times can be found here. Plus you should be able to save $6 by using code "6MOM".
I am pleased to giveaway a family 4-pack of Tickets to opening night for both the Fairfax VA show and the Baltimore MD show! Enter my giveaway below by using the Rafflecopter options (no comments needed on this giveaway post; a little different than how I normally run my giveaways). Please note there are two separate Rafflecopter entry forms below, the first for the Fairfax VA show, the second for the Baltimore MD show:
Fairfax, VA Contest (April 4, 2012 7:30 pm at the Patriot Center)


a Rafflecopter giveaway
Baltimore, MD Contest (March 21, 2012 7:30pm at the 1st Mariner Arena)


a Rafflecopter giveaway
The giveaway ends Thursday, March 15, 2012 at 12:01 am ET. Good luck!