Share the post "Coups For Troops Expired Coupon Drive – May 19th"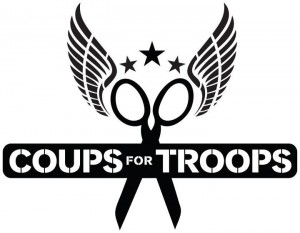 Did you know that May is National Military Appreciation Month?
If you use coupons (and if you're reading this blog, I assume you do!), I'm happy to let you know that there are some easy and practical ways you can help military families overseas. Many military families are on a fixed income, and coupons can really help stretch their budgets. Plus did you foreign military bases accept expired manufacturer coupons (up to 6 months past their expiration date)? So those expired coupons that are no longer any use to you here in the United States, can be donated and mailed overseas to help military families, many of whom are living on a tight budget.
But with international postage rates, figuring out where to send the coupons, and life's normal chaos, it's not always that simple for us to take time to clip and mail those coupons overseas to the military families who can use them. But thankfully there are wonderful programs like Coups for Troops that make it easy to support our military and donate those expired coupons! You can mail your expired coupons to your local satellite location here in the US, and they'll organize, bundle and ship those coupons to the military bases overseas for you!
In celebration of Military Appreciation Month, I'm excited to announce that I've teamed up with Coups for Troops to hold an Expired Coupon Drive on Sat. May 19th (which also happens to be Armed Forces Day) from 10:00am – 12:00pm!
Thanks to our awesome friends at DC Dunkin' Donuts we'll be having the event at the Dunkin' Donuts at Potomac Yards in Alexandria VA, and folks that donate expired coupons will get free coffee & donuts plus the chance to enter some fun raffles!
Here are the event details:
Event: "Coups for Troops & Beltway Bargain Mom: Expired Coupon Drive"
Location: Dunkin' Donuts at Potomac Yards (we'll be on the top floor, Mezzine level)
3671 Jefferson Davis Hwy
Alexandria, VA 22305
Date: Saturday, May 19th, 2012
Time: 10:00 am – 12:00 pm
Coupons you can donate at this event on May 19th and to the Coups for Troops program: Manufacturer coupons that have expired from January 2012 to more current. We'll accept both clipped coupons and full inserts.  This includes catalinas and internet printables. Please note, we cannot accept store coupons.  As long as the coupon states "manufacturer coupon" it will be acceptable, even if it does have a store logo.
If you'd like to find out about more ways you can help and regularly participate in the Coups for Troops program, check out their website here. Both Jaclyn (the local coordinator who heads up the Northern Virginia Coups for Troops satellite location) and I will be at Dunkin' Donuts to share more about the Coups for Troops program and meet with fellow savvy couponers to chat over a cup of joe and other yummy DD treats.
If you can't make it on May 19th, but would like to send your expired coupons, you can mail them directly to Jaclyn at anytime: Coups for Troops ℅ Jaclyn Doherty; PO Box  933, Bristow, VA 20136.
I hope to see you at the expired coupon event this month and please leave a comment if you already donate your expired coupons to military overseas!